How To Check Your Macaroni Grill Gift Card Balance Promptly
Have you been craving Italian food recently but don't know if you have money left on the gift card from your go-to restaurant? DoNotPay will help you find out!
We will show you all the ways you can check your Macaroni Grill gift card balance hassle-free!
Do you have other used gift cards? Sign up for DoNotPay to redeem them for cash in a breeze.
All About Romano's Macaroni Grill Gift Cards
Here is everything you need to know about the Romano's Macaroni Grill gift cards:
There are two types:

Physical
Digital (E-Gift)

You can choose gift cards with preset amounts of $25, $50, $75, and $100 or select the amount you want from $10 to $500
The cards are redeemable at any Romano's Macaroni Grill restaurant and for online orders
You won't get a replacement without the original receipt if you lose your gift card or it gets stolen
You cannot return your card for cash or reload it
There are no service fees
You cannot resell your gift card for less than its face value
The gift cards are not redeemable for cash, except in places where it's required by law
How To Perform a Quick Macaroni Grill Gift Card Check
We offer you several methods of checking your Macaroni Grill gift card balance. You can find more details in the table below:
How To Check Your Macaroni Grill Gift Card Balance
Details
Online
To check the remaining balance online, you have to follow these steps:

Visit the Macaroni Grill official website
Select the Gift Cards tab at the top of the homepage
Click Check Your Card Balance
Enter the card number
Confirm that you're not a robot
Hit Submit

By phone
If you want to inquire about your leftover funds over the phone, you should:

Contact customer service at 1-866-276-1703
Provide the customer support representative with your card number
Ask them to check the card's remaining balance

In person
Another way of checking the remaining funds on your gift card is in person. You should locate the nearest restaurant on the website and head over there. Bring the gift card so you can give the number to a restaurant clerk or manager. Wait for them to perform a balance check

With DoNotPay

If you find the above-listed methods inconvenient, use DoNotPay for the most streamlined way to check your balance. Here's how it works:

Select the

Check Gift Card Balance

feature

Attach front and back photos of your gift card

Once you confirm your request, DoNotPay will find out the exact amount you have on your gift card and inform you about it
What Can You Do With the Remaining Balance on a Macaroni Grill Gift Card?
If the balance check uncovered some leftover money on your Macaroni Grill gift card, you should figure out what to do with it. How you can use the remaining balance depends mostly on your preferences and the amount that's left. Here's what you can do:
Spend it—This one is a no-brainer! If there's enough money, you can treat yourself and your loved ones to a meal at one of the Macaroni Grill restaurants. You'll get to enjoy Italian cuisine without spending a dollar
Sell it online—If you don't want to use the card anymore, you can sell it online at an eMarketplace (eBay or Craigslist) for no less than its face value
Trade it for a different gift card—Visit some of the gift card exchange websites to find someone who wants to trade gift cards with you
Can You Get Cash Back From Your Macaroni Grill Gift Card?
Some states and territories in the U.S. require companies to give their customers gift card cash back if the remaining balance doesn't exceed preset limits.
In the following table, you can find all the locations with the cash back policy and their limitations:
| | |
| --- | --- |
| State | Balance Limit |
| California | $10 |
| Colorado | $5 |
| Connecticut | $3 |
| Maine | $5 |
| Massachusetts | $5 |
| Missouri | $5 |
| New Jersey | $5 |
| Oregon | $5 |
| Puerto Rico | $5 |
| Rhode Island | $1 |
| Vermont | $1 |
| Washington | $5 |
If you don't live in one of these places, don't fret! DoNotPay can convert the remaining balance from your gift card to cash either way!
DoNotPay Can Get Your Money Back From Any Gift Card
DoNotPay is at your service whenever you need to get cash back from a used gift card. We'll check whether your state has a cash back policy and retrieve your money even if it doesn't.
Here's what you should do:
Select the Gift Card Cash Back feature
Answer a few of our chatbot's questions about your gift card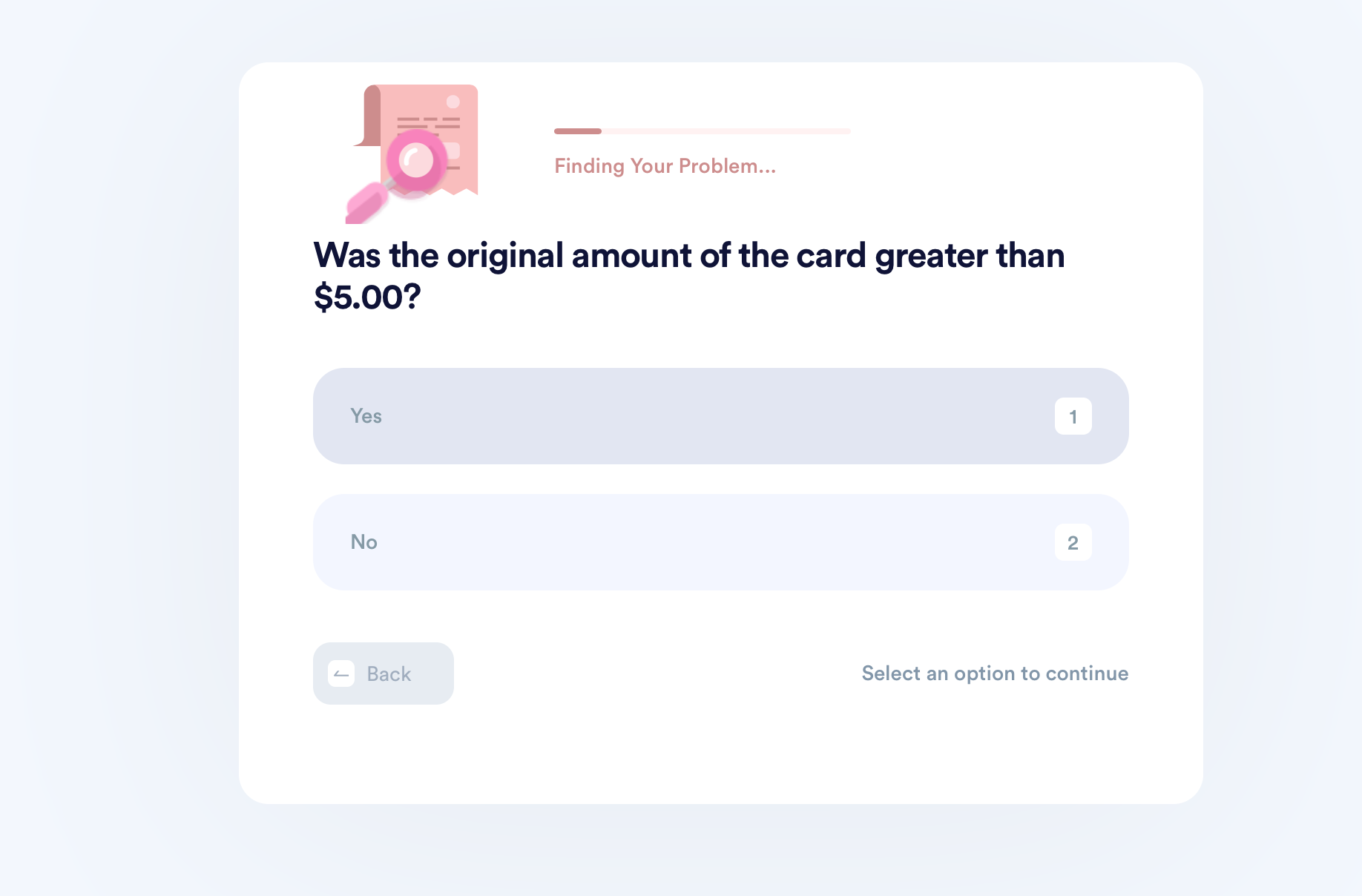 If your state doesn't have a cash back policy, we'll send the request to the company's office in one of the places that do have it. You can expect to get your cash or check in the next 14 business days.
You can use our learning center to find out how to get free gift cards and check the remaining balance on gift cards from other companies and restaurants, including:
DoNotPay Covers All the Bases
From getting you ready for various government tests to helping you reduce your property taxes, DoNotPay offers valuable assistance with the tasks that make most people at least roll their eyes. Dealing with bureaucracy isn't fun, but it also doesn't have to be as difficult as it is.
Every product in DoNotPay's portfolio is designed to efficiently deal with a specific issue within a few minutes and without sacrificing your comfort. Take a look at the tasks our app can make much more simple:
A Little More Money Never Hurt Anybody
Hardly anyone would turn down a chance to earn some more cash. That's why DoNotPay not only protects your rights and interests but also offers great opportunities to improve your financial situation.
With our help, you can find paid clinical trials, locate your missing money in any state, get your cash back from used gift cards, or enter various raffles and win great prizes.