Step-by-Step Instructions on Performing a Baskin-Robbins Gift Card Balance Check
Do you have a used Baskin-Robbins gift card, but you're not sure what the remaining balance is? If you don't know how to do a Baskin-Robbins gift card balance check, don't worry—DoNotPay has got you covered! We'll tell you how to check your gift card balance in no time. DoNotPay will also help you turn your gift card into cash in a few clicks!
Everything You Should Know About Baskin-Robbins Gift Cards
Baskin-Robbins gift cards don't expire. You can use them at any participating Baskin-Robbins and Dunkin' Donuts location in the USA. The cards can't be used for online purchases.
If you lose your Baskin-Robbins gift card or it gets stolen, the company won't replace it. You can register your gift card through the Baskin-Robbins app and use it without the physical card. To use your gift card, you should give it to the cashier at the cash register, and they will deduct the amount from your balance.
How To Check Your Baskin-Robbins Gift Card Balance
You can check your Baskin-Robbins gift card balance in four ways:
Online
Over the phone
In person
Via DoNotPay
How To Check Your Baskin-Robbins Gift Card Balance Online
To check your balance online, visit the Baskin-Robbins website and follow the steps below:
Go to the Baskin-Robbins Check Gift Card Balance page
Type in your gift card number and PIN
Click on Check Balance
How To Check Your Baskin-Robbins Gift Card Balance Over the Phone
You can call Baskin-Robbins customer support to check your balance. Follow these instructions to find out what your remaining funds are:
Call 800-398-8543
Ask the customer support agent to check your gift card balance
Provide your gift card number
How To Check Your Baskin-Robbins Gift Card Balance in Person
To check a Baskin-Robbins gift card balance in a store, do the following:
Go to the Baskin-Robbins website
Click on Find a Shop
Enter your city, state, or ZIP code
Tap on Search
Visit your nearest Baskin-Robbins shop
Ask the cashier to swipe your card and check your balance
How To Check Your Baskin-Robbins Gift Card Balance With DoNotPay
To let DoNotPay perform a Baskin-Robbins gift card balance check for you, complete the following instructions:
Tap the

Check Gift Card Balance

feature

Provide us with photos of your gift card from the front and back
Once you confirm your email address, we'll find out how much money you have on your Baskin-Robbins gift card and provide you with details.
What To Do After Checking Your Baskin-Robbins Gift Card Balance
If a Baskin-Robbins gift card balance check uncovered some funds, you're probably wondering what to do with the leftover money. Consult the table below to get an idea of how to use the remaining balance:
What To Do
Details
Spend the money in a Baskin-Robbins store
If your remaining funds allow you, treat yourself to some ice cream
Give the gift card away
Who doesn't love ice cream? Give your gift card as a present to a friend and make their day
Sell the gift card
Find a gift card exchange store or kiosk and sell your gift card for cash. Keep in mind that you'll probably get around 80% of your gift card value. You can also find gift card reselling websites, but be careful because some of them are shady
Exchange the card
Some stores and websites enable you to exchange your gift card for a card from a different brand. For example, if you don't want your Baskin-Robbins gift card, maybe you can exchange it for a McDonald's one
Get the remaining money back in cash
Officially, Baskin-Robbins doesn't let their customers redeem gift cards for cash unless it's required by law. Some U.S. states and Puerto Rico have a gift card cash back policy. This means that companies have to give the gift card money back if the balance doesn't exceed a certain amount.

If you're not sure whether your state has a cash back policy, subscribe to DoNotPay, and we will help you find it out and send your request in a snap
DoNotPay Can Help You Get Gift Card Cash Back Effortlessly
Do you want to request cash back for your used gift card from Baskin-Robbins or any other company? You should rely on DoNotPay and let us handle the whole process for you.
To file a cash back request in less than five minutes, and follow the instructions below:
Open our Gift Card Cash Back product
Type in all the relevant information—the company's name, remaining gift card balance, gift card number, the state where the card was purchased
Click on Sign and Submit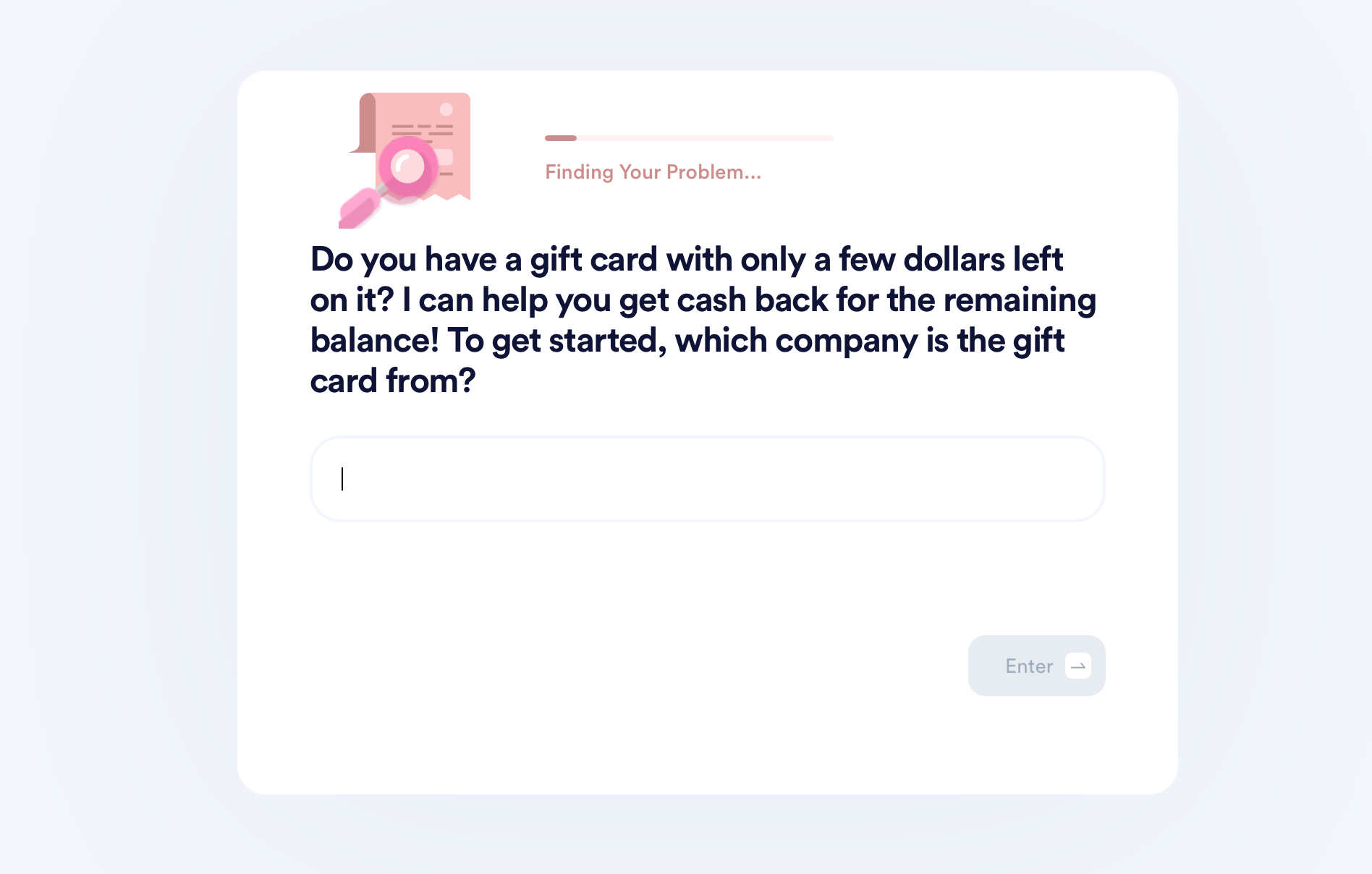 Once you complete the steps, DoNotPay will:
Check if your state has a cash back policy
Find a Baskin-Robbins store in a state with the said policy if your state doesn't obligate companies to issue reimbursement
Send your cash back request right away
You can expect to get the money within 14 business days of your request.
Our Platform Has More Information Regarding Gift Cards
DoNotPay can offer more useful info regarding your gift card-related concerns. We will tell you how to:
Check the balance on gift cards from other companies, such as:
DoNotPay—Quality and Quantity
Our platform provides a multitude of useful tools, products, and services that anyone can benefit from. DoNotPay is a proper virtual assistant that can minimize your paperwork, protect your consumer rights, increase your productivity, or keep you safe online.
The best part is that we keep adding more awesome features all the time—all available for a small subscription price. Take a peek at a small part of our portfolio in the table below:
| | | |
| --- | --- | --- |
| Online Safety | Customer Protection | Administration Shortcuts |
| | | |
It Gets Even Better!
With your DoNotPay subscription, not only do you get a powerful weapon to fight boring and annoying daily tasks, but you also get a great resource for earning more money.
You can use our platform to enter free raffles, secure compensation for fighting robocalls, get your cash back from used gift cards, or find unclaimed money under your name, no matter the state.