How To Check the Bob Evans Gift Card Balance in a Snap
If you believe you didn't spend the entire value of your used gift card from Bob Evans Restaurants, you should perform a balance check and see how much money is left. Depending on your preferences and state or company laws, small remaining amounts can be sold, exchanged, or returned for cash.
We will show you how to check the Bob Evans gift card balance quickly and give you some ideas on making use of the leftover credit.
The Basics of the Bob Evans Gift Cards
The Bob Evans gift card offer currently includes two models:
Plastic (standard) cards that can be sent by mail
Digital cards that are sent via email
To learn more about the company's gift card policy, refer to the following table:
You Can
You Can't

Personalize gift cards
Redeem the cards at any Bob Evans location
Combine the card with other accepted payment methods, such as:

Visa
Discover
MasterCard
American Express

Use the gift cards without any extra fees
Get a replacement for a lost, stolen, or faulty card if you have proof of purchase

Use the card to buy other types of gift cards
Have the gift card balance reloaded
Transfer the card for value
Spend more than $10,000 per day
Performing a Bob Evans Gift Card Balance Check
There are five ways to see the available gift card funds:
Online
By phone
Via the website form
Via chat

By using DoNotPay
Checking Your Bob Evans Gift Card Online
Here are the steps you should follow to inquire about your gift card balance online:
Go to the homepage of the Bob Evans website
Navigate to Menu & Locations
Pick Gift Cards
Click on Check Your Balance
Fill in the fields with the card number and the special access code
Select Get Card History
Checking Your Bob Evans Gift Card by Phone
If you prefer to do the balance check over the phone, follow these prompts:
Dial (866) 616-6464
Wait for the first available representative and tell them you want to have your gift card balance checked
Give them your gift card number and any other info they may need
Checking Your Bob Evans Gift Card via a Website Form
You can also contact the customer care center via an online form on the Bob Evans official website. Here's how to do it:
Select Buy Gift Cards on the Gift Cards page
Click on Customer Support at the bottom of the page
Choose Contact Customer Support
Enter your contact details and write your inquiry in the comment field
Click on Submit
Checking Your Bob Evans Gift Card via Chat
Depending on the time of the day, there's a possibility of speaking to a live chat agent and asking them to tell you the current value of your card. To do it, proceed as follows:
Go to the Contact Customer Support page under the Customer Support section
Choose the Live Chat icon if available
Type in your balance inquiry
Wait for the agent to check the amount and get back to you.
Checking Your Bob Evans Gift Card Balance With DoNotPay
Instead of calling Bob Evans customer support and waiting for a rep to pick up, relax and let DoNotPay do it for you! Once you complete our quick three-step guide, we'll contact Bob Evans and provide you with the info about your remaining balance. Here's how to get started:
Tap the

Check Gift Card Balance

feature

Provide photos of your gift card from the front and back and confirm your email address
What Are Your Options if You Discover Some Extra Money on Your Bob Evans Gift Card?
Here's a table showing a few ideas on how to spend or use the remaining sum from your used gift card:
Methods
Details
Spending the available credit at a Bob Evans location
You can use the funds left on the card for buying yourself a meal in any accepted branch
Redeeming the gift card funds in other ways
If you don't feel like buying more food from this merchant, you can turn to alternative options, for example:

Give the card to someone who needs it
Donate the card to a charity
Sell the card on a website or at some nearby places
Trade the card for another one
Use DoNotPay and turn the card into cash fast
DoNotPay Gets Gift Card Cash Back for You in Record Time
Returning old, free, and standard gift cards for cash is usually approved only when specified in the local gift card policy. Retailers are obliged to accept the cards in exchange for cash only in a few U.S. states and Puerto Rico—at other locations, it's usually impossible. If you want to retrieve your gift card funds regardless of the state where you live, DoNotPay can help you solve the matter within minutes!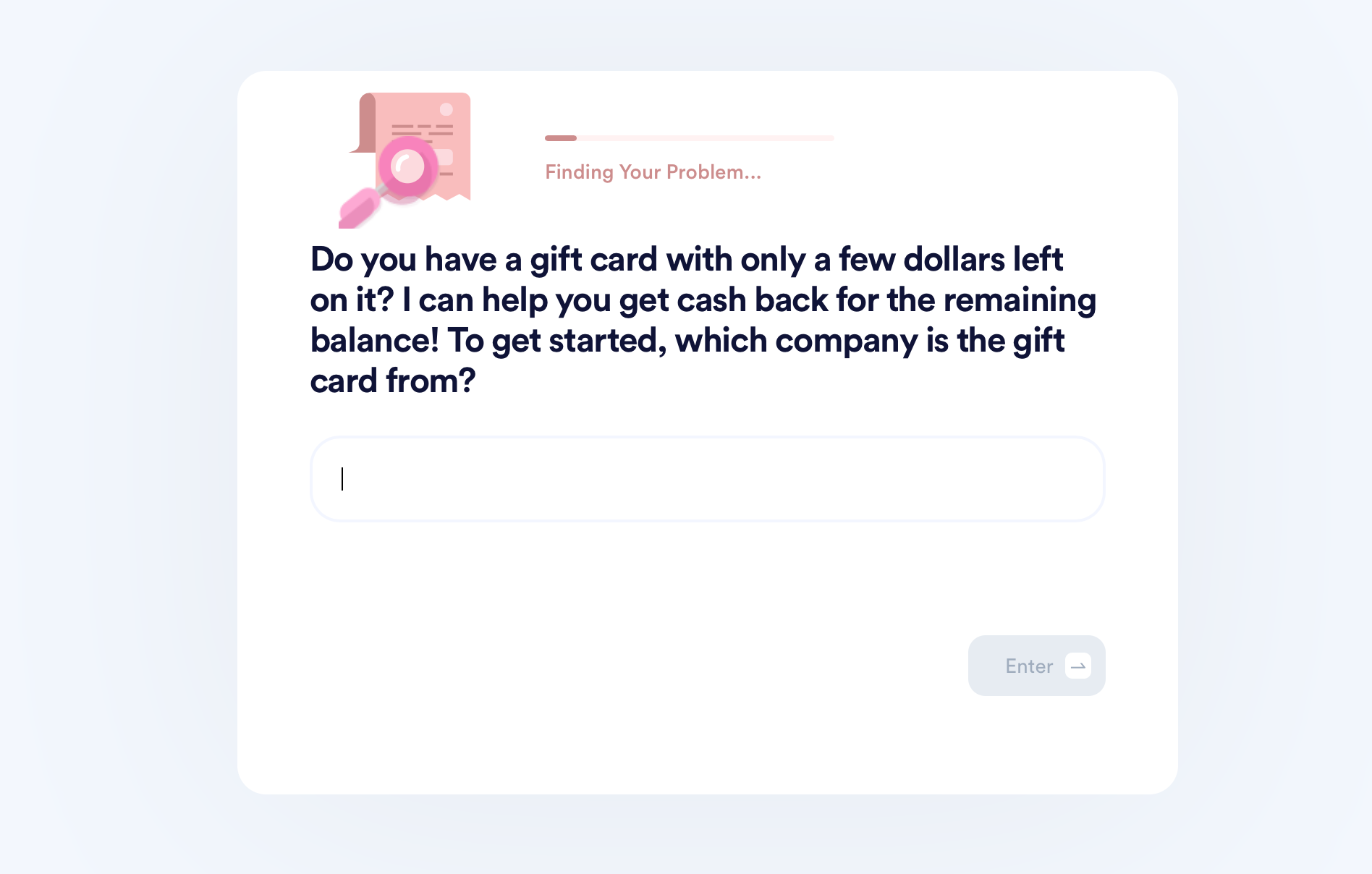 We can generate a cash back request based on a few gift card details you provide us with and demand the funds left from Bob Evans or other companies, including:
Here's how our service works:
in any web browser
Pick the Gift Card Cash Back product
Type in some necessary info, such as:

Gift card number
Remaining value on the card
State you live in
Contact details
We will run some checks to see if your state has a cash back policy. If it does, your claim will be automatically submitted to the retailer in question. If not, we will find a merchant's office in one of the 12 locations with a favorable policy and send your request there!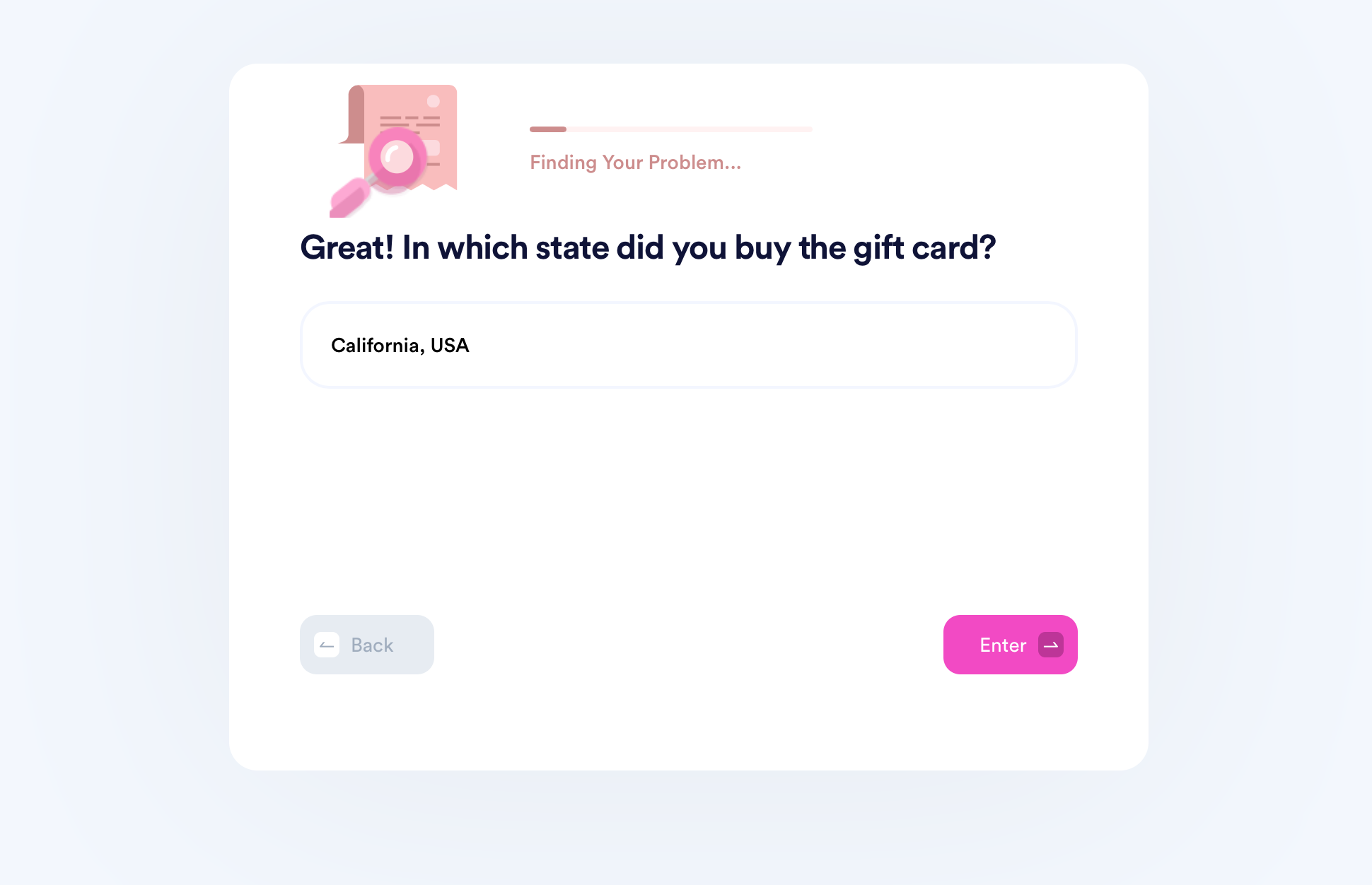 Let DoNoPay Help You With Your Paperwork
Why waste time on bureaucracy if you can rely on DoNotPay to handle pesky tasks for you? Cancel all your subscriptions at once, find unclaimed funds in a matter of minutes, appeal parking tickets hassle-free, and discover the best way to get your documents notarized remotely.
In case you need help paying bills or you want to earn some money by participating in paid clinical trials, DoNotPay is here to help you out!
Fighting workplace discrimination is of utmost importance, but the entire procedure seems rather complicated. The same goes for the crime victims compensation application in most states. DoNotPay is here to change that. We will help you file a report, request compensation, and create numerous other documents, including demand letters for neighbor complaints.
Keep Your Online Safety in Check!
While internet safety should be one of your top priorities, staying anonymous while surfing the web is almost impossible. If you want to avoid giving out your number when registering for services, you should try out our Burner Phone product.
DoNotPay can also protect your credit card info, name, and email address, all through our handy virtual credit card. Sign up for free trials without worrying about unexpected charges.
With our app, you will learn how to deal with stalkers and harassers and how to access public records the easy way.
DoNotPay offers many other useful products that can help you prepare for government tests, have your college fees waived, and manage any annoying issue in minutes.