Find Out Where To Get Passport Photos in DC and Take a New One in a Snap!
If you need to take a new passport photo and are not sure where to find the best service, we'll provide you with all the necessary info! Read through our guide and learn where to get passport photos in DC easily! We can also tell you how much the service will cost and whether you can take a valid photo at home.
Subscribe to DoNotPay, and let us improve your passport photo to guarantee it meets all the requirements!
What Requirements Should My Passport Photo Meet in DC?
The U.S. Department of State established the criteria when it comes to taking passport photos correctly. The general set of requirements that all passport photos must meet are:
| | |
| --- | --- |
| Requirement | What It Means |
| Size | Your photo has to measure 2 × 2″ (or 5 cm × 5 cm) and be between 1″ and 1 3/8″ (2.5 and 3.5 cm) |
| Background | You need to take the photo in front of a clear white or off-white background and avoid any backgrounds with patterns or other colors |
| Facial expressions | You have to face the camera directly and make sure nothing is covering your face. You can smile, but try to keep a natural expression when the camera snaps |
What To Wear for Your Passport Photo
You can choose to wear any outfit you want for your passport photo, but there are certain items that you have to avoid. Check out the list below for details:
Glasses—You have to take off your sunglasses and any type of tinted glasses when taking your passport photo. As for the prescription glasses, the only way you can keep them on is if you provide a doctor's statement proving that you must wear them at all times due to a medical condition
Uniforms—Any type of professional uniform is forbidden in passport photos, so avoid wearing your old military one, for example, if you want your passport photo to be accepted
Hats and headgear—The only headgear that's allowed in passport photos is the one you wear due to your religious beliefs. You still have to make sure it's not covering your face
You should also consider not wearing white for your passport photo—the background has to be white, so it's possible for the colors to blend together.
Where To Take Your Passport Photo in DC
You can take your passport photo at several locations in DC. Some of the common places you can visit to have your photo taken are:
| | |
| --- | --- |
| Location | Description |
| Retail corporations | Walmart, Walgreens, Target, and CVS are some of the stores that provide passport photo service |
| AAA stores | Most AAA stores in the U.S. provide digital passport photo service |
| Shipping companies | The common shipping companies that offer to take your passport photos are: |
| Other locations | You can always search the internet and find more stores nearby that offer to take your passport photo for a certain price |
How Much Is the Passport Photo Service in DC?
The amount you'll have to set aside for your passport photo depends on the location you choose to have your photo taken at. Here's how much the above-listed companies charge for the service:
If you choose to visit another store and have your photo taken, make sure you contact them beforehand and inquire about the service cost.
DoNotPay Helps You Take the Perfect Passport Photo!
You can avoid struggling to take your photo and figuring out what requirements to meet because DoNotPay can help you out! We'll ensure your background, lighting, and every other requirement is met by adjusting your photo accordingly. The best part is that it takes almost no effort on your part! All you need to do is complete the following instructions:
Select the Passport Photos feature
Take a photo or provide one you already have
Choose whether you want to have two physical copies mailed in addition to the digital ones you get by default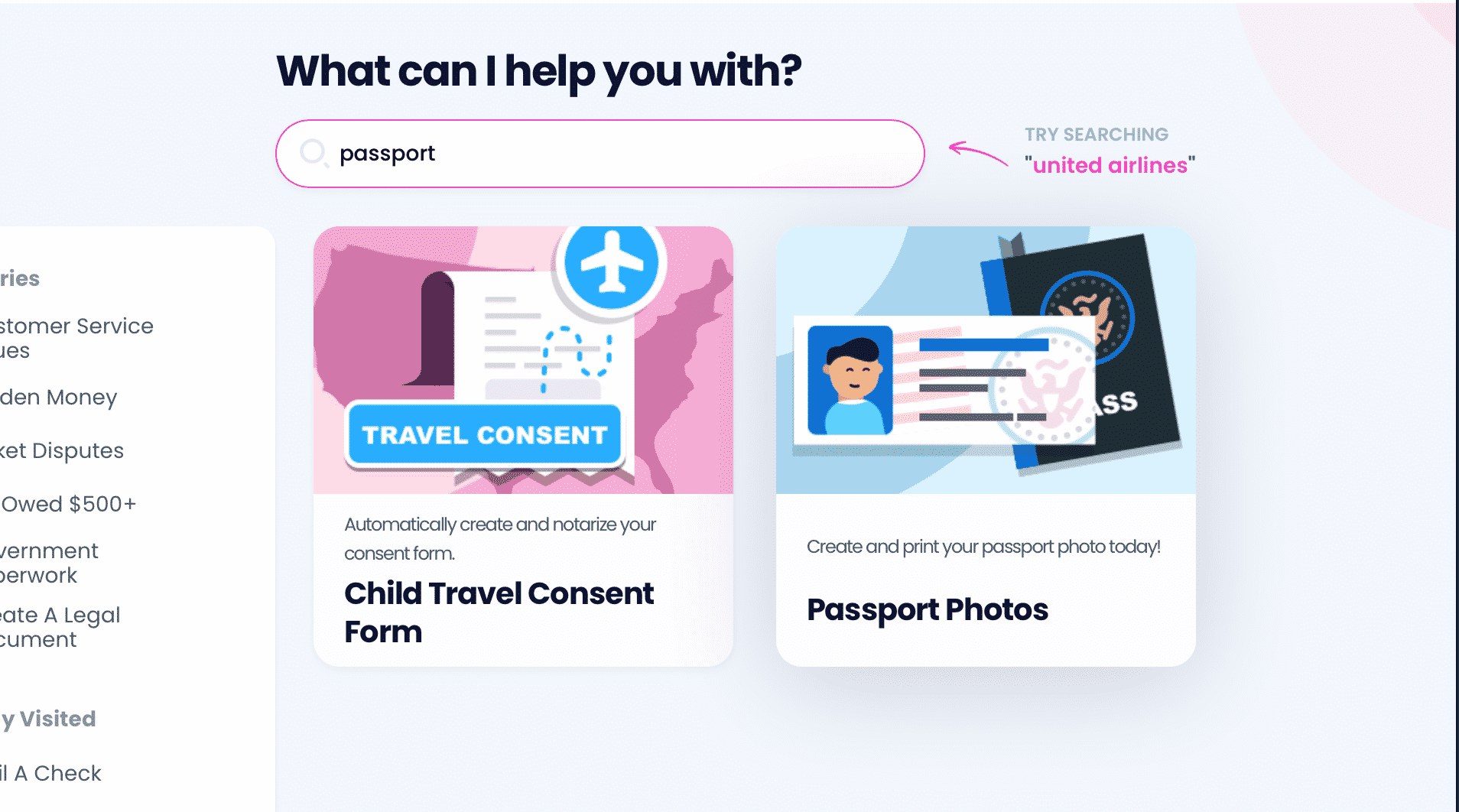 Explore DoNotPay's Vast Database for More Passport-Related Assistance!
There is a lot more DoNotPay can help you with other than getting the perfect passport photo! Check out the list below to find answers for numerous passport-related questions with ease:
Find your place of residence in the table below to see where you can have your passport photo taken:
Communication Troubles? Say No More!
Yes, communication is the key, and DoNotPay vows to provide you with the best, most convenient methods to relay or protect your message—whether it's correspondence with your business partner or a loved one who's serving time.
Check out what you get by using our platform:
Use DoNotPay for a Better Shopping Experience
If you have a tendency to shop till you drop, some issues with purchases are bound to happen. Customer rights and satisfaction is what DoNotPay is passionate about.
With your subscription, you will be able to: