Get a University of Alabama Application Fee Waiver Easily
Applying to college is exciting. If you're applying to more than one college, though, it can become expensive since you have to pay application fees for every school that you're interested in. Add that to extra fees for aspects such as housing, and the process can suddenly seem daunting.
These accumulating fees can make the process of college application stressful instead of thrilling. DoNotPay can help you get a University of Alabama application fee waiver and waivers for any other school that you're applying to.
University of Alabama Application Fee
Most colleges have an application fee that you have to pay when you apply, which they use for general administration costs. The University of Alabama is no exception to this rule. You have to pay the application fee—which is around $50—before the admissions office processes your application.
Some schools charge less, while others charge $100 per application, with a general range between $20–$100. The application fee may not be the only fee you have to pay when applying to the schools you chose. You may have to pay housing or matriculation fees.
Your SAT or ACT also come with a fee, and if you're applying to graduate programs, you may have to take tests such as the MCATs or LCATs, which are expensive.
The ability to apply online has made the process a little less labor-intensive, but people are still needed in the review process. For instance, many colleges require an interview or an essay, which someone on the admissions team has to read.
There are also schools that use the application fee as a soft barrier because only students who are serious about attending will pay to apply.
What Is an Application Fee Waiver?
Most schools that require you to pay an application fee will be willing to waive it under certain circumstances. Usually, if you show that you can't afford the fees, the college will allow you to apply with no fee.
It's also common that students who received fee waivers for their SAT or ACT are automatically eligible for a fee waiver when applying for college. Each college has its own policy regarding the waiving of application fees.
How Can You Apply To Have Your University of Alabama Application Fee Waived?
The University of Alabama has a window period where you can apply for undergraduate or graduate studies without paying the required fee. During this time, you have to submit your details through an online application form. You'll receive a code that will allow you to apply without paying any fees. This is part of the University's commitment to supporting students in relevant ways.
You don't have to apply for a fee waiver with the University of Alabama specifically, but many other schools require you to prove that you're in need of financial assistance.
Since the University of Alabama doesn't require you to apply for a fee waiver, you don't have to submit any financial support forms. If you apply during the window period, you automatically qualify for the University of Alabama application fee waiver.
You can apply for fee waivers for any other university or college through:
What About Tuition Fees?
The University of Alabama offers financial aid to help students cover their college fees. You can apply through the Free Application for Federal Student Aid (FAFSA). You can look at:
Work-study options

Grants

Student loans
Make sure that you apply early for priority consideration.
You can also apply for different scholarships. There are plenty of external, competitive, and merit-based scholarships you can look into.
You should be admitted before 15 January of the year to apply for any scholarship opportunities.
What if the College You Apply to Doesn't Have a Window for Free Applications?
Many colleges don't offer a window period during which you can apply without paying the application fee. In this case, you can ask for an application fee waiver.
To receive a fee waiver, you have to prove that you need it. Every college has individual requirements but, generally, you'll have to meet the following conditions:
| | |
| --- | --- |
| You: | Description |
| Qualify for free lunch | If your family income is less than 130 percent of the poverty level for a family of that size and falls in the range of the USDA Food and Nutrition Service guidelines, you qualify for a free lunch and, subsequently, an application fee waiver |
| Receive a fee waiver for SAT, SAT Subject Tests, or ACT | If you qualify for a fee waiver for the SATs, ACTs, or College Board, you can qualify for an application fee waiver |
| Receive public assistance | You or your family receives public assistance such as housing or social grants, which will grant you an application fee waiver |
| Are a member of the U.S. Army | You will get an application fee waiver if you're on active duty or a veteran |
You'll have to provide proof of your financial status when you apply for a fee waiver.
Let DoNotPay Apply for College Application Fee Waivers on Your Behalf
DoNotPay can apply for college application fee waivers on your behalf quickly and easily. To get our app's assistance, follow these steps:
Log in to your DoNotPay account through your

Select

College Application Fee Waiver

Choose which fee you want us to help you waive

Indicate which colleges you're applying to

Answer the questions regarding your financial situation

Indicate whether you need a counselor signature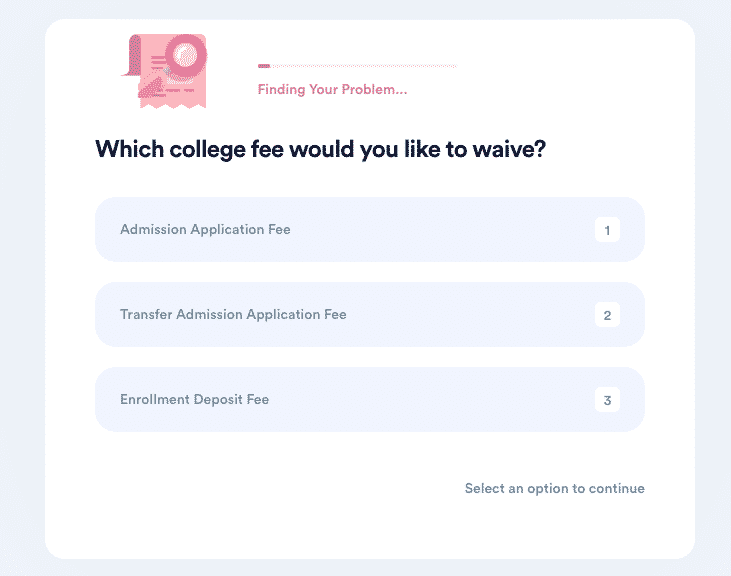 Once you provide an answer, you should choose the college or university you'd like to apply to.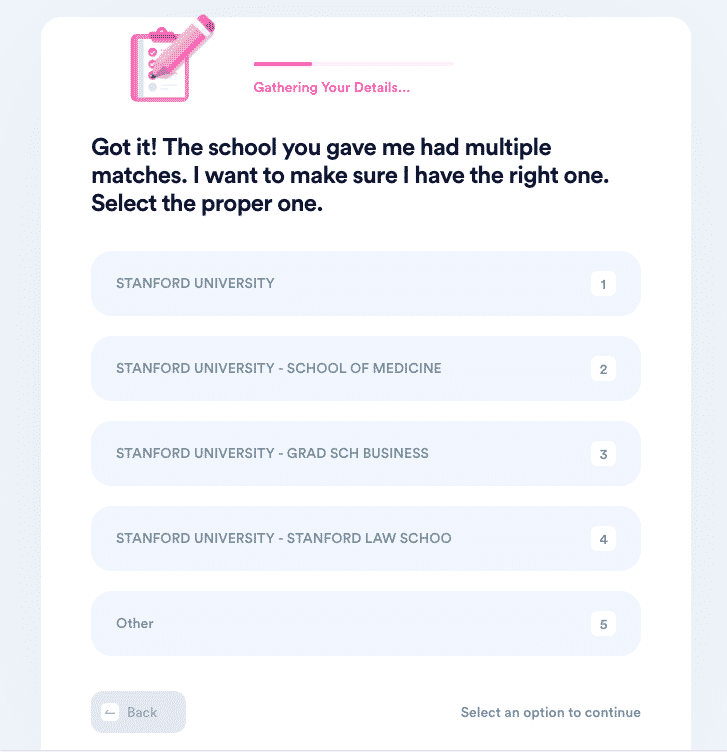 Due to COVID-19, many colleges no longer require a signature from your guidance counselor, but if the ones you're applying to do, DoNotPay will send the application to your counselor to sign. Make sure that you know which colleges require a signature before sending the application through.
DoNotPay will fill in the application for fee waivers of all the colleges that you selected, given that they have fee waiver programs.
How Else Can DoNotPay Make Your Life Easier?
DoNotPay is the world's first AI-driven lawyer, designed to provide bureaucratic advice, tips, and tricks to save you time and money.
We can help you get college application fee waivers from top schools, such as MIT, Berkeley, Georgia Institute of Technology, and many more. You can get help with any bills that you're struggling to pay, such as student loans. You can even get tips on how to save money on utilities.
Log in to DoNotPay through your to get assistance with:
Fighting traffic tickets

Disputing speeding tickets