The Ins and Outs of Florida Homeschool Umbrella Schools
Getting started with homeschooling can be challenging. What could make the process a lot smoother is gathering the necessary information about the costs, state laws, and required subjects and hours.
If you're not sure whether joining Florida homeschool umbrella schools would be a good idea, this article sheds light on these organizations to help you make an informed decision.
What Are Umbrella Schools?
Umbrella schools are private institutions that are in charge of different homeschooling aspects, such as:
Attendance
Validation of students' diplomas
Keep in mind that while the law doesn't regard children who register within umbrella schools as homeschooled students—but as private school students—their education mainly takes place at home.
Florida Homeschool Umbrella Schools
Florida homeschool umbrella schools are private schools that provide support for homeschool parents and their children. You could register with one of these schools while homeschooling in Florida if you'd like to have an institution provide the necessary:
Educational structure
Information about state and local homeschool regulations
This way, you don't have to worry about legal requirements while homeschooling your child since:
The state sees your child as a private school student and not a homeschooler
Florida homeschool umbrella schools deal with legal matters in your stead
What Do Florida Homeschool Umbrella Schools Provide?
You don't have to worry about keeping the required attendance records if you join a Florida umbrella school. The school ensures that your homeschooling process complies with state attendance laws and can provide:
At the same time, you—as a homeschool teacher—or someone else homeschooling your child has the freedom to:
Set the educational style
Select a homeschool curriculum and learning time
Pros and Cons of Florida Homeschool Umbrella Schools
To help you make up your mind on how to homeschool your child, take a look at the following table presenting the advantages and disadvantages of Florida umbrella schools:
Advantages of Umbrella Schools
Disadvantages of Umbrella Schools
You don't have to file:

The school:

Deals with most of the required recordkeeping documentation
Provides you with an opportunity to network with other local homeschooling families
Offers various services, such as:

Field trips
Curriculums
Evaluation options
Teamwork and group learning
Classes and additional activities at school

You need to:

Provide:

Attendance records
Certification of immunization
Copies of health examination reports

Ask for approval of your chosen curriculum (some umbrella schools require this)

Keep in mind that umbrella school students cannot take part in sports activities at public schools
List of Florida Umbrella Schools
Since all Florida homeschool umbrella schools have different requirements and services, you should check what a certain school asks for and provides and whether it meets your family's needs.
The following list of Florida umbrella schools could help you find out about the specific demands and services:
To get more information on Florida homeschool umbrella schools, including available resources for parents, activities, and useful events, you could:
Visit the Florida Homeschool Convention
Join a homeschool association, co-op, or groups
How To Homeschool in Florida
When you've made up your mind to homeschool your child, you need to get familiar with all requirements to be able to implement the process legally.
While Florida is not among the easiest states for homeschooling, you shouldn't have problems if you complete the following steps:
Submit a Florida letter of intent to homeschool—You have to:

Notify the superintendent of your intent to homeschool your child
File the letter of intent within a maximum of 30 days after withdrawing your kid from their school—which you can do at the beginning or in the middle of the year

Maintain a portfolio—Make sure to keep a homeschool portfolio for two years after you've finalized your homeschooling process
Carry out regular assessments—You need to organize the evaluation of your child's progress every year
File a notice of termination—You must notify your school district in case:

You move to another county or state
Your student finishes the homeschool program
to prepare a letter of intent to homeschool your child in a matter of minutes.
Create a Letter of Intent To Homeschool With DoNotPay
Our AI-powered app is familiar with all state and local homeschool requirements. We ensure your notice of intent to homeschool complies with laws and includes your specific family situation.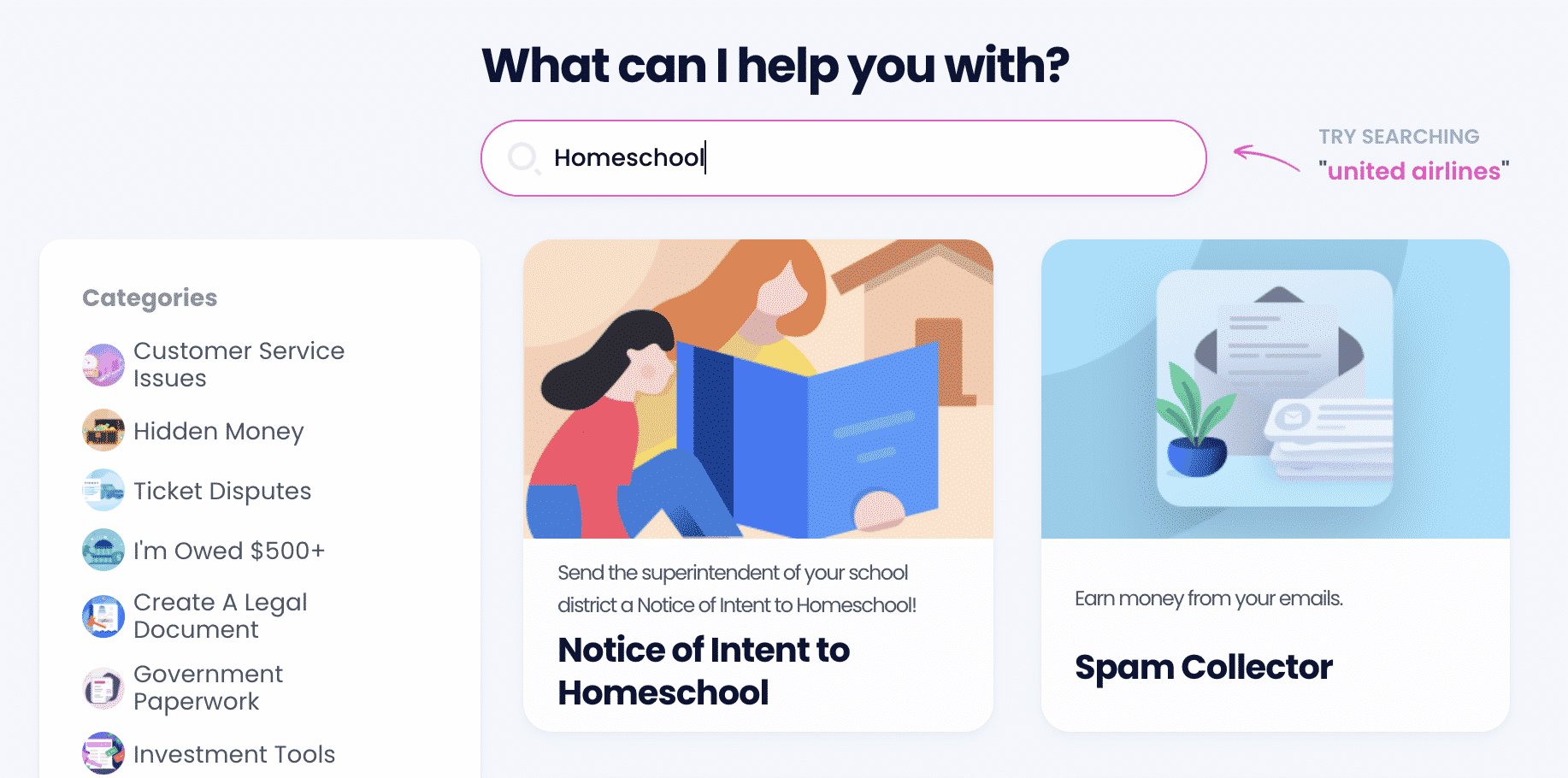 DoNotPay is the first robot lawyer that can generate a letter of intent quickly and efficiently.
and take these steps:
Open our Notice of Intent to Homeschool product
Enter your and your child's information
Select if you'd like us to:

Help you get your notice notarized before filing it
Deliver the letter in your stead
Send you the notice in PDF so that you can submit it yourself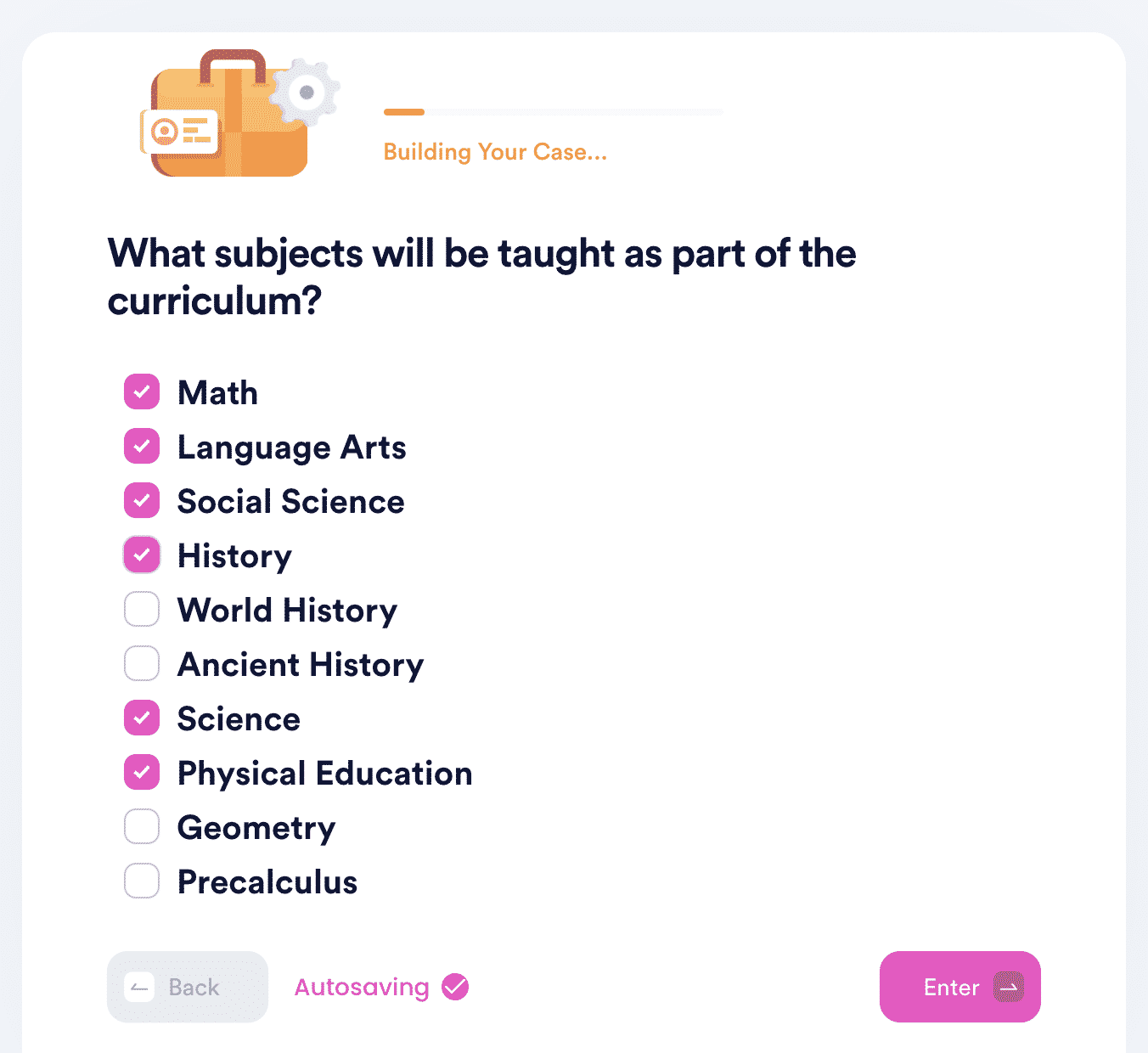 Would you like to research the homeschooling topic further? You should explore DoNotPay's website since we publish lots of useful guides and answer various questions, including the following:
DoNotPay Has More Products in Store for You!
Our app is adept at solving numerous issues and completing various tasks in your stead.
You may want to use DoNotPay to protect your work from copyright infringement, reduce your property taxes, send defamation demand letters, or file FOIA requests.
Through the same app, you'll be able to skip many bureaucratic hurdles. Here are more tasks DoNotPay can help you with:
Use DoNotPay To Keep in Touch
If your friend or family member is in jail, we can help you locate them and send and receive letters with ease. Do you need to send other letters but hate going to the post office? You can use our Mailing Service product and save time.
We can also help you send online faxes, reach customer service, and contact embassies or government representatives.
In case you're drowning in email and text spam, our app can end it for good. Even if robocalls are bothering you, we have a solution!