Overstock Return Policy—Returning Products to Overstock.com in a Few Clicks
Are you stuck with an Overstock product that doesn't work for you? Our Overstock return policy guide will walk you through the process of returning items to this famous internet retailer. If you want to spare yourself the trouble of initiating a return, we offer the most efficient solution—let do it in your stead!
Standard Overstock Return Policy
Overstock allows customers to send back most products within 30 days of receiving them. The items you wish to return must be in new, unused condition with all original tags, labels, and accessories.
In case you're returning Overstock merchandise after 30 days, the company may issue a partial refund depending on the condition of the gear. If you missed the 30-day return window, reach out to Overstock customer care for further instructions on starting a return.
Overstock free returns are not a thing yet. If you're returning an item due to buyer's remorse, all shipping costs are your responsibility. In case the return is a result of a failed delivery or defective product, the company will cover the return shipping charges.
Note that the Overstock return policy doesn't apply to third-party sellers on Overstock.com. To return a product to any of these sellers, you should refer to the seller's specific rules.
Oversized Item Return Policy
You may return oversized items within 30 days of delivery. Only unused items with all original parts included in the shipment are eligible for returns. Overstock return shipping is at the customer's cost if you:
Refuse delivery without inspection
Miss a delivery appointment
Return a non-defective or undamaged product
Overstock return shipping cost ranges from $100 to $700 (depending on size and weight of the return shipment), and the amount gets deducted from your refund if the item is not in its original condition once it arrives at Overstock's warehouse.
Jewelry and Watch Returns Policy
When it comes to watches and jewelry, you can qualify for a full, partial, or no refund at all. Upon inspection, Overstock may determine that the product is in excellent, good, fair, or poor condition based on the following criteria:
Condition
Criteria
Refund
Excellent

Pristine showcase condition
New, unworn, undamaged, in original box or case
Complete with all original parts, links, certificates, accessories, manuals, appraisals, and tags
No evidence of sizing, service, alteration, wear, or blemishes
Any attached Mylar tags are unbroken

Full refund
Good

Restorable to "like-new" condition
New, undamaged, in original box or case
Complete with all original parts, links, accessories, tags, labels, manuals, and appraisals
Sizing, service, alteration, wear, or blemish of any kind that is not refurbishable
Attached Mylar tags are unbroken

Partial, 40%–80% refund
Fair

Non-refurbishable cosmetic defects, such as scratched or scuffed gold plating or ripped leather and rubber bands
Missing or damaged original box, missing any parts, links, or accessories, original certificates, manuals, appraisals, and tags
Significant wear or damage that can be repaired

Partial, 0%–40% refund
Poor

Items don't match the original serial or SKU number
Non-repairable damage
Wear and tear, blemishes
Damaged watch movement
Missing original box/case, significant parts, links, accessories, certificates, manuals, appraisals, and tags

Non-refundable
Return Policy by Product
Here's a detailed overview of Overstock's return policy by product type:
Product
Return Policy

Computers and electronics

Subject to the standard return policy
Must be returned in original condition and unopened
You will be issued a partial refund if the item is used, opened, or returned after the deadline

TVs larger than 50" are subject to the oversized items return policy
TVs that are 50" or smaller are subject to the standard return policy

Large appliances
Outdoor power equipment

May be returned within 30 days of delivery

Jewelry, watches, and accessories

Subject to jewelry and watch returns condition policy
30-day return window
Must be new, unworn, and non-altered
Jewelry and watches that cost more than $100 should be sent one item per package
You must use a trackable shipping method

30-day return window
Security tags must be in place
Handbags must be new, unused, undamaged, and in the original box or case
All original parts, accessories, original certificates, manuals, appraisals, and tags must be sent with the bag

Not returnable unless defective or damaged in delivery
Bed-In-A-Box mattresses are non-returnable unless the mattress is unopened
Oversized mattresses/mattress sets can be refunded only if you refuse the items at the time of delivery
How To Return To Overstock Manually
Since Overstock doesn't have physical locations, you can only mail in your return. You have to place your order as:
An Overstock member
A guest
This determines the return process.
Initiating the Return Process as a Member
Follow the steps below to start the return process as a member:
Select the Orders & Returns option from your dashboard
Check the Return Item box next to the item you wish to return
Provide any additional information regarding your order
Click on Submit Return and then Get Label
Follow the instructions to return your item
Initiating the Return Process as a Guest
If you placed your order as a guest, you have to:
Create an Overstock account with the same email address you used to place your order
Follow the steps explained above to complete the return procedure
Is Overstock Return Policy More Than You Can Handle? DoNotPay Can Take Over
Our AI-powered app will help you get a refund or exchange within minutes—minus the hassle! To start our time-saving return process, you need to:
Navigate to the Item Return Request feature
Answer our chatbot's purchase-related questions
Upload photos of the product(s) in question
Click Submit
We will send a customized return request letter to Overstock before you can say refund! Since timing is everything, we'll also set a deadline to ensure your request gets processed in the shortest possible time.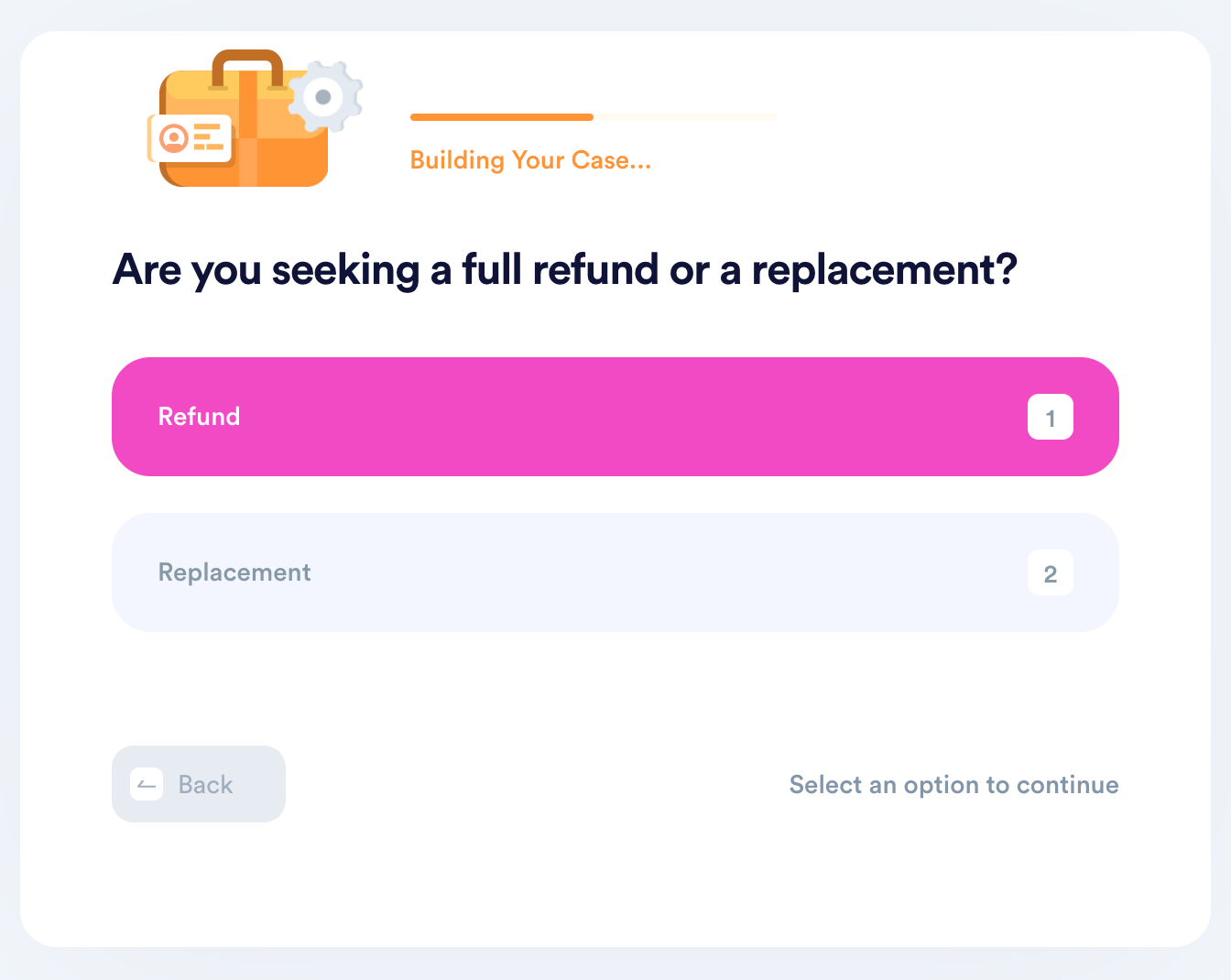 If you need help returning products to any major brand, check out the practical guides in the table below: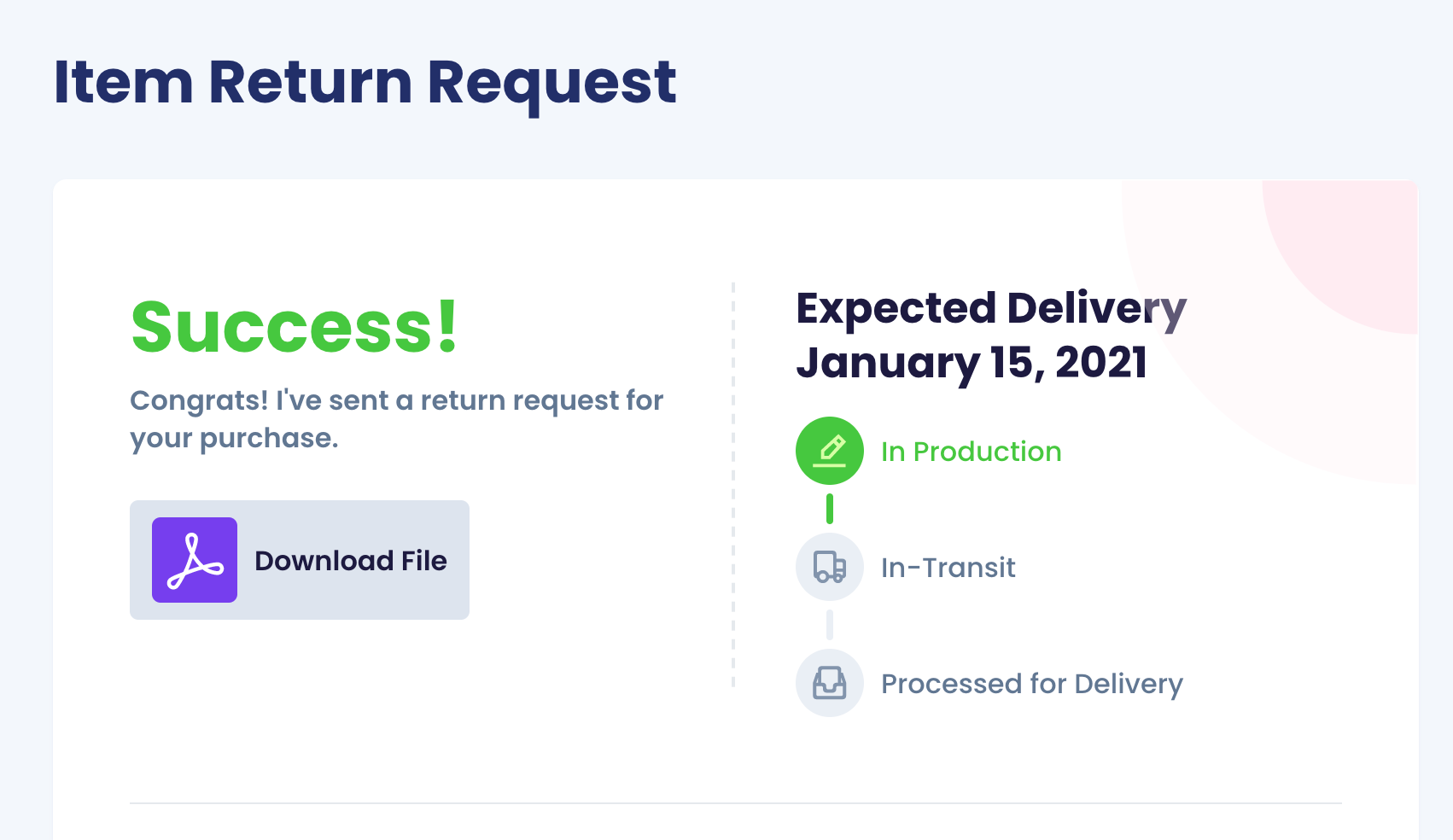 Don't Tolerate Corporate Attitudes—Request What's Rightfully Yours
DoNotPay is known for being the champion of customer advocacy because we help our users claim what's rightfully theirs, and we don't tolerate big corporations taking people's hard-earned money.
No matter if you want to request a refund, insurance, extended warranty, or compensation from airlines, our AI-powered lawyer will fight for your right.
If you feel like you're overpaying certain subscription services, we can help you cancel them. Also, if you want to test a subscription before you start paying money for it, don't connect your credit card to the free trial page! You can sign up for free trials using our virtual credit card. That way, companies won't be able to charge you auto-renewal fees because the card has no funds.
Wait! DoNotPay Can Help You in Many Other Ways
DoNotPay has many different areas of expertise—helping you return your faulty items is only one of them.
Check out how our app can assist you in: