All You Need To Know About DSW's Return Policy
Did you get your dream pair of shoes from DSW, but they're the wrong size or—even worse—damaged? DoNotPay offers a complete guide on how the DSW return policy works, how to submit a return request, and how to get your money back!
How Does the DSW Return Policy Work?
The DSW return policy has the following terms:
Returns and exchanges that breach the deadline will only be eligible for merchandise credit as a form of refund
DSW requires you to present a government-issued ID for all returns
Specialty products, such as dry shampoo and nail polish, can only be returned in DSW stores with intact packaging and seal
You can return items you bought with DSW rewards or special offers for a refund that equals the item's final price
You must submit a return within 90 days (or 365 if you're a DSW VIP elite member) of purchase
DSW based its exchange process on refunding you for the product you're returning and charging you for the product you're receiving. Items you pay using PayPal should be exchanged in store because customer representatives aren't authorized to log in to your PayPal account to make a new purchase
The company takes about seven to ten business days to process your return or exchange request and issue a refund
You will receive a full refund on your original payment method if your return fulfills the following criteria:
Merchandise mustn't be used or worn
You must return the merchandise in the original packaging
The return must include proof of purchase, whether it's a receipt or a shipping invoice
Are DSW Returns Free?
DSW in-store returns and exchanges are always free, while online return fees depend on your DSW membership tier.
Here's a brief summary of the return policy terms, depending on the membership tier:
| | | | | |
| --- | --- | --- | --- | --- |
| DSW VIP Membership Tier | In-Store Returns | Online Returns | Return Deadline | Exchanges |
| Non-members | Free | $8.50 shipping fee | 90 days | Free |
| DSW VIP club | Free | $8.50 shipping fee | 90 days | Free |
| DSW VIP gold | Free | Free | 90 days | Free |
| DSW VIP elite | Free | Free | 365 days | Free |
Can I Submit a DSW Return Request Without a Receipt?
You can, but the only refund you can receive is in the form of merchandise credit. DSW won't include any rewards or special offers in the refund.
How To Return Your Items to DSW
You can submit a return request in three ways:
In store
Online
DoNotPay
Return Your DSW Products in Store
To return your products in a DSW store, do the following:
Visit your nearest DSW store
Go to the checkout counter and ask a staff member to initiate your return request
Present the product you're returning, your ID, and proof of purchase to the staff member
DSW Online Returns
To return your DSW items online, follow these steps:
Open the Returns page on the DSW website
Enter your order number and email address
Click on the items you wish to return
Select the reason for your return
Use a prepaid shipping label and bring your package to the nearest FedEx
Check your email for shipment tracking information
Depending on your DSW VIP membership tier, the company may deduct $8.50 from your refund to cover the shipping costs.
Note that you can return online DSW purchases in store, but you can't initiate a return request for in-store purchases online.
Return Your Items to DSW With DoNotPay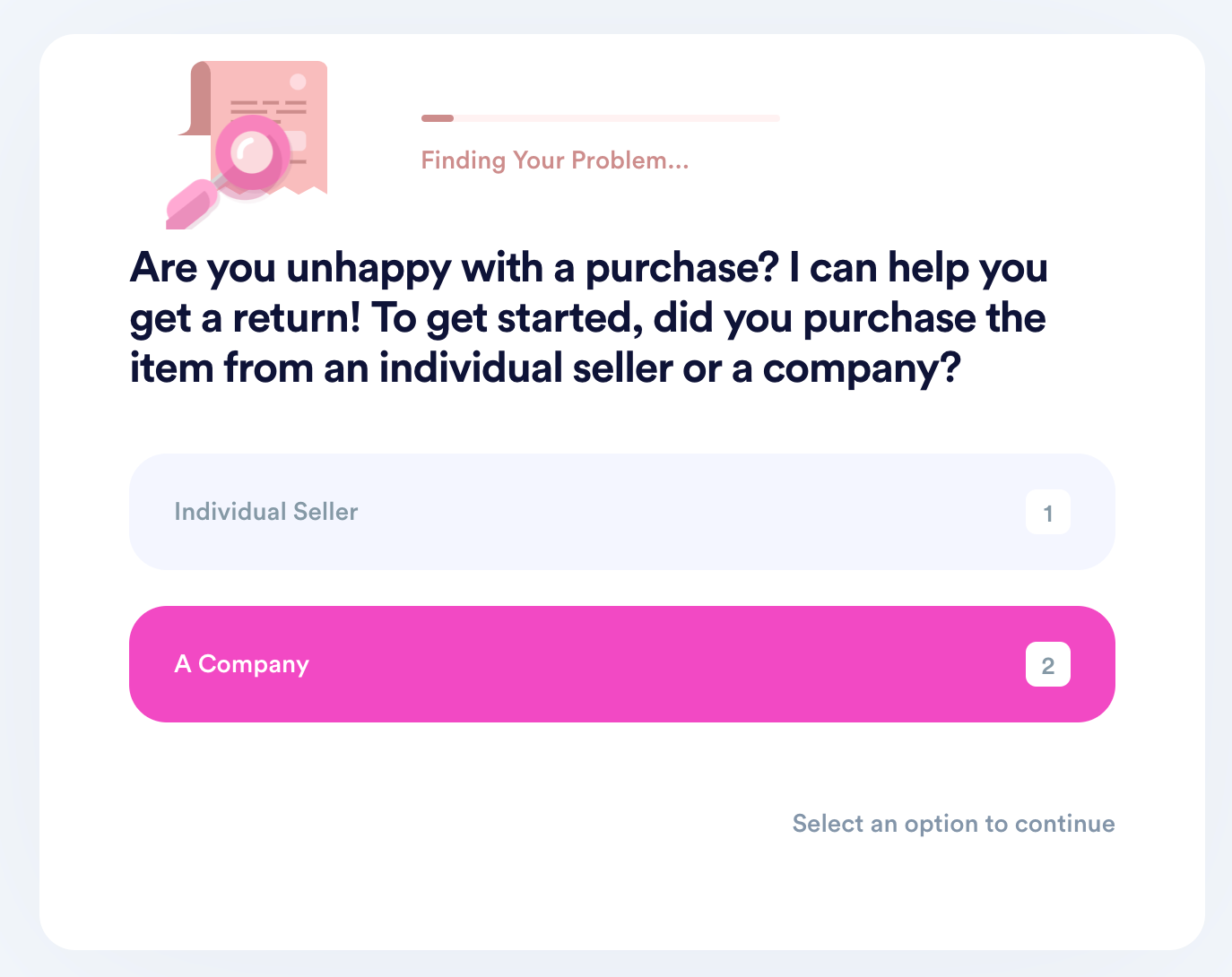 You don't need to have a high-tier DSW membership to ship your items back to the company for free! After sending your return request to DSW, we will give you a free shipping label so you don't have to break the bank to return your products! Subscribe to DoNotPay and follow these steps to initiate a return to DSW:
Open DoNotPay in any web browser
Select the Item Return Request feature
Provide essential information about your purchase
Attach photographic evidence of product and shipment faults, if necessary
We will mail a custom letter including all your purchase information to DSW. The letter will include a date by which you demand the company to finalize the return process, so it will be quick and easy!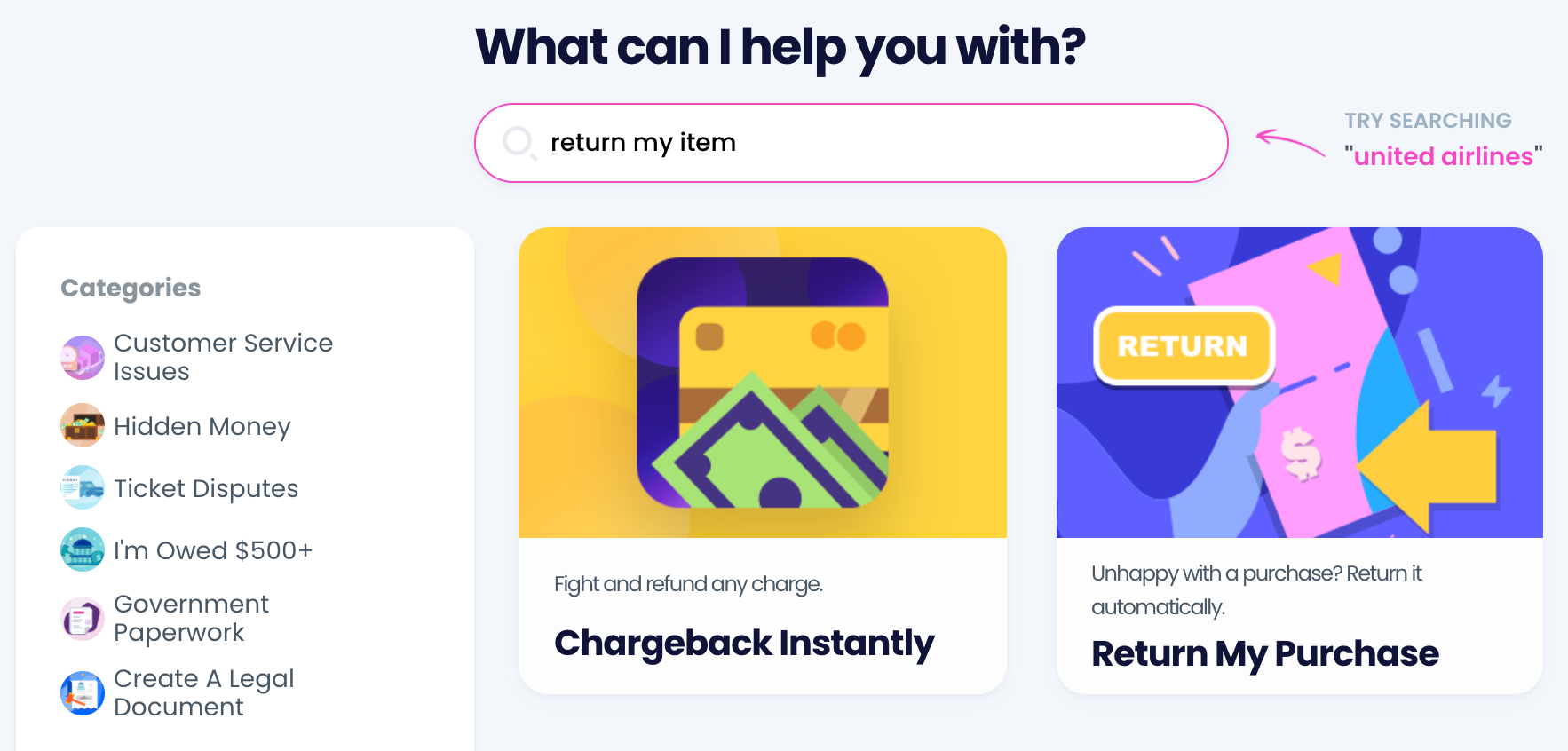 Do you need more assistance with returns? Rely on our knowledge base for expert guidance on returning products to the following companies:
Use DoNotPay To Get a Quick Refund From DSW
When DSW approves your return request, our Chargeback Instantly feature can help you get a refund in the blink of an eye. Submit a refund request and save time you'd otherwise have to spend going to a DSW store by following these steps:
Select the Chargeback Instantly product
Click on Get Protected
Provide all the information regarding your request to our chatbot and sign your request electronically
Is the Company Refusing To Cooperate? We Can Help You Get Justice
Is whatever company you're dealing with not being a good sport? Don't worry—the world's first robot lawyer is here to help. Our app can prepare all the necessary paperwork and provide guidance if you want to sue the company in small claims court.
We can also help you draw up any legal document you need for the case, have it notarized by an online notary, and fax it to anyone in a matter of minutes.
If you want to get revenge on tiresome robocalls or report a stalker or harasser, you can rely on DoNotPay.
Anything Else We Can Do for You?
Our AI-powered app is versatile—you can complete many tiresome, daunting tasks that you wouldn't want to tackle by yourself. You can use DoNotPay to:
If you want to get access to all of our nifty products, sign up now!