The Easiest Way To Obtain Purdue University Scholarships
Purdue University students have to pay up to $45,000 per year in tuition fees, and that's not all. The University comes with additional costs, such as the application and individual program fees for a variety of courses, including engineering, computer science, and management.
Many students find these expenses too high and can't get their degrees unless they take on debts they repay years after they finish college. Luckily, there are many scholarships and grants on offer for students who need financial help.
In this guide, we'll show you how to secure one or more Purdue University scholarships. You'll learn:
Who offers financial aid
Where you can find various scholarships
How to apply for them
How to use DoNotPay to optimize your efforts
Purdue University Scholarship Types
Scholarships are awarded to students based on two principles:
Merit
Need
Purdue University Merit Scholarships
Purdue University merit scholarships go to students who demonstrate academic excellence and have a resume of personal achievements and activities related to their studies—community service, project involvement, employment, etc.
Several factors go into judging a student's academic performance. They include:
Need-Based Scholarships
Students who can't meet the academic requirements for merit awards can apply for need-based grants if they can prove their family has a low income. They can do so by filling out the Free Application for Federal Student Aid (FAFSA) form or completing the College Scholarship Service (CSS) Profile.
With the CSS Profile or the FAFSA form, students can get an official estimate of their Expected Family Contribution (EFC), which needs to be below a certain limit set by the grant they are applying for.
Purdue University merit scholarships are more rewarding than need-based grants, but they are also more competitive and harder to obtain.
Where Do Purdue University Scholarships Come From?
The following sources offer programs for Purdue University students:
The University itself
Federal and state government
Companies, private donors, and funds
Purdue University Scholarships
While some University awards take students' financial standing into account, most are based on merit only. These programs are highly competitive—only about 15% of applicants get the aid.
Once a student receives an award, they can renew it for four consecutive years, provided they maintain a high GPA and show satisfactory academic progress (SAP).
Purdue University scholarships are available only to U.S. citizens, legal immigrants, and permanent residents—international students are not eligible. The Purdue scholarship deadline is November 1.
Check out this table for some examples of University programs and their awards:
| Scholarship Name | Award Amount |
| --- | --- |
| Trustees Scholarship | $16,000 per year for out-of-state students and $10,000 per year for state residents |
| Presidential Scholarship | $10,000 per year for out-of-state students and $4,000 per year for state residents |
| Span Plan Scholarship | Up to $2,500 per year |
| Purdue Promise | Financial aid package of gift aid and work-study |
| National Recognition Programs Scholarship | $1,000 per year |
| Polman Scholarship | Up to $2,500 per year |
| National Merit Scholarship | $500 per year |
| Priscilla Boyd Hovde Memorial Scholarship | Up to $2,500 per year |
| Jacqueline Walters Aldrich Memorial Scholarship | Up to $2,500 per year |
Federal and State Programs
Federal and state governments and organizations focus on students in need. The FAFSA form is necessary for all of the following grants:
Program Source
Grants on Offer
Federal government

Federal Supplemental Educational Opportunity Grant (FSEOG)
Teacher Education Assistance for College and Higher Education (TEACH) Grant
Federal Pell Grant
Iraq Afghanistan Service Grant

Indiana

government and institutions

Adult Student Grant
Indiana National Guard Supplemental Grant
The Mitch Daniels Early Graduation Scholarship (MDEGS)
William A. Crawford Minority Teacher/Special Education Scholarship
Frank O'Bannon Higher Education Award
Child of

Veteran's

and Officer's Fee Remissions (CVO)
Indiana Senior Citizen's Tuition Exemption
21st Century Scholarship
Private Scholarships
Private financial aid programs are the most numerous and can be merit- or need-based—sometimes both. The majority of private award providers have specific student profiles in mind when they set the requirements. This way, they can offer help only to students who match their values.
The following table shows some examples of what groups of students can be eligible:
Scholarships Based On
Student Groups
Association with a religious or minority group
Field of study
Any field for which Purdue University has a program can have its scholarships, including nursing,

law

, teaching,

mechanical engineering

, PA, and so on
Level of study

High school seniors

who are admitted to Purdue or have selected the University as their first choice

Undergraduates

(

freshmen

,

sophomores

, and

juniors

)

Other specifics

Military children

Disabled students
Where To Search for Purdue University Scholarships
You can find information about programs offered by the University in the financial aid section of their website. Finding private scholarships is not that straightforward.
Information about private awards is scattered all over the internet, and it may take you weeks of researching various programs before you find the ones you're eligible for. If you want to speed up the process, you should take your search to the following places:
Purdue University's Division of Financial Aid (you can contact them at facontact@purdue.edu or 765-494-5050)
Private financial aid consultants
DoNotPay
will allow you to avoid the entire research process and find out about all available scholarships for which you can apply. Our app will give you a personalized list of awards in under five minutes.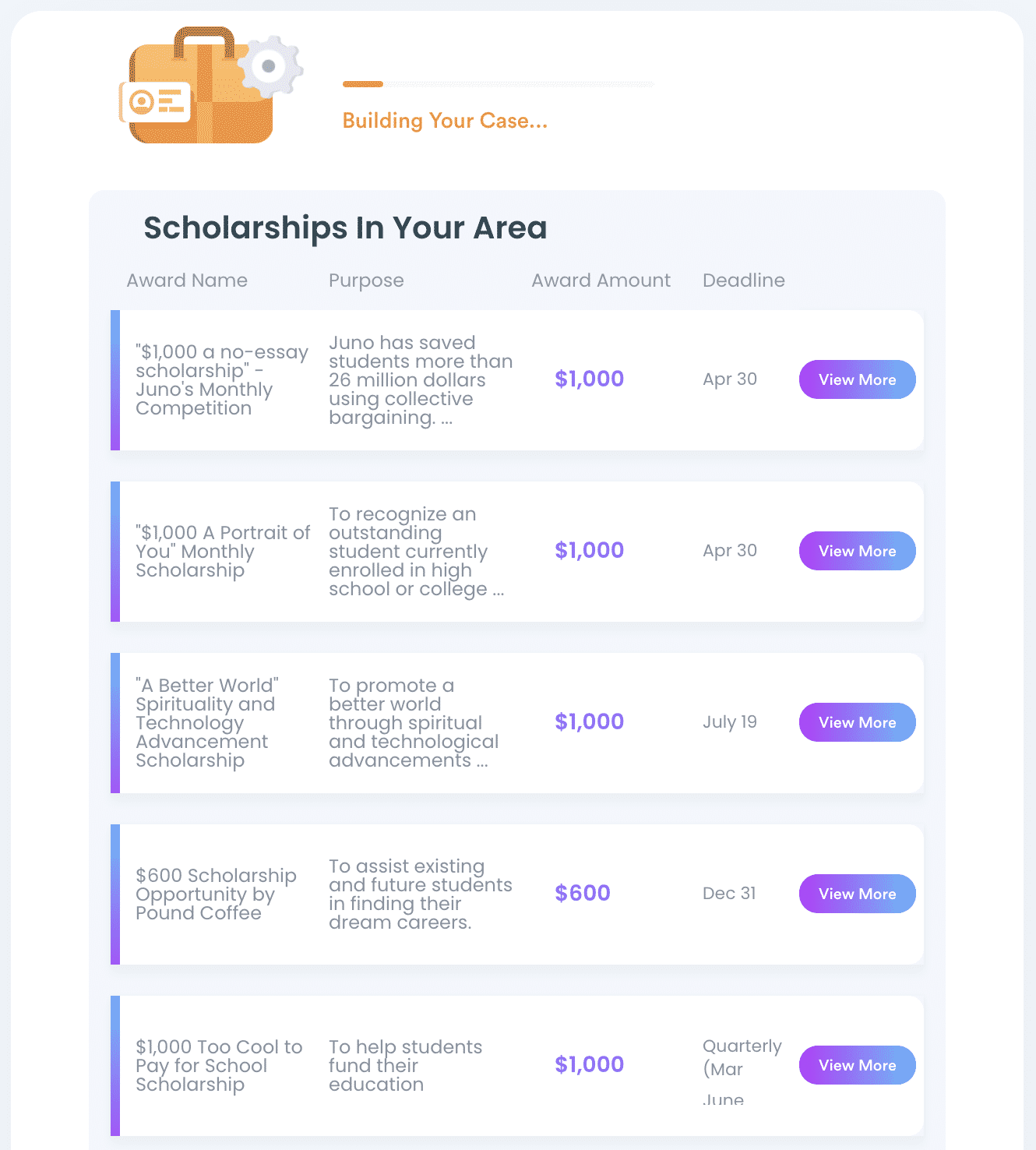 The Application Process for a Purdue University Scholarship
As awards come from various sources and have different requirements, the application process will not be the same each time. Every program has its own way of handling applicants, so you will have to do research on how to apply before you begin filling out the application form.
To make sure you're ready to apply, you should have a checklist and see if:
The deadline has not passed yet
You fulfill all the requirements
You have prepared all the necessary paperwork
The Best Way To Obtain Purdue University Scholarships—Use DoNotPay
You no longer have to invest time and effort into searching and applying for various scholarships. DoNotPay can do it for you!
With our app, you will be able to learn about the requirements and award amounts of all programs you're eligible for. You can also use our app to apply for no-essay scholarships automatically by letting us complete the process on your behalf.
You only need to follow these steps:
Use your browser to
Select the Apply for Scholarships feature
Answer a few questions regarding your financial and academic standing
Choose which type of scholarship interests you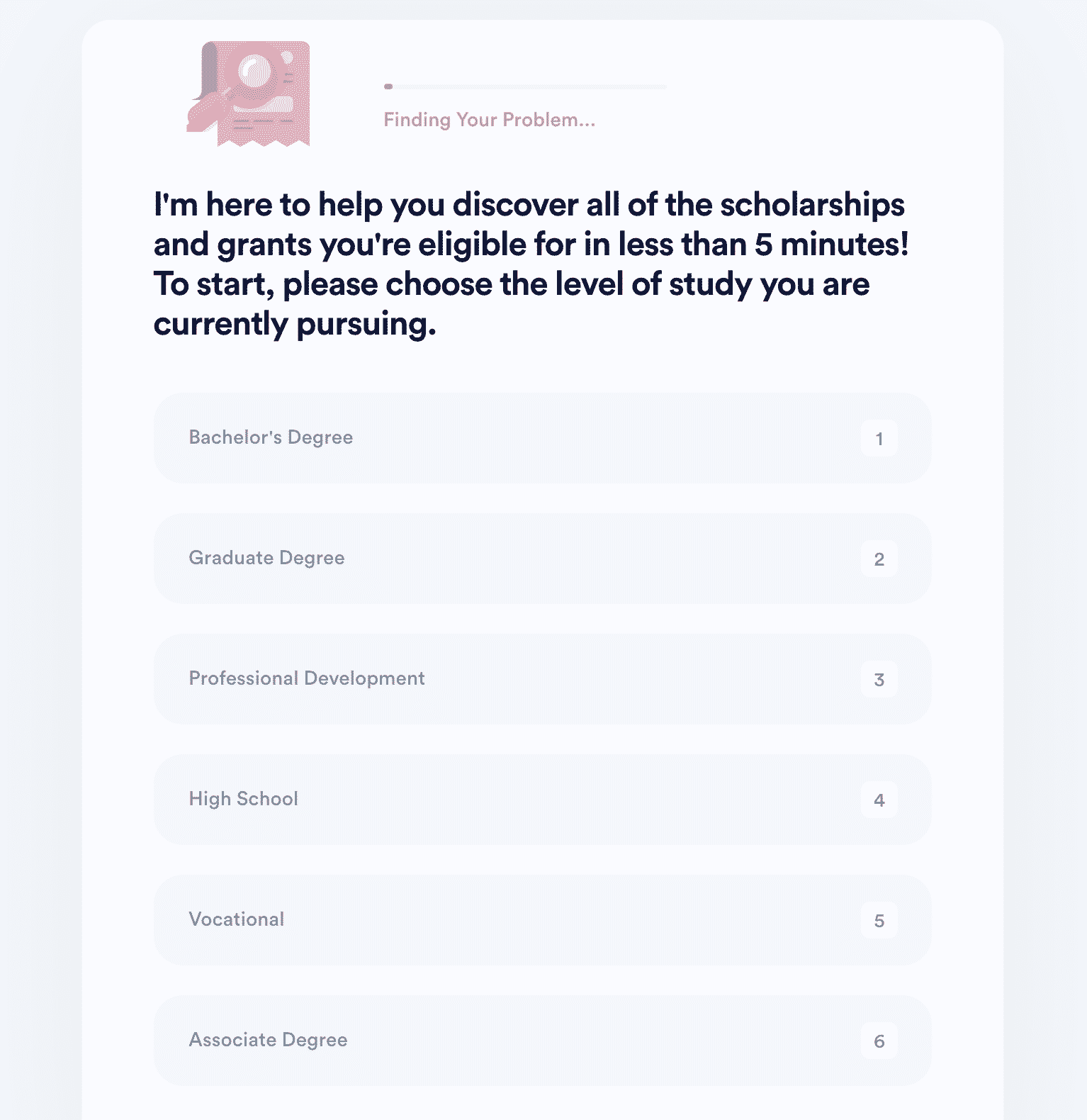 DoNotPay Turns Any Tiring Task Into a Piece of Cake
Are you tired of dealing with bureaucratic or legal matters on your own? You no longer have to—as soon as you subscribe to DoNotPay, we'll take any exhausting task off your plate.
Our app is capable of drawing up legal documents—including marital settlement agreements, child travel consent forms, powers of attorney, defamation demand letters, and affidavits to homeschool—getting them notarized remotely, filing complaints against companies, suing any individual or corporation in small claims court, sending FOIA requests, and so much more.
The World's First Robot Lawyer Offers So Much More
DoNotPay's capabilities don't end there—we can also:
Help you get a tourist visa