The Most Common Scholarships Essay Prompts—How To Answer Them
While the scholarship application process is repetitive, essays are what drains the most energy. When you are interested in several scholarships or grants, you need to put your time and effort into coming up with stellar essays that will win over the committee.
What if you can cut this process short? If you learn how to tackle the most common scholarship essay prompts, you'll be able to finish the task stress-free.
Find out which ones come up the most often and how you should approach this task. Once you learn how to recognize what every prompt requires you to say, you'll get a winning formula for writing killer essays.
The Recurring Topics in Scholarships Essay Prompts
Scholarship essays mostly revolve around similar themes. The committee that determines your destiny wants to assess how you can contribute to their mission. For that reason, you'll get to discuss certain themes repeatedly—such as:
Your character
Scholarship
Community
Career
Challenges
Influences
Goals
Finances
The Most Popular Scholarship Essay Questions and Answers That Will Get You the Much-Needed Money
Each theme comes with a specific prompt or question that regularly pops up. It can come in a slightly different form, but the point is usually the same.
Here are the most popular essay prompts:
Theme
Prompt
Answer Should Focus On
Your character
Tell us about yourself

Passions
Events that shaped you as a person
Successes that are the most valuable to you

Scholarship
Why do you deserve this scholarship?
How it will help you with:

Overcoming financial hardships—if you come from a low-income family
Achieving a goal
Pursuing your preferred field

Community
How have you contributed to your community?
Write about the specific examples of your involvement in the community and the way those events helped you grow
Career
Why did you choose this career?

What made you interested in that field
How you plan to make a difference

Challenges
Tell us about a time you failed. What did you learn?

Personal, academic, or professional misstep
The valuable lesson you've learned
The specific actions you would approach differently if it occurred again

Influences
Who has been your biggest influence?
The person who shaped your:

Goals
Aspirations
Perspective

Goals
What are your academic or career goals?
The moment or event that made you set those goals
Finances
How do you plan to finance your studies?
Talk about your effort to secure funds—such as:

Working part-time
Applying for financial aid
Getting a summer job
How To Come Up With Scholarship Essay Topics
For some programs, you have the complete freedom to write about anything you want. Choosing your own topic can seem like a dream come true at first, but it's not that easy to think of one that will amaze the committee.
You should follow these steps while in pursuit of an ideal topic:
Single out the scholarships
Organize the topics
Think about what makes you unique
Discovering the Scholarships
While reusing an essay isn't the best choice, if you plan to apply for several scholarships in the field of computer science—for example—and you get to pick your topic, you might get away with it. Before you start writing, you should pick out the college scholarships you are interested in. To automate this process and save time, use DoNotPay. Our nifty app can give you a custom-made list of all aid types you qualify for in no time.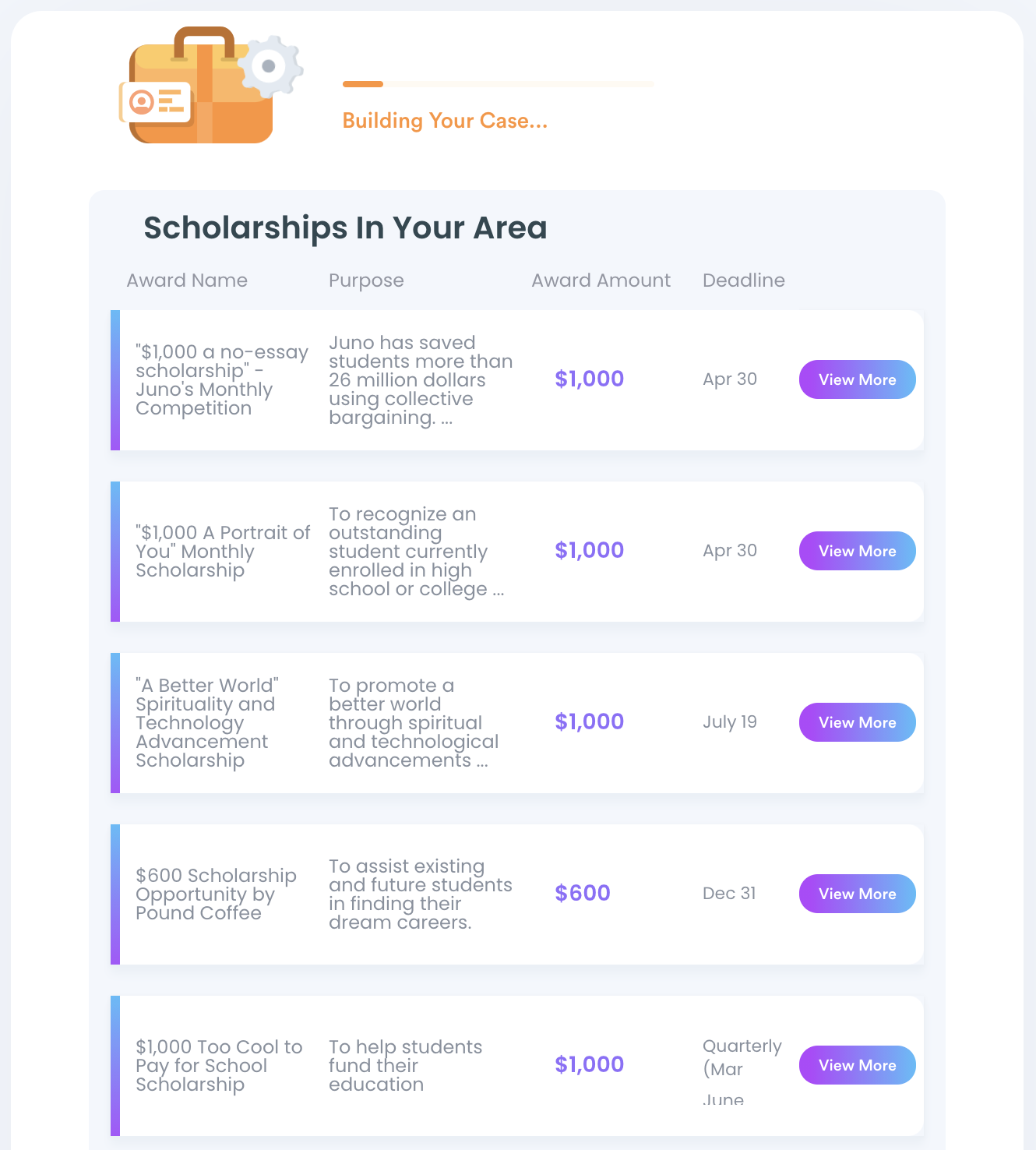 Organizing the Topics
You can group the no-topic essays based on their similarities—such as scholarships for women, nurses, international students, veterans, and others. You can write a single essay that you can send to two or more committees if you believe that your approach is stellar for the given scholarships. For example, for women minority scholarships, you can write about a strong black female figure who inspired you to go after your dream.
Finding Your Unique Traits and Qualities
The next step is to think about what makes you different. Do you have extraordinary leadership skills? Did you overcome the obstacles you faced as a minority? Don't be afraid to talk about deeper subjects—such as a learning disability, anxiety, and similar. Your uniqueness is your golden ticket to a winning essay topic.
Here are a few ideas you can adopt or modify:
The Person Who Changed My Life—Write about your parent, teacher, counselor, inspirational public figure, and so on
How I Learned To Take Destiny Into My Own Hands—Share a story about an obstacle you faced that motivated you to become more determined
What I Do Best—Provide a background story of your childhood and the way your greatest skill developed
My X Steps to Success—Explain what you had to overcome to get to this point
DoNotPay Can Help You Secure Scholarships
Researching scholarship options and writing essays are the most time-consuming tasks, but DoNotPay can cut the process short.
Our AI-powered app takes your unique characteristics and preferences and generates a tailored list of every available aid type you apply for. Whether you are a high school senior, undergraduate, or graduate, you can use DoNotPay to take care of the scholarship search in a couple of minutes.
All that you need to do is:
Select the Apply for Scholarships product
Answer a few simple questions about your preferences and education status
If no essay or recommendation letter is required, you can apply for the program within our app!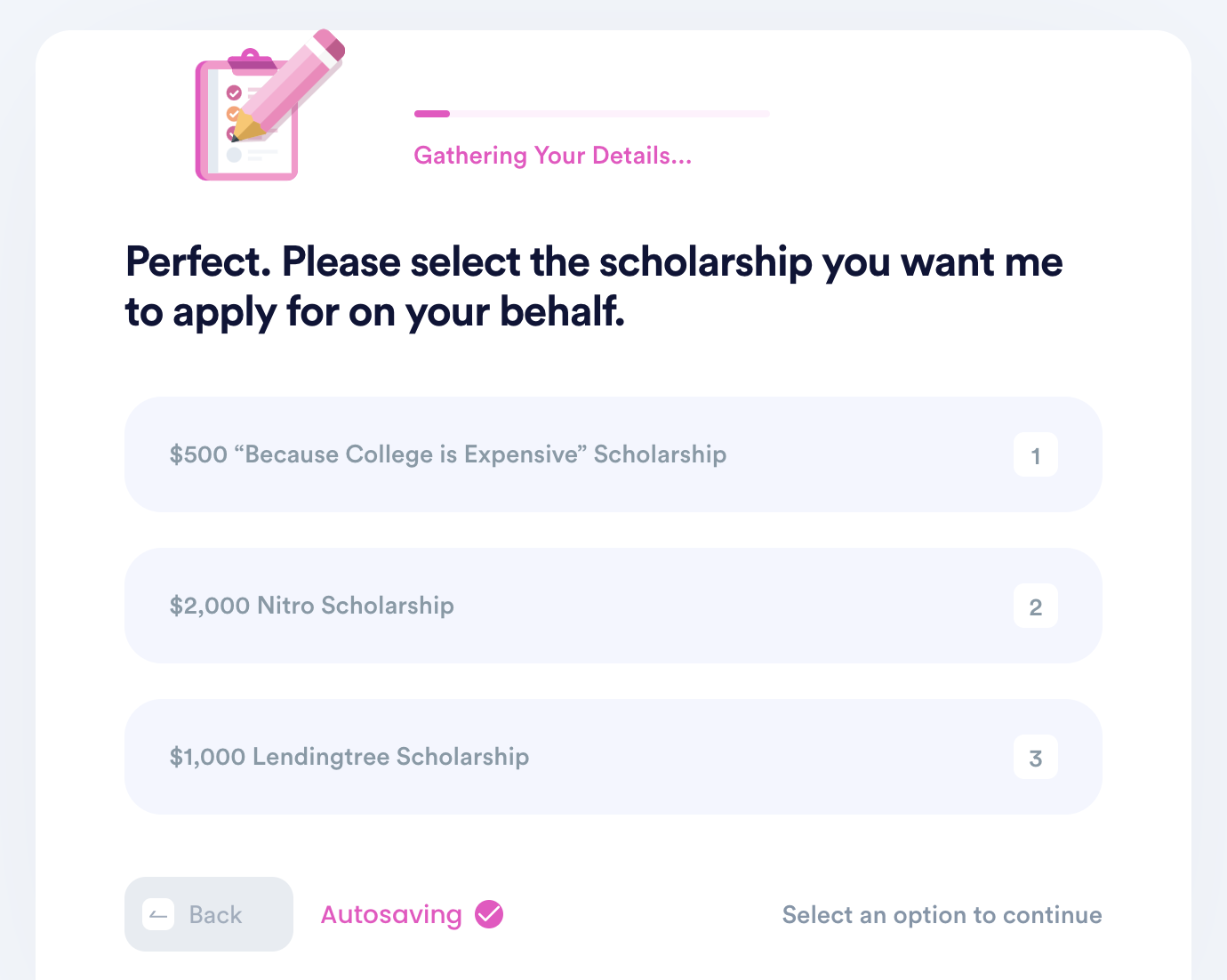 Managing Everyday Tasks With DoNotPay Is a Breeze
Completing mundane tasks doesn't have to be a nightmare! With our help, you can relax and finish them in a few taps! All you need to do is register for DoNotPay and let us help you with:
Have Your Documents Drafted and Notarized With Our Help!
If you need to draft a legal document, such as a divorce settlement agreement, power of attorney, or a child consent form, hiring a lawyer to assist you is probably the first thing that comes to mind. What if we told you that spending hundreds of dollars on legal services is unnecessary? Not only can DoNotPay draft contracts and agreements in a few minutes, but it is also your most affordable and effortless option!
The benefits our app provides don't stop there! After we generate your document, we'll connect you with a remote notary and show you how to get it notarized online without leaving the comfort of your home! You can even fax the document online and skip dealing with outdated fax machines.