Purdue Financial Aid in a Nutshell
Being recognized as the fifth most innovative school in the United States, Purdue University is an excellent option for ambitious students. What can change their mind is the exorbitant tuition. If you are one of the students who can't afford to pay tens of thousands of dollars a year, don't worry—the Purdue financial aid program boasts several financing options to help you pay for your education.
If you've already applied for aid but got a low offer, and let us help you write an appeal letter.
All Available Types of Purdue Financial Aid
There are four types of financial aid available at Perdue University:
Loans
Work-study
Scholarships
Grants
The University will offer you financial aid up to your Estimated Cost of Attendance, which provides allowances for the following:
Direct Educational Expenses
Indirect Educational Expenses

Tuition
Fees
On-campus housing

Books and supplies
Travel
Off-campus housing
Keep in mind that you must pay the balance due by the first day of class if the amount of total aid accepted does not cover the tuition and other fees. You don't have to accept all aid offered to cover your expenses.
How To Apply for Purdue Financial Aid
You can apply for financial aid before applying for admission at Purdue University, but be aware that you must be admitted to a degree-seeking program to receive it. For federal, state, and institutional aid programs, you must submit the Free Application for Federal Student Aid (FAFSA) form each year you're in school. When filling it out, be sure to enter the Federal School Code—001825—to allow your information to be sent to Purdue University West Lafayette.
The priority deadline for submitting the FAFSA is March 1, and students who apply by then will be taken into consideration for all financial aid types they may qualify for. Newly admitted students who apply by this date can expect to get an offer in mid-February, while returning students can expect it in mid-June. You can submit your FAFSA after the priority deadline, but some types of aid probably won't be available anymore.
What you'll have to do before completing your FAFSA is create a Federal Student Aid (FSA) ID, for which you'll need:
Your Social Security number
Your Federal Student Aid ID
A valid email address
Your and your parents' income information (unless you are an independent student) for the current year
How To Get in Touch With the Purdue Office of Financial Aid
You can contact the Purdue Office of Financial Aid via email at facontact@purdue.edu or via phone at 765-494-5050, Monday–Friday, from 8:00 a.m. to 5:00 p.m. Currently, the Office is open to walk-in visitors from 10:00 a.m. to 2:00 p.m. Monday–Friday. In-person counseling is available from 2:00 p.m. to 5:00 p.m. Monday–Friday (by appointment only). You can also opt for virtual counseling on the dates and times listed on the Purdue University Contact Us page.
What Do I Need To Do To Keep Receiving Financial Aid?
To continue receiving financial support, you must:
Maintain a Satisfactory Academic Progress (SAP)
Attend the courses you are registered for
Maintain a minimum of half-time enrollment
Keep in mind that some financial aid awards have special requirements.
Can I Apply for More Aid?
When you apply for financial aid through FAFSA, you are considered for aid from the federal or state government or Purdue University. By completing a separate application, you may qualify for additional financial aid, such as:
Purdue scholarships
Other Purdue departmental scholarships
Private scholarships
Private loans
Purdue Scholarships
Scholarships are awarded through the Purdue Supplemental Scholarship Application. They are based on need, merit, or a combination of the two.
The deadlines for colleges and schools that use the Purdue Supplemental Scholarship Application are listed below:
Education—March 1
Liberal Arts—April 1
Management—March 1
Polytechnic Institute—March 1
Health and Human Sciences—April 1
Other Purdue Departmental Scholarships
Schools and departments that require you to fill out applications other than the Purdue Supplemental Scholarship Application are:
Agriculture
Education
Engineering
Exploratory Studies
Health and Human Sciences
Liberal Arts
Krannert School of Management
Pharmacy
Science
Polytechnic Institute
Private Scholarships
Purdue University recommends using ScholarshipUniverse—a system that maximizes scholarship opportunities for students—to see all the ones you may be eligible for.
All private scholarships that you receive must be reported to the Purdue Financial Aid Office, which can also help you complete private scholarships forms.
Private Loans
Loan applications must be submitted to your preferred lender and require either good credit or a co-signer with good credit.
If you applied for financial aid but received a ridiculously low offer, it is time to appeal! To make sure you send a good appeal letter, opt for DoNotPay!
Let DoNotPay Write an Appeal Letter on Your Behalf
Writing an appeal letter is a complicated and tedious task for most people. If you are one of them and want to avoid all the hassle, sign up for DoNotPay. With our app, you can get a well-composed appeal letter in a matter of minutes without breaking a sweat.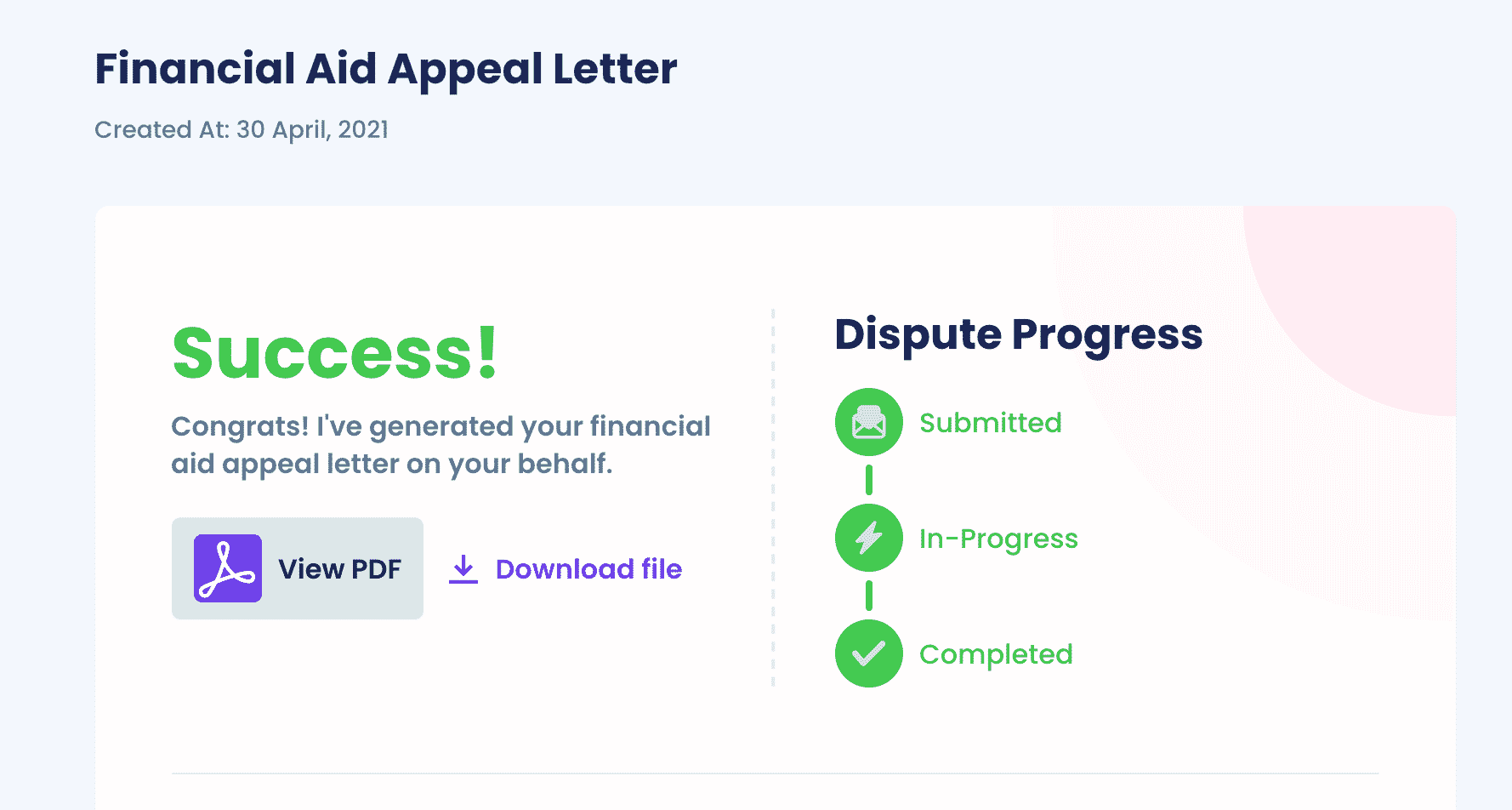 All you should do is:
Find the Appeal for More Financial Aid product
Tell us which college you want to attend and whether any school offered you a higher sum
Provide us with information about your income, taxes, and family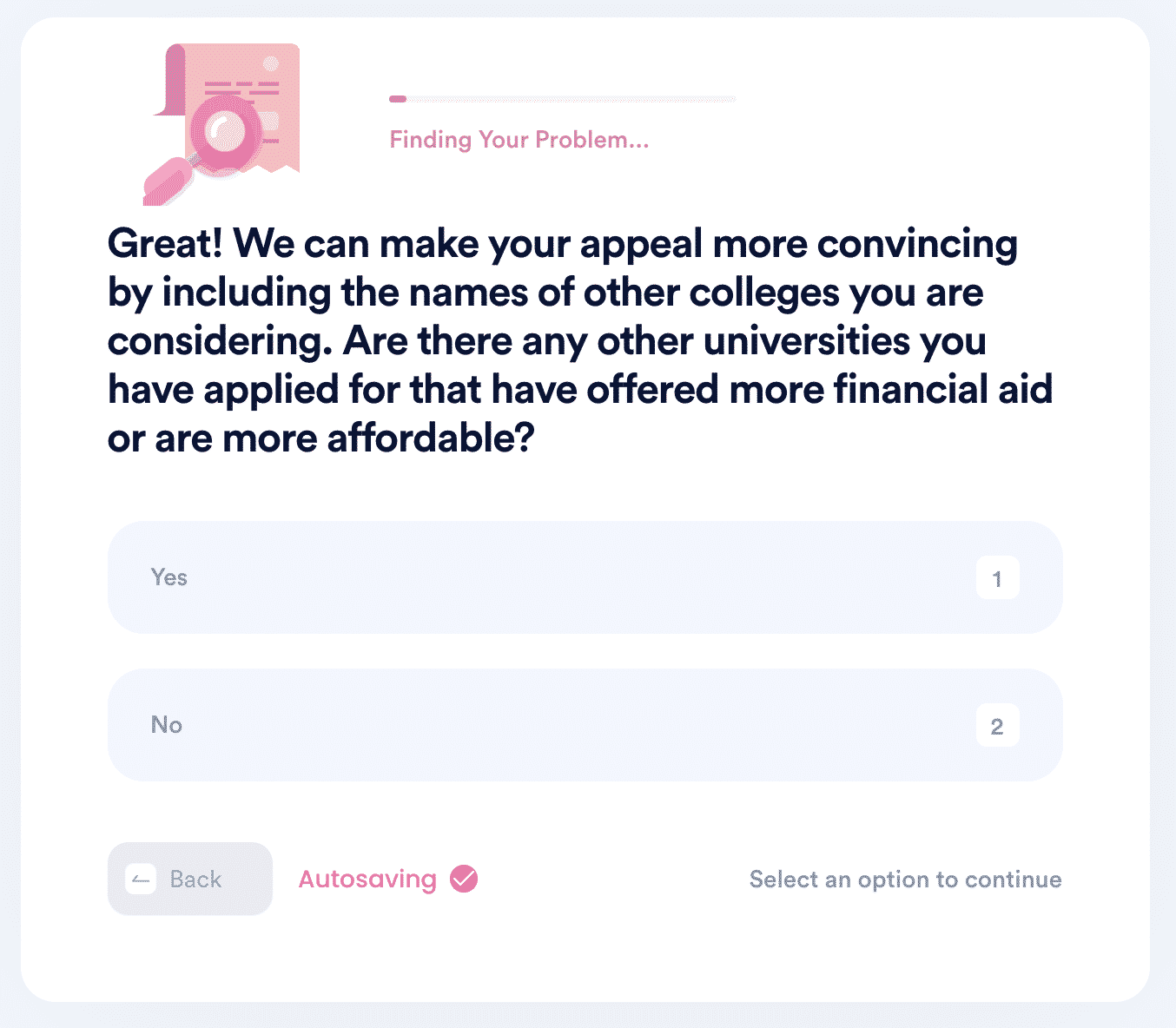 DoNotPay will generate a personalized request and send it where it's needed once you've completed these steps. We can also send the letter to you if you want to mail it to a college or grad school by yourself.
Explore our learning center to find out how much financial aid you can get—and for how many years—at other universities, such as:
DoNotPay Is the Robot Lawyer You Need!
Dealing with the law and understanding legal protocols is difficult if you're not used to doing it on a daily basis. That's why DoNotPay comes to the rescue!
Assisting you in drafting legal documents, creating a neighbor complaint letter, and suing companies in small claims court is what we do best.
That's not all! With us, you can tackle any legal task head-on, no matter how big or small, including:
Deal With Companies Hassle-Free
If you love to shop and you want to make the experience as easy and enjoyable as possible, you're in the right place! DoNotPay provides you with various features that allow you to accomplish just that.
You don't have to struggle trying to reach customer support or figuring out how to claim a warranty or file an insurance claim by yourself. You can cancel any subscription, sign up for free trials, and discover how to use every last penny from your gift cards in minutes!
In case you made a purchase, but your package is missing, don't fret! Finding your missing parcel is only a few clicks away.