Scholarship Essay Examples About Career Goals To Inspire Your Writing
When you decide to apply for a scholarship, you usually need to prepare several pieces of documentation along with your application. Together with letters of recommendation and the Free Application for Federal Student Aid (FAFSA) form, essays are the most common request for many programs.
Writing an essay for scholarships and grants is not an easy job—especially if you've never done it before. Whether you're a high school senior or college freshman trying to secure financial aid, you'll find our guide useful.
We'll help by giving you some scholarship essay examples about career goals that you can consult before you start writing.
What Is a Career Goals Essay and Why Is It Important?
Writing an essay about your career goals is usually required if you wish to apply for a merit-based scholarship. These programs are competitive—many students apply for them, and they all fulfill eligibility requirements (for instance, high GPA and SAT or ACT scores).
That's why organizations that offer awards require you to write an essay—to make yourself stand out.
With an essay on career goals, scholarship providers are asking you to show what you intend to do in the future and how the scholarship can help you get there.
Remember, offering an award is rarely a gesture of goodwill. Companies and institutions are investing in college and graduate school students because of their potential—an excellent student makes an excellent employee.
That's why you should do your research on the scholarship in question before you even get to the writing part. You should know what the purpose of the award is to be able to find the best approach and focus on talking about what makes you the perfect match.
If you're struggling to find all the available scholarships and information about them, you can rely on .
Our app lets you create a personalized list of scholarships you're eligible for and provides you with all the particulars.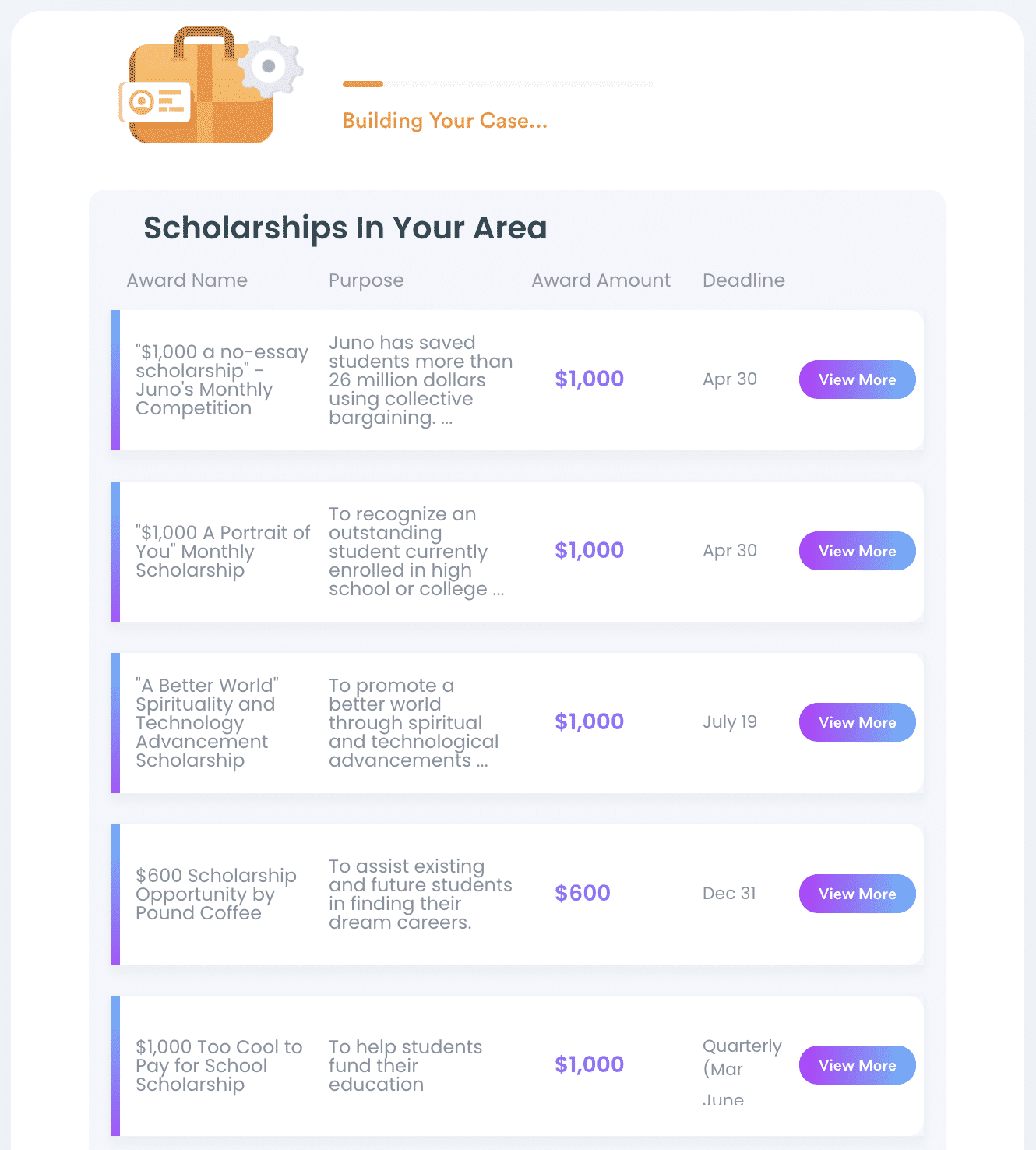 Career Goals Essay—Approaching the Writing
Each career goal essay should be as unique as possible, but you shouldn't make up a fake career goal just to sound creative. While you should try to mix things up if you're applying for various scholarships, some aspects should remain the same. You should stick to the following rules:
Show that you're eligible and that you have a clear goal—Scholarships usually focus on different groups of students. If you're applying for a minority scholarship, you should talk about how your career goal is to help a

Hispanic

, African, Filipino, or any other community you belong in
Be truthful—Don't say you want to be the next Bill Gates because you're applying for a computer science scholarship. Be honest about your real goals and try to present them in a way that would show the organization why they should support you
Stick to the point—There's a reason why essays rarely go over 1,000 words. You should be concise and talk only about concrete goals and expectations
Be unique—Give them something to remember you by. If you're a woman in a field of study traditionally popular among men, talk about the challenges that this brings. If you're a

military veteran

, tell them how your experiences shaped you
Consult the table to learn about Dos and Don'ts of writing a career goals essay:
Do
Don't

Use short and clear sentences
Separate your essay into logical paragraphs
Use professional language
Make sure the essay is grammatically correct
Talk about your qualities with humility
Show your ambition

Use bad language or slang terms
Be vague
Lie
Steer far away from the essay prompt
Career Goals Scholarship Essay Prompts
Career goals essays have a universal purpose, which is why many programs often use the same essay prompts. The three most common ones are:
How will this scholarship help you achieve your goal?
What is your dream job?
Where do you see yourself in ten years?
Scholarship Essay Examples About Career Goals
The following examples are here to give you an idea of how a well-written career goals essay should look like, but you shouldn't copy-paste them.
The commission of the program you're applying for will notice whether you wrote the essay yourself or copied it from the Internet.
"How Will This Scholarship Help You Achieve Your Goal?" Essay
"To be able to pay my medical school tuition fees, I have to work part-time. This disrupts my studying process, and I have trouble achieving my mandatory hours in a clinic.
With your aid, I will be able to fully focus on my studies and my goal of offering free medical care to the underprivileged communities in my hometown of Boise, ID."
"What Is Your Dream Job?" Essay
"I was 12 when my father brought in a Mark Twain book, and I was amazed by it. It captivated my imagination, and I have dreamed of becoming a writer or working with them ever since.
Creative writing is not a job you just sit down and do. With a degree in creative writing, I will be closer to achieving my dream of becoming a writer. I will also have the required knowledge to be a publisher and help up-and-coming writers."
"Where Do You See Yourself in Ten Years?" Essay
"I see myself graduating from XY college and enrolling at the YZ graduate school to further my knowledge about physical therapy. When I complete my PA school studies, I see myself having a job in a clinic to learn the trade from more experienced colleagues.
In ten years, I would like to have my own private clinic, in which I will be able to treat my patients and teach other PAs how to do their job. Getting your scholarship will help me achieve the goal of owning my own clinic."
Getting That Scholarship—Can DoNotPay Help?
Writing a career goals essay can be a demanding task, but finding a scholarship you want to apply for can be even more challenging. It gets trickier if you're in a field of study that's not popular among students or if you're not a U.S. resident.
It can take months of searching across the Internet to find a scholarship you're eligible for unless you use DoNotPay. With our help, you can run a custom search and receive a list of all the available scholarships you can apply for.
To do that, you need to:
via your browser
Find our Apply for Scholarships product
Answer a few questions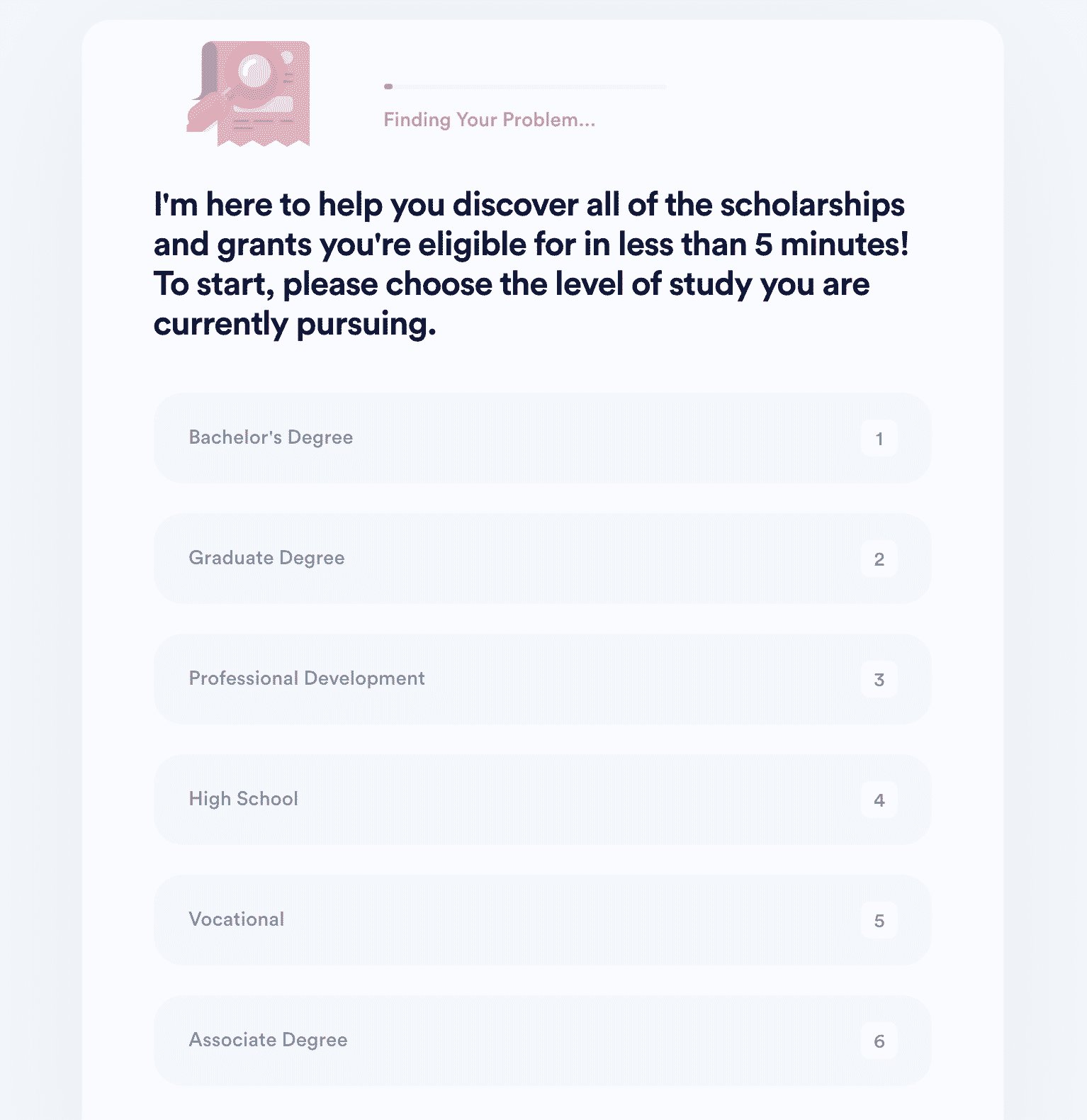 In a few moments, our app will show you the list with all the necessary information in one place. If you come across a no-essay scholarship, you don't have to go to the program's website and go through their application process. Instead, you can use our app and let us apply on your behalf.
Administrative Issues? We Don't Know Them!
Forget about getting frustrated and overwhelmed by the administrative tasks waiting for you to complete them! With DoNotPay's numerous tools, you can easily resolve such tasks in a heartbeat! All you need to do is sign up for our app, and you'll be able to:
Get
Create
File

Divorce settlement agreements

Powers of attorney
Use DoNotPay To Protect Yourself at All Times
Are pesky robocalls and email spammers working your last nerve? Don't despair—we are happy to help you get rid of them! In a few clicks, you can also stop text spam and avoid the incessant phone buzzing!
You can use our app to protect your privacy by creating burner phone numbers and virtual credit cards. That way, you don't have to disclose personal info when subscribing to online services.
In case you're looking for a way to keep yourself safe from stalkers or work discrimination, we'll help you report the case and walk you through the entire process!
Protecting your work from copyright violation and asking for violent crime compensation in your stead is also something DoNotPay can do!