Key Benefits of Seeking Advice From College Financial Aid Consultants
If you have trouble figuring out how to pay for college, it might be a good idea to turn to college financial aid consultants for help. Also known as college financial aid advisors, they walk students and parents through a variety of financial aid programs, the process of applying for them, and the repayment plans.
They can give you expert advice concerning the following and many other questions:
What Can College Financial Aid Consultants Help Me With?
Besides providing you with a deep understanding of the U.S. financial aid system and giving you advice on applying for financial aid at a variety of institutions, college financial aid consultants can help you with:
Completing the paperwork required for receiving financial aid, including filling out and reviewing FAFSA forms and CSS Profiles
Making an in-depth analysis of your income
Determining the cost of college
Estimating your expected family contribution (EFC)
Maximizing your eligibility for financial aid
Understanding your financial award letters
Negotiating additional aid
Sticking to deadlines
Filing financial aid appeals
When Should I Hire a College Aid Consultant?
You should think about hiring a college aid consultant if you:
Want to save time and energy on searching for scholarships, student loans, and other sources of aid
Have too many questions that you can't find answers to
Need assistance in filling out financial aid forms because they seem too complicated
Don't know how to maximize your financial aid package
Is a College Financial Aid Consultant Worth the Cost?
While some college financial aid consultants charge reasonable fees that vary from $50 to $100, others may charge anywhere from $200 to $2,000. Since finances and futures are at stake here, financial aid counseling fees seem insignificant to an increasing number of parents.
You should keep in mind that it is not always necessary to hire a financial consultant as some colleges and firms provide basic advice free of charge.
To help you decide if you need to hire a financial aid consultant, take a look at the table below:
Pros of Hiring a College Financial Aid Consultant
Cons of Hiring a College Financial Aid Consultant

Getting advice from experts
Having someone help you with paperwork
Feeling less stressed

Paying a lot of money even though you're not guaranteed to get financial aid
Wasting money on information that is, in most cases, available on the internet and in schools' financial aid offices
What Should I Watch Out for When Choosing a Financial Aid Consultant?
You need to choose a reliable consultant, so here are some points you should consider when hiring one:
Make sure that their fee is refundable in case they complete the FAFSA incorrectly
Never agree to fixed fees based on the percentage of aid you receive
Consider the consultant's qualifications
Find out how long they've been working in the field—it is important for them to be experienced
Request a list of references and get in touch with them
Make it clear that you will not pay for a list of grants and scholarships that is available on the school website
Don't Pay for Expensive Counseling Services—Use DoNotPay To Create an Appeal Letter
Have you received a low offer from your dream college, or has it declined your request for financial aid? Are you on the brink of giving up because you can't afford to pay sky-high tuition?
If hiring a college financial aid consultant is too expensive as well and you're too busy or not skilled enough to write an appeal letter by yourself, do not despair. Rarely does anyone have time or will for such lengthy and complicated tasks, which is why you should ! Our app can help you create and file a personalized appeal letter in less than five minutes!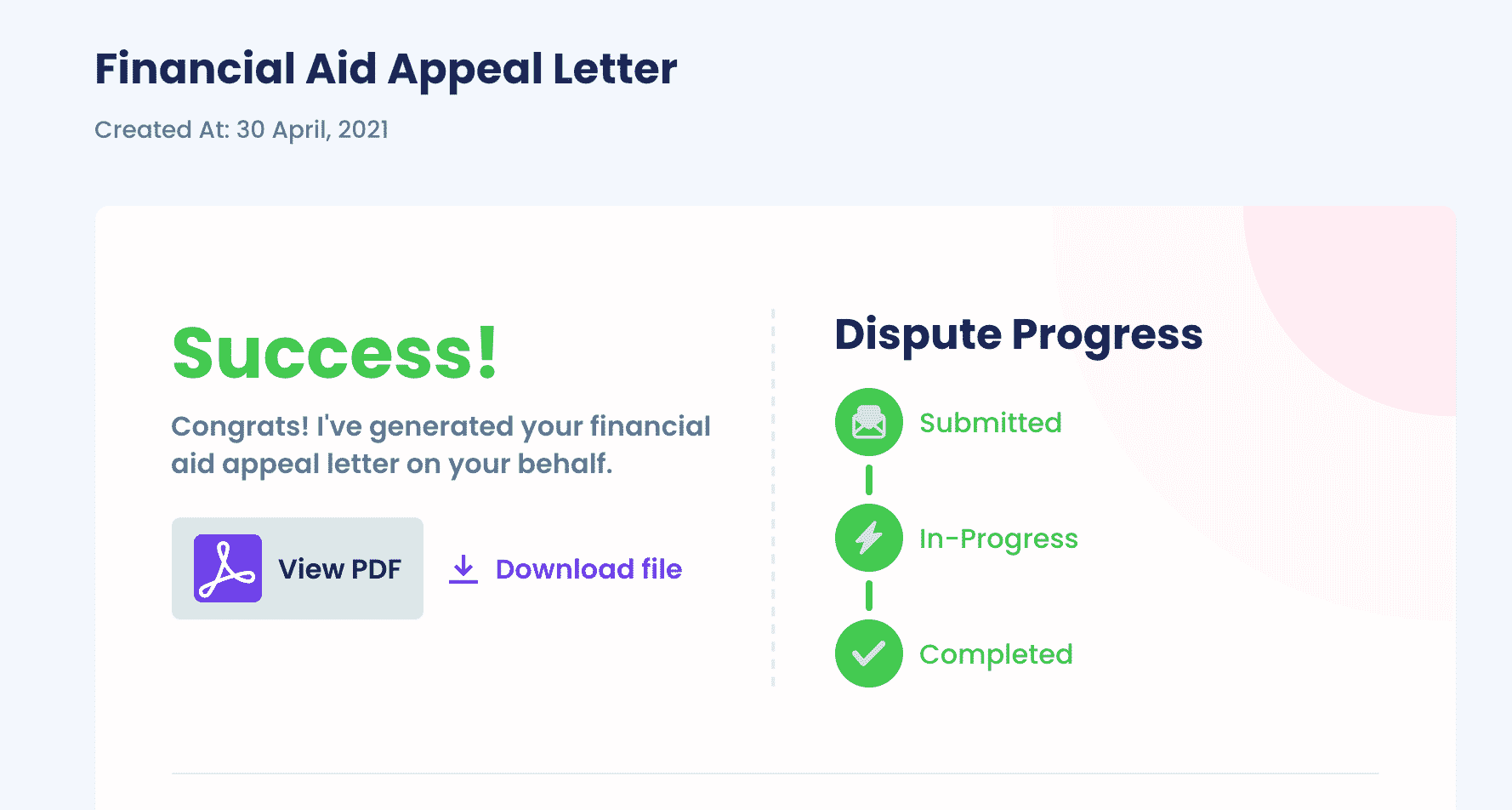 To get our assistance, follow the steps below:
Click on Appeal for More Financial Aid
Tell us the institution you wish to attend and list other ones that gave you better financial aid offers
Answer a few questions concerning your family and finances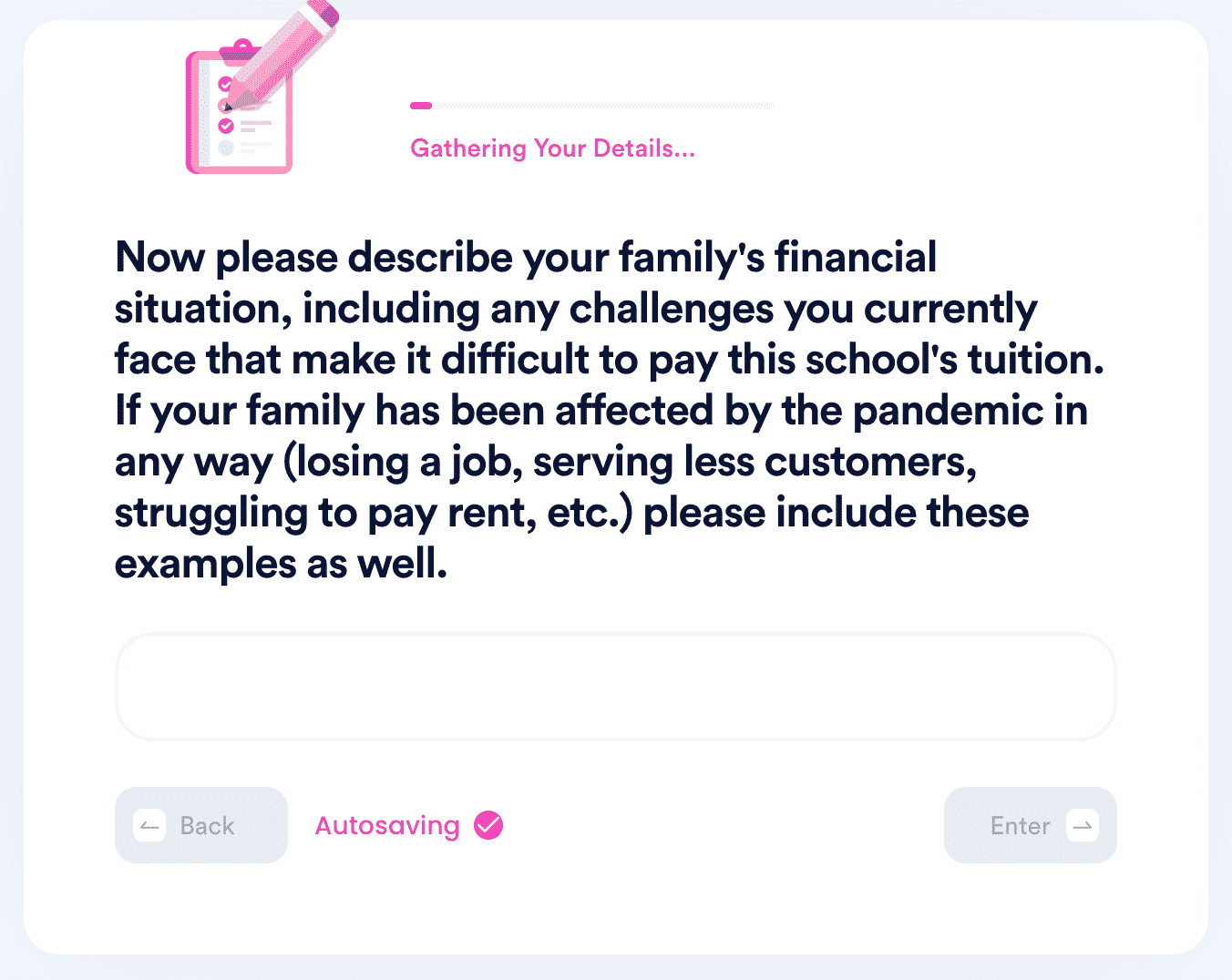 After completing these four steps, you can choose if you want us to send the appeal letter to you or directly to the college in question.
By using the Appeal for More Financial Aid, you will avoid:
Spending hours on drafting the appeal by yourself
Wasting money on expensive college financial aid consultants to write an appeal letter for you
Make sure you check out our articles about financial aid at various prestigious universities to explore your options further:
Tackle Any Legal Task With Our Lawyer App Like a Pro!
Why bother with tedious legal tasks on your own when you can let DoNotPay cut your work in half? No more worrying about how to draft legal documents or sue a company in small claims court—we'll guide you through it effortlessly!
There is no shortage of tasks our Al-powered app can help you with. Once you sign up, you'll learn how to:
File warranty and insurance claims

Reduce property taxes
Fight Scammers in a Few Clicks!
Is your phone buzzing incessantly, and you can't take it any longer? Use DoNotPay to stop annoying robocalls and fight scammers with ease!
Having a company spam you with unwanted emails about their products isn't uncommon, but that doesn't mean you have to put up with it. DoNotPay helps you create a burner phone number, fight email spam, and stop spam text messages in a snap!
You can also find our features super useful when requesting a refund, filing insurance claims, and locating your missing USPS, UPS, or other parcels.