Interested in Applying for Purdue? Avoid Paying a Purdue Application Fee
Applying for colleges is expensive, even without the application fees. Some of the expenses include traveling for on-campus visits, preparing for standardized tests, and sending the results to specific colleges. When you add an application fee to the mix, you are looking at some serious financial setback.
Most universities charge an application fee, and Purdue is one of them. If you are interested in becoming a student at this highly-ranked research facility, you should consider applying for a fee waiver. Whether you are experiencing financial difficulties or just want to take the pressure off, DoNotPay is here to show you how to do it. 
What Are Application Fee Waivers and How Can They Help?
Application fees refer to the money colleges charge to review your application and decide if you meet the criteria to become their student. The price of college application fees differs from school to school. Some universities ask for a symbolic $30, while others charge up to $100. Considering the number of students who apply every year, some colleges earn a significant amount of money from application fees. 
Colleges that are known for being selective and providing high-quality education typically charge more for applying. Here is an overview of sought-after U.S. colleges with high application fee prices:
Regardless of the amount, application fee prices can dissuade students from applying. Even the smallest difference in price can sometimes mean the world to students, considering that most of them apply for multiple colleges. 
Faced with diminished interest, most schools allow students to avoid paying a fee and grant them a fee waiver under special circumstances. Those circumstances typically involve financial difficulties that make covering application expenses impossible.
Some colleges have additional conditions for granting a fee waiver, like belonging to a certain club or paying an official on-campus visit. Before applying for one, you should get informed on the conditions of that specific university.
Getting a fee waiver will save you money and allow you to apply for more back-up colleges. That way, you will have bigger chances of enrolling. The process doesn't have to be difficult or time-consuming—DoNotPay is here to provide an easy solution. 
How Much Is the Application Fee for Purdue?
The application fee for Purdue University is $60 for degree-seeking graduate and undergraduate domestic students. International students have to pay $75 when applying. 
Freshman students interested in joining Purdue's West Lafayette Campus can apply using the Common App. All graduate applicants have to complete Graduate School's online application.
You have to pay your application fee by using one of these credit cards:
Visa

Mastercard

Discover

American Express 
An alternative is paying through Western Union Business Solutions.
Purdue University will review your application once the fee payment has been processed.
Who Is Qualified for Purdue University Application Fee Waiver?
Applicants with financial difficulties qualify for getting an application fee waiver.
You can also apply for a Purdue University fee waiver if you:
Are a part of the

21st Century Scholars Program

Belong to the

Purdue Bound Program

Are transferring from a degree-seeking program on regional Purdue campuses
Once you obtain a fee waiver, you have to include the approved form in your mandatory application documentation.
Students who took their ACT and SAT with a fee waiver are eligible for getting a college application fee waiver as well.
How To Request a Purdue University Application Fee Waiver on Your Own?
When it comes to undergraduate students, Purdue University doesn't offer clear information on what criteria you must meet or what method you can use to apply for a fee waiver. Purdue states that it recognizes and participates in all standard application fee waiver processes. You can try applying for a fee waiver: 
With a third-party app
Applying for a Fee Waiver With a Third-Party App
The most commonly used apps for getting a fee waiver are the Common App and the Coalition App. Using either app implies:
Accessing the app from your web browser

Creating an account

Navigating to the

Fee Waiver

section of the

Profile

Checking the boxes with statements that apply to a student's financial situation

Acquiring a guidance counselor's confirmation 

Sending the form to Purdue University
Getting a Fee Waiver With a NACAC Form 
NACAC offers an application fee waiver request form that you and an authorized official have to fill out and submit. The process goes like this:
Download the form

Fill out the

Student

section with personal information

Check the corresponding statements in the

Economic Need

section

Have a school counselor or principal fill out the

Authorized Official

section

Send the form to Purdue University's Office of Admissions
How Can You Get a Purdue Application Fee Waiver With the Help of DoNotPay?
Our app is here to ensure prospective students get application fee waivers and save money. Other methods, such as the Common App, often prove to be unreliable. Our database covers all colleges across America, so you will have no problem getting a fee waiver from any of them. You can apply for three types of fee waivers:
New Student Fee Waiver

Transfer Fee Waiver

Enrollment Deposit Fee Waiver
By using our College Application Fee Waiver feature, you can speed up and facilitate the process of requesting a waiver. Here's how you can do it:
Open DoNotPay in your

web browser

Access the

College Application Fee Waiver

feature

Select the fee that you want to receive a waiver for

Choose Purdue University and answer a few questions about your financial situation

Submit the form
Our app allows you to indicate whether you will need your guidance counselor's confirmation. Bear in mind that obtaining their signature may strengthen your case. If you choose to get it, we will send the form to your counselor with a brief input on your financial circumstances. If not, we will send the form directly to Purdue University's Financial Aid Office.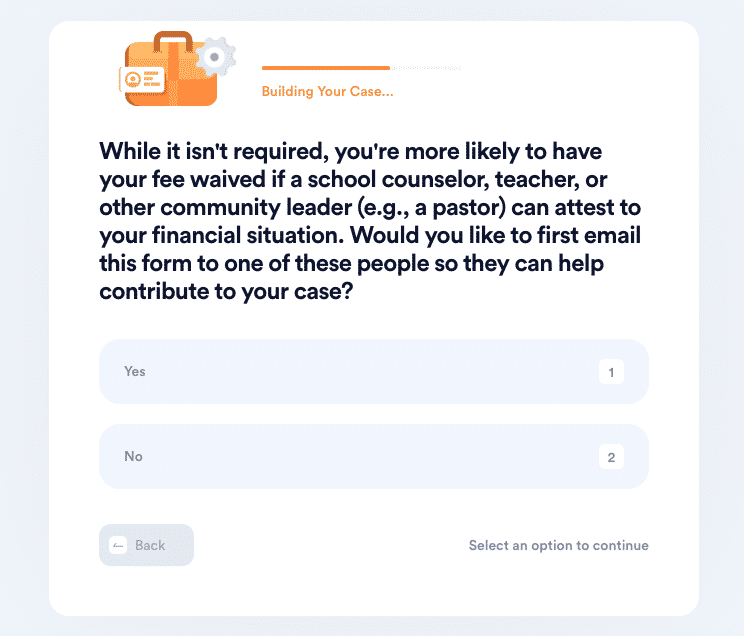 DoNotPay Will Help You With Other Administrative Tasks
Our app can help you tackle numerous tedious bureaucratic tasks. If you are interested in applying for the safest clinical trials in Indiana, we can help. Getting an extension for unpaid electric bills is now easy with our assistance. 
Use our app to cancel Charter Fitness membership or fight robocalls in Indiana. If you've ever wondered how to get compensation for American Airlines canceled or delayed flights, we will explain. 
Access DoNotPay from your web browser, and you can start using our services. Let DoNotPay simplify:
Disputing speeding tickets easily

Fighting traffic tickets in different states