Get Your Docs Signed and Sealed by a Notary Public in Irving, TX
We all need a notary service at some point. Whether we have to witness and sign a will, write an affidavit, or formalize a contract, a notary signature is an essential part of making the document legally robust.
If you live in Irving, TX, we can help you get your documents notarized quickly and easily. DoNotPay is your go-to resource for finding a notary public in Irving, TX!
What Does a Notary Do?
Notaries verify that you are who you say you are and that you have signed a document in their presence. A Texas notary's services include:
Administering oaths and affirmations

Certifying copies of documents

Performing jurats

Producing

acknowledgments

Witnessing signatures
Property-related documents, contracts, car titles, and wills need to be notarized to make them less likely to be contested. Many other documents also benefit from notarization as it gives them more legal weight.
Where Can I Find a
Notary in Irving, TX
?
There are three ways you can have documents notarized in Irving, TX:
Notary Type
Explanation

In-person notary

If you want to visit a notary in person, you will have to make an appointment, travel to the notary's office, wait in a queue, and remember to take all the necessary documentation with you

. If anything is missing, you will have to book another appointment.

There are online search engines to help you find a notary anywhere in Texas, the most popular of which are:

As an alternative, you can usually find notaries in the following locations:

City or county clerk's offices

Courthouses

Public libraries

Police departments

Banks

, such as

Wells Fargo

or

Bank of America

AAA

stores

Law firms

Courier firms like

UPS

Accountancy practices

Realty agents

Car dealerships

Mobile notary

Mobile notaries help you avoid leaving your home or office by coming to you.

While this can be more convenient, mobile notaries often charge higher

fees

for their services. You may also find that there is a long waiting time to get an appointment

Online notary

An online notary receives digital copies of your documents and notarizes them via video call. The process is known as

remote online notarization

and is becoming ever more popular as the quickest and most convenient way to have your documents notarized. Texas is one of the 28 states that allow online notarization
How Much Does a Notary Cost in Irving, TX?
Notary fees in Texas are regulated by state law.
Any additional services, such as photocopying, scanning, or making phone calls, may incur extra charges.
The full range of pricing for notarial services in Texas is as follows:
Service
Cost

Acknowledgment or proof

$6 for the first signature

$1 for every subsequent signature

Administering an oath or affirmation

$6

Providing copies of documents held by the notary

$0.50 per page

Taking a deposition

$6 plus $0.50 per 100 words

Protesting for non-acceptance on non-payment

$4

All other certificates

$6

Any other legal notarial service

$6
Mobile notaries can also charge travel expenses, but they should discuss these with you beforehand. They should always provide an itemized bill that separates their notarial fees from any ancillary charges.
How Can DoNotPay Help Me Notarize Documents?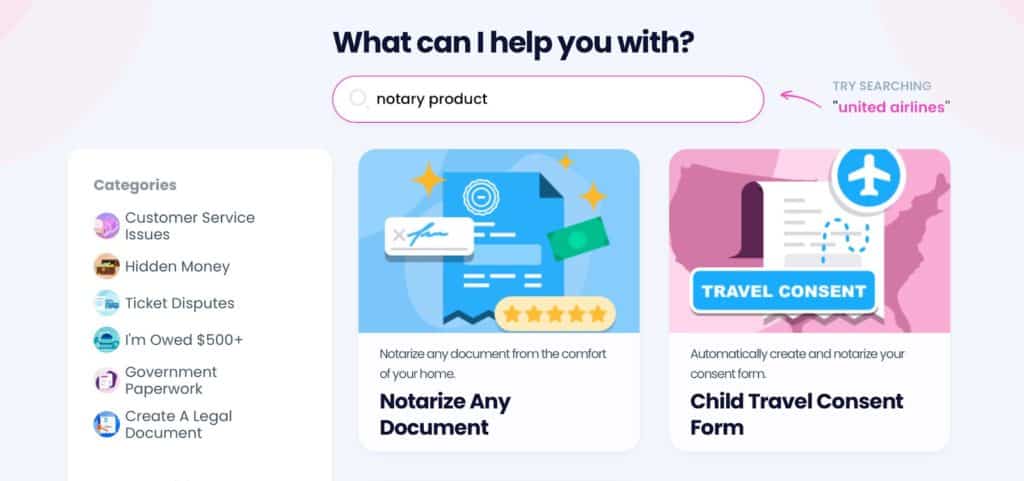 DoNotPay can help you notarize documents in a few clicks—all you have to do is:
Navigate to DoNotPay in your web browser and

Look for our

Notarize Any Document

product

Upload the document you need to be notarized

Fill in your email address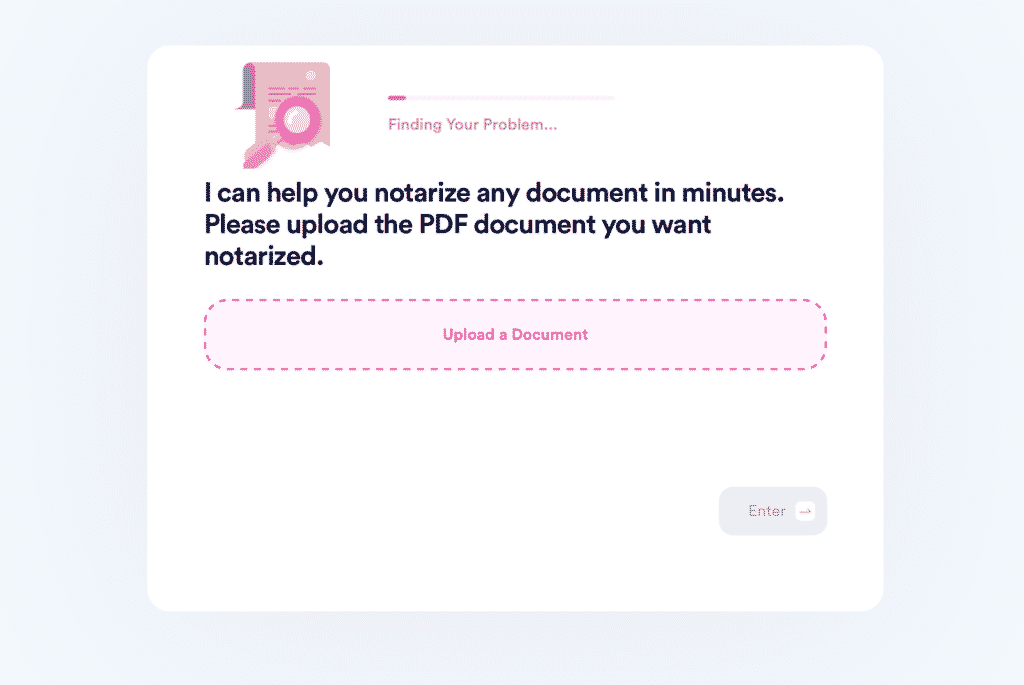 Once you have completed these steps, we will send you a link for you to schedule an appointment with an online notary. At your appointment, the notary will notarize your documents quickly and efficiently via video call.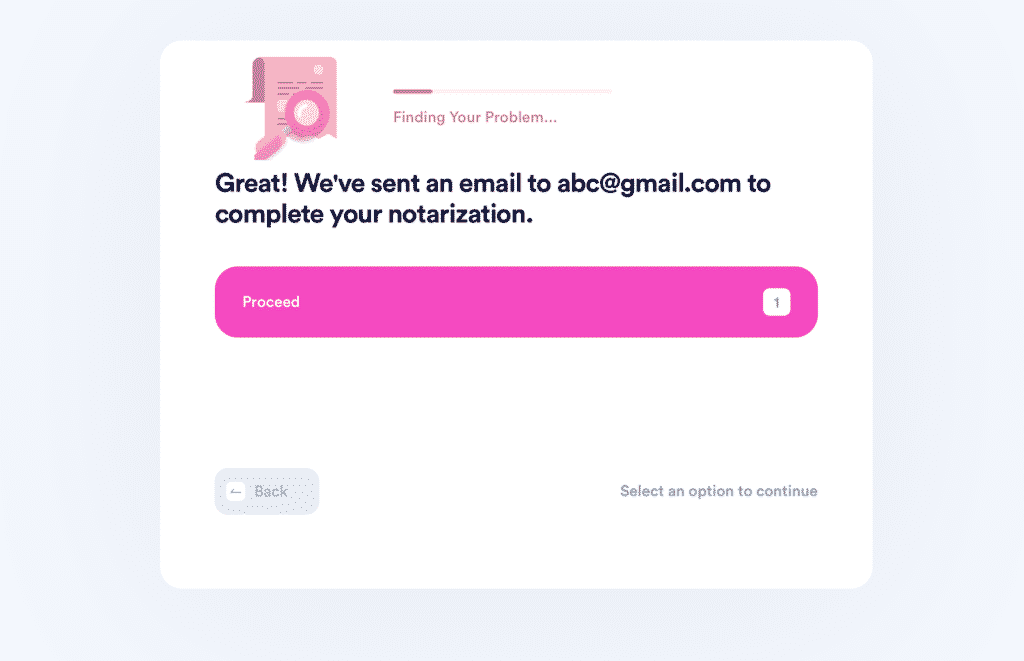 What if I Need a Notary Somewhere Else?
DoNotPay can also help you with information about notaries in the states that allow online notarization:
What Else Can DoNotPay Do?
DoNotPay can also help you create the documents you want notarized. We have a range of customizable legal documents and contract templates, and we are expanding our product offering all the time.
To get the document you need, you need to:
in your web browser

Enter the document you need in the search bar

Fill in the details you want included

Wait while we generate your customized legal document
Here are some of the documents we can offer you:
Business:
Operating agreement

Independent contractor agreement

Non-compete agreement

Bill of sale

Non-disclosure agreement

General business contract
Property:
Real estate purchase agreement

Lease agreement

Estoppel certificate

Quitclaim deed

Intent to purchase real estate
Personal:
Prenuptial agreement

General affidavit

Custody agreement

Promissory note
DoNotPay Breaks Down Communication Barriers
Communication and new technologies walk hand in hand, and DoNotPay can smooth out any bumps on that road. On our platform, you can find useful tools for avoiding phishing emails and text messages, sending faxes online, stopping annoying robocalls, or signing up for new services without phone verification.
Contacting customer support is no party, but DoNotPay can make the process so much easier, whether you need to request a refund, demand compensation for a canceled flight, or file a warranty claim.
You can even use our platform for locating your loved ones in prison and sending them letters the proper way!
Can Your Virtual Assistant Do This?
Hey, Siri! Make me ready for my upcoming small claims court appearance. No luck? OK, Google! Prepare a DMCA notice for that website that uses my photos without authorization. Still nothing?
DoNotPay is the virtual assistant that won't back away from issues that require legal expertise. Our lawyer bots work around the clock to get you due date extensions for utility bills, reduce your property taxes, or stop stalking and harassment before it gets ugly.
The world's first robot lawyer will provide assistance even with securing compensation for victims of crime!