Hot Tips on Getting Texas Notary Services
Notarizing documents can be pricey and time-consuming. Luckily, there are ways to work around the outdated notary service! This article will break down all available Texas notary services and suggest the most convenient one.
What Does a
Texas Notary Public
Do?
A Texas notary notarizes documents, which entails the following:
Verifying your identity

—The signers need to present their valid photo IDs

Determining your willingness to sign

—A notary has to make sure all parties are willingly entering into an agreement

Checking whether you're of sound mind

—The signers cannot be intoxicated or unstable in any way

Witnessing the signing

—A notary has to be present during the signing for it to be considered legitimate

Adding a seal and a signature

—Notaries sign and seal a document with a

notarized statement

, which makes it notarized and legally valid
What
Texas State Notary
Types Are There?
Depending on what you need to notarize and how you prefer to get a document notarized, you may opt for different notary types, such as:
| | |
| --- | --- |
| Notaries | Brief Explanation |
| Notaries | They perform notary services in person. You need to schedule an appointment and visit them to notarize your documents |
| | Online notaries are allowed to notarize remotely via a video call |
| | They can travel to their clients to notarize documents. Since they need to go to you, mobile notaries are usually more expensive |
| | Notary signing agents usually only notarize loan documents and perform extra services, such as printing, delivering, and advising |
Methods of
Texas Notary Lookup
You can use different Texas databases to locate a notary. Some of the websites where you can search for a Texas notary are:
How Much Does a
Notary
in
Texas
Charge?
The cost of notary fees depends on what type of notarization notaries public will perform. The fees range from $0.50 per 100 words or per page to $6 for oaths, affirmations, and acknowledgment. A notary cannot charge more than $25 for notary services as Texas imposes a cap on notary fees. Notaries who charge more than the permitted amount may face disciplinary actions, such as suspension.
State of Texas Notary
Requirements for Online Notarization
All Texas notaries are allowed to perform online or remote notarization. This type of notarization must meet the same criteria of regular notarization with some changes.
The notary and the signers will see each other on a scheduled video call when the notary will perform the same checks as they would in person. An added precaution is a two-part identity verification—asking identity-proofing questions and performing a technology-driven analysis of the signers' photo IDs.
The notary will view an electronic version of the document that needs to be notarized. All parties will sign the document electronically, and the notary will add a digital seal.
The Case for Remote Notarization
Even if you don't have a hectic schedule, taking the time to go to an in-person appointment, especially if there is more than one signer, might be difficult to manage. Luckily, you can get your documents notarized online, which will save you both time and money. Remote notarization also comes with other perks:
Notaries will use an encrypted digital signing certificate. This makes it easy to detect fraud and document alterations, which is not always possible with regular notarized documents

You won't have to worry about extra fuel and travel costs

Conflicting schedules are less likely to happen

Online notarization is recorded, so any coercion or suspicious actions can be identified and proven more easily
How To Find a
Notary in Texas
Using DoNotPay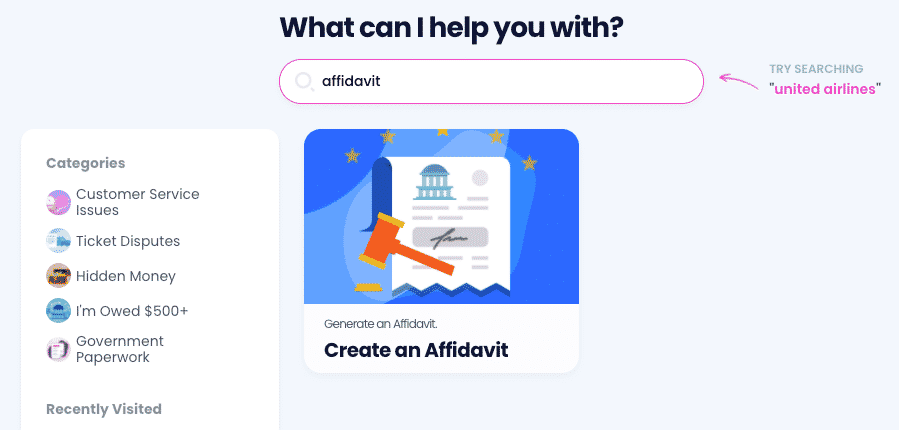 You can skip the manual notary search and rely on DoNotPay to find a notary for you and help you make an online notary appointment.
Check out how the process works once you access our AI-powered app from a :
Find our

Notarize Any Document

feature

Upload the document you need to notarize

Enter your email address

Follow the link we send you via email
DoNotPay works in any state that allows online notarization. Even if remote notarizing isn't available at the moment, we can assist you in getting your document notarized. Check out our learning center for articles on notarizing in different states, such as Ohio, Florida, Colorado, Maryland, New York, California, and Pennsylvania.
Use DoNotPay To Create and Notarize Legal Documents
The world's first robot lawyer——offers so much more than notarization assistance! As soon as you start using our AI-driven app, you will gain access to all of our features, including Online Faxing, Standardized Legal Documents, and many more.
You can create a legal document, such as an affidavit, promissory note, quitclaim deed, and an estoppel certificate, then fax it and notarize it, all from one centralized place!
Tired of Companies Not Taking You Seriously? Use DoNotPay To Put a Stop to It
If you're sick of companies that violate your consumer rights, DoNotPay is here to help. If you're struggling with reporting robocalls, requesting a refund, claiming any type of warranty, scheduling a DMV appointment, reporting spam text messages, or anything else, our robot lawyer will help you sue any firm or individual in small claims court.
With DoNotPay, you can also sign up for any free trial, cancel any subscription, avoid getting charged after your free trials end, and much more!
Want Your Money Back? DoNotPay Is Here To Help
Are you looking for your missing money? Do you want to get a refund for a delayed or canceled flight? Are you trying to flip the script on illegal robocalls and earn money off them? DoNotPay will assist you in dealing with any of these pesky issues!
We can also help you bypass phone number verification, sign up for clinical trials stress-free, ace any government test in a jiffy, and block spam emails for good.