How To Notarize a Document in Texas Hassle-Free
If you live in Texas, you have several methods of getting your documents notarized. Using in-person notary services is the traditional way, but definitely not the best one.
Online notaries are becoming more and more popular for a reason! If you want to find out what the best and most convenient way to get a document signed by a notary in Texas is, DoNotPay is here to help you!
Why Do You Need To Go to a Notary When You Want To Sign a Document?
The modern lifestyle requires you to deal with a lot of paperwork and legal documents—from wills and trusts all the way to affidavits and powers of attorney. Most of these documents won't be legally enforceable if they don't have a notary signature on them.
To sign and seal your document, a notary needs to:
Check your identification documents

Determine that you have the authority and legal capacity to sign the document

See whether you understand what the document is and how signing it affects you
When the notary checks all three boxes, they can notarize your document. This is why a notary needs to witness the signing of the document before they seal it.
When a document is notarized, it's authentic and legally binding.
How To Notarize a Document in Texas
You have three options when it comes to notarizing your document in the state of Texas. Whichever method you opt for, you need to:
Verify your identity by giving your identification documents to a notary for inspection (it can be a passport, a driver's license, or a government-issued ID)

Present the document to a notary and sign it in front of them, whether in person or via a video call

Pay the

notary fee
To get your document notarized in Texas, you can:
Visit a notary's office

Make an appointment with a

mobile notary

Schedule a virtual meeting with a notary
In-Person Notarization
There are many places you can stop by in Texas to get your documents notarized or have a notary public perform any kind of notarial act you need in person.
Check out the table below to see what kind of places usually offer notary services in their branches:
Institutions

Examples and Extra Info

Shipping and postal services

UPS stores

Banks

and other financial institutions

Banks and money transfer offices almost always have a notary.

Wells Fargo

and

Bank of America

are common examples. Note that if you are a bank's client, you may not need to pay for notary services

AAA

Although all AAA stores should have a notary, you should still contact the one nearest to you to check. You also probably don't have to pay a fee if you are a member

Other

Public libraries

Law offices

Real estate agents

Police departments
Mobile Notaries
Certifying your documents by employing the services of mobile notaries public is probably the least common out of the three methods.
Mobile notaries come to your home or any other location that you want to notarize your documents at. Many of them work 24/7 and charge more for their services than notaries who work in offices.
While you don't have to take the trouble to go to a notary office yourself, you will have to cover the mobile notary's travel expenses.
Remote Online Notarization
Remote online notarization is so common nowadays that the term is often used as an abbreviation—RON.
Electronic notaries can perform all notarial acts through a video call. There are several important RON rules:
The notary needs to have a digital copy of your ID or another identification document

You have to answer several questions pulled up from databases for further verification of your identity

The notary needs to record the process and keep the audiovisual recording for a set time
These extra steps of remote notarization ensure that there is no fraud involved in signing and notarizing documents electronically.
RON has several significant advantages over the other two methods of notarization. The process is extremely safe and error-proof while also being more convenient to the signer, the notary, and any witnesses if they are involved.
If you now, you can get an online meeting with a notary in under a few minutes!
How Much Can Texas Notaries Charge You for Their Services?
The governments of many states in the U.S. set a maximum amount that notaries can charge their customers for notary services. In Texas, you won't have to pay more than $15 per document or per signature.
You should note that notaries are allowed to charge extra fees if they perform any other administrative services, like copying documents or making phone calls.
How To Notarize a Document in Texas the Easiest Way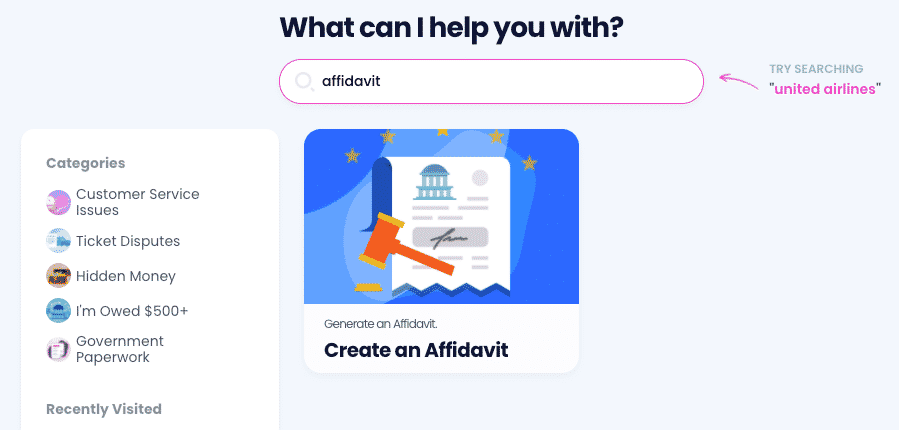 Using our AI-powered app is the fastest and easiest method of securing yourself an online notary appointment.
Instead of waiting for days or weeks to get your documents notarized, you can get the job done in no time and without leaving the comfort of your home!
To set up a notary appointment using DoNotPay, follow these simple steps:
Select our

Notarize Any Document

product

Upload the document you need notarized

Enter your email address

Click on the link we send you via email to schedule your meeting
DoNotPay Helps You Scam Scammers
DoNotPay helps you stay safe from scammers and fraudsters!
We have developed a Virtual Credit Card product that helps you sign up for free trials without revealing your real banking information to any suspicious company. We've joined our most popular feature with a Burner Phone functionality that allows you to verify online accounts with a temporary phone number.
That way, you'll be free to enjoy services while they're free of charge, eliminate the possibility of robocalls, robo texts, and spam emails from the shady companies, and forget about canceling the subscriptions altogether—our product does it for you!
DoNot Pay can even shield you from cyberstalking and online harassment and get you compensation for the crime you've suffered. We'll even help you take individuals or businesses to small claims court by drafting the relevant paperwork for you, accessing any public records that might bolster your case, and supplying you with a court script that you can read to the judge on the day of the hearing.
DoNotPay Is Helping You Out Left and Right
Not only can DoNotPay handle bureaucratic nuisances on your behalf, but we can make your daily life easier too!
No more waiting in endless phone queues to make a warranty claim for a faulty product or wasting the day away in mile-long DMV lines—our app will do the hard work for you! We'll call the reps of any company—even major airlines—and schedule appointments on your behalf in a matter of minutes!