The Ultimate Guide to
Where To Find a Notary
You wrote a legal document, but you found out it needs to be notarized, and now you don't know where to find a notary. There are different types of notaries and notary services that can provide the notarization of your document.
This article will shed light on all available options to notarize a document and suggest the best one. Follow our guide and get a notary signature in no time!
Who Can Notarize
?
Notaries are people who can notarize a document. Typically, they need to pass notary tests to become notaries. These officials should be familiar with notary laws and procedures in the state where they work.
Choosing the right notary depends on what type of document you want to notarize and what kind of service you prefer (e.g., remote or in person). You may be looking for a:
The Difference Between a Notary and a Notary Signing Agent
Both a notary and a notary signing agent can perform notary services, but there are some differences. Check out what you can expect from these professionals in the table below:
Notaries
Notary Signing Agents

Witness the signing of a document

Notarize a document by signing and stamping it

Verify that the signature and the document are valid

Do everything notaries do

Close and sign documents, such as loan agreements and similar financial documents

Print and bring loan documents to their clients

Visit their client to notarize a document

Are more expensive
Where To Get Documents Notarized
No need to go down a rabbit hole by googling "notary near me" if you know where you can find a notary. Here's a list of places that offer notary services:
Banks

, such as

Wells Fargo

and

Bank of America

Credit unions

Office supply stores

Money transfer stores

Tax preparation firms

Car dealers

AAA

stores

Hotels

Law offices

Courthouses

City clerk or county clerk offices

Public libraries

Real estate agents

Insurance agents

Police departments

Large companies

Accountant offices

Colleges and universities
Some of these locations may not have an on-site notary available. Most places will require a fee for the notarization cost, but you can always ask whether they offer free services.
Some notaries at the locations on the list may not be able to notarize all documents, such as wills and affidavits, so it's best to check.
Is There a Notary at the Post Office
?
Typically, you won't find notary services at the post office as this is a federal institution. Notarization is a state service. More and more businesses and organizations offer notary services, so you can check with your local post office whether there is a notary who can help you.
How To Find a Notary
Aside from googling and calling certain places to check whether they have a notary available, you can use:
You can skip the hassle of searching for notaries manually and making appointments—online services such as DoNotPay are a more convenient option!
In-Person vs. Online Notarization
Online notarization is becoming more and more widespread. Before you opt for notarizing your document online, be sure to check whether it can be notarized in such a way and whether the state you live in allows it.
Compare in-person notarization and online notarization processes in the table below:
In-Person Notarization
Online Notarization

Find a notary

Schedule an appointment

Visit the notary (unless it's a mobile notary, and they come to you)

Bring your ID and the document you wish to notarize

Sign your document

Get a notary signature and seal

Choose an online notarization service

Create an account

Upload your document

Join a live video call with a notary

Sign the document

Receive a notary signature and seal
Find a Notary
and Notarize Your Document Using DoNotPay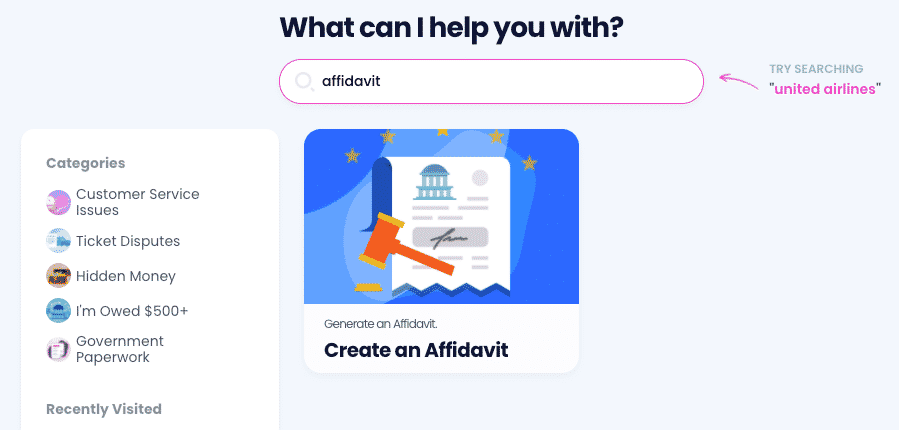 The perks of online notary services outweigh the regular ones as they are faster and more convenient. Using DoNotPay comes with even more advantages, such as:
Avoiding looking for notaries on your own

Getting documents notarized on any device from your home

Not wasting money

Taking advantage of other DoNotPay features, including drawing up legal documents and faxing them
Using our app takes only a few clicks! We'll find a notary in your stead and help you set up an online appointment.
Follow these instructions to get your document notarized in a jiffy:
Access DoNotPay from a

web browser

Enter

Notarize Any Document

Upload the document you want to notarize

Type in your email address
You will receive a link via email that will let you schedule an online notary appointment.
Admin Issues Giving You a Headache? Resolve Them With DoNotPay!
Scheduling a DMV appointment, applying for clinical trials, requesting refunds from companies, and getting in touch with your loved ones in prison are all difficult and time-consuming tasks. You have to take many steps before you can get any of these over with, and that's why our robot lawyer app is here to help.
No matter if you need assistance with appealing parking tickets, signing up for free trials, canceling various subscription services, or maybe preparing for government tests, DoNotPay will provide you with easy solutions.
Having Financial Struggles? Rely on the World's First Robot Lawyer
Many Americans struggle to make their ends meet at the end of each month. With that in mind, we've created plenty of features that will save you both time and money in the most efficient way. 
Using our AI-driven app, you can get help with bills, get refunds from airlines, find unclaimed money in any state, or earn off annoying robocalls or stalkers and harassers. If you want to fight for your right, DoNotPay will also assist you in suing any person or company in small claims court.
No matter the admin task at hand, our robot lawyer will provide swift and effective assistance.