Notarized Statement of Non-Ownership—All You Should Know
Getting a notarized statement of non-ownership may save you from various stressful situations and help you avoid parking fines and many other issues. If you want to know more about it, this article will provide the responses to all your questions. We will help you find out what this document is and on which occasions you can use it.
What Is a Statement of Non-Ownership?
A statement of non-ownership is a specific legal document confirming that you don't own a vehicle. It's used in many situations, including the following ones:
A person you sold your car to has made a traffic violation or got a parking fine, and you are the one who receives the notice

You were penalized for DUI. The judge requires you to install an ignition interlock device (IID) in your vehicle, but you don't own one. You drove another person's car when the DUI incident happened
In such cases, the statement of non-ownership helps you formally claim that the vehicle in question isn't registered under your name or avoid penalties if you didn't drive a car at the moment of the incident. You should file it within 30 days from the incident in one of the following ways:
In court

With the local Department of Motor Vehicles (DMV) office

With another government agency approved by the state you live in
To provide more legal weight to such a document, you must have it notarized by an authorized official. 
How Can You Get Your Declaration of Non-Ownership Notarized?
The following table shows the most common options for getting your statement of non-ownership notarized:
Methods
Details

Finding

a traditional

notary

Check whether you can find any notaries in nearby:

Banks

, including:

Hotels

Credit unions

AAA

facilities

Insurance firms

Photocopy shops

Money transfer offices

Colleges and universities

Law and accountant firms

Independent notary offices

Shipping service providers, such as

UPS

Hiring a traveling (

mobile

) notary

Search for notaries that come to the clients' desired locations. They will be able to validate your signature in your home, at your workplace, or any other place. Due to travel expenses, you may need to set aside more money for this

notary service

Opting for

remote online notarization

Only 28 U.S. states approve

online notarization

at the moment. Remote notaries operate via video meetings. Once they confirm your identity, they put an electronic stamp on your e-document and provide a digital

signature
Depending on the state you live in, you may also be able to choose electronic notaries or find a notary signing agent if you need to have loan or mortgage documents notarized.
Why Should You Opt for a Remote Notary When Having Your Statement of Non-Ownership Notarized?
Online notaries can help you validate a signature on your statement more easily. If you opt for such service, you can:
Skip paperwork and get a digital copy of your document notarized

Get the procedure done via a virtual meeting from any preferred location

Avoid visiting a notary's office and spending money on fuel and travel costs

Have your notarization procedure recorded in case any dispute or misunderstanding arises
Get Your Documents Notarized Effortlessly With DoNotPay
You can leave exhausting notarization procedures and bureaucratic hurdles in the past, and DoNotPay is here to help you do it! Getting your documents notarized has never been easier since our AI-powered app can connect you with an online notary at any time you want. The best part is that you won't need more than five minutes to do it! 
Here's how to use this service:
Access DoNotPay

from any preferred web browser

Navigate to the

Notarize Any Document

option

Attach an electronic version of the document you want to get notarized

Enter your email address
We will provide you with a link to pick the desired date and time for your appointment. Once you join a video call with the official, they will validate your signature remotely, put a digital stamp on your document, and sign it electronically. This way, they can notarize your contracts, affidavits, or any other legal document.
Our knowledge base provides many guides explaining how notary services work in various U.S. states, including: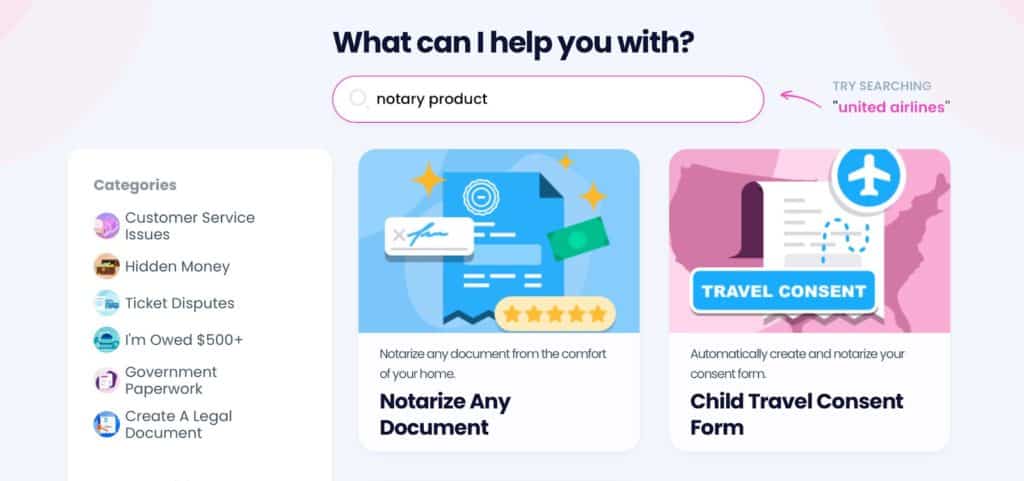 Use DoNotPay To Draw Up Various Legal Documents With Ease
Not everyone knows how to write a valid legal document properly. If you don't want to take risks with vague and unreliable templates or pay a fortune for lawyers, give DoNotPay a go! We help you draft a personalized contract based on the legal specifics in your state within minutes!
All you should do is:
Open DoNotPay

and log in to your account

Search for the desired document

Pick the details you want to include in your contract
You will be able to access a ready-made legal document as soon as we process your details!
We can help you create:
Intent To Purchase Real Estate

Child Care Authorization Form

Quitclaim Deed

Promissory Note

General Affidavit

General Business Contract
Let DoNoPay Help You With Your Paperwork
Why waste time on bureaucracy if you can rely on DoNotPay to handle pesky tasks for you? Cancel all your subscriptions at once, find unclaimed funds in a matter of minutes, appeal parking tickets hassle-free, and discover the best way to get your documents notarized remotely. 
In case you need help paying bills or you want to earn some money by participating in paid clinical trials, DoNotPay is here to help you out! 
Fighting workplace discrimination is of utmost importance, but the entire procedure seems rather complicated. The same goes for the crime victims compensation application in most states. DoNotPay is here to change that. We will help you file a report, request compensation, and create numerous other documents, including demand letters for neighbor complaints.
Keep Your Online Safety in Check!
While internet safety should be one of your top priorities, staying anonymous while surfing the web is almost impossible. If you want to avoid giving out your number when registering for services, you should try out our Burner Phone product. 
DoNotPay can also protect your credit card info, name, and email address, all through our handy virtual credit card. Sign up for free trials without worrying about unexpected charges.
With our app, you will learn how to deal with stalkers and harassers and how to access public records the easy way. 
DoNotPay offers many other useful products that can help you prepare for government tests, have your college fees waived, and manage any annoying issue in minutes.