Can You Bank on
Bank of America Notary
?
More and more offices and institutions offer notary services even though they're not primarily notary-related, such as hotels, police departments, and banks, and one of them is Bank of America. We will tell you everything you need to know about Bank of America notary services and suggest other ways of notarizing a document.
Does
Every
Bank of America Branch Have a Notary
?
If you're a client of Bank of America, you can get access to their notary services. Not every location has a notary, so you should call your local bank and check.
Does Bank of America Notarize
All Documents?
A notary at Bank of America will have to inspect your document and make sure it can be notarized. The signers should also meet certain requirements for the document to be ready for notarization.
Bank of America will not notarize a document if:
Some signers and witnesses (if applicable) are not present before the notary

The signers don't bring their IDs or don't have valid IDs

Your document has blank spaces or missing pages, which causes suspicion

A notary thinks the signers could make alterations to the document after signing

The document doesn't have a notarial certificate
Preparing for Your
Bank of America Notary Service
Before you set up your notary appointment, make sure to follow these guidelines so that your notarization goes without a hitch:
Don't sign or date your document before the appointment

Be sure to bring all pages of your document, not just the signing page

Bring your ID:
U.S. military ID

State-issued driver's license

State-issued identification card

State, county, or local government ID

U.S. passport (issued by the U.S. Department of State)

Green card, a foreign passport, or a driver's license issued in Mexico or Canada (not acceptable in all states)
Bring a witness if it's required
How To Schedule a
Bank of America Notary Appointment
You can schedule your notary appointment at Bank of America online. Follow these steps:
Visit the

Notary Services

page

Scroll down and click on

Schedule an Appointment

Type in your ZIP code or your city and state

Tap on

Find Locations

Hit

Select This Location

once you find the branch closest to you

Pick a date and time for your appointment

Click on

Next

Fill in the form with your bank and personal info

Follow the prompts and confirm your appointment
Does
Bank of America
Offer
Free Notary
Services?
Yes, it does! Bank of America offers notary services free of charge for its clients.
How Does
Bank of America Notarize
?
Bank of America offers in-person notarization, as opposed to mobile or online ones. This means that you need to come to the bank and be present during the notarization. Here's what the process looks like:
All signers and necessary witnesses are present

The notary examines your documents

You provide your ID and answer a few questions so the notary can verify your identity

You need to testify to the truth of the document's content and assure the notary you are signing it on your own free will

The notary fills in the notarial certificate, adds a

signature

and a seal, and records the notarization in their journal
Where Else Can I Go To Notarize a Document?
Aside from banks, such as Bank of America and Wells Fargo, you may be able to find a notary in other places. You can search for notaries online, for example. Check the table below for an overview of your options:
Public Places That Might Offer Notary Services
Websites Where You Can Look Up Notaries

Car dealers

AAA

stores

Public libraries

Courthouses

Accountant offices

Credit unions

Hotels

Law offices

Office supply stores

Real estate agents

Insurance agents

Police departments

Money transfer stores

Tax preparation firms
A more convenient option than manual search is our AI-powered app. DoNotPay will find a notary and assist you in making your online appointment. This way, you'll notarize your document in no time while staying home.
Forget About the
Notary
at the
Bank
—Use DoNotPay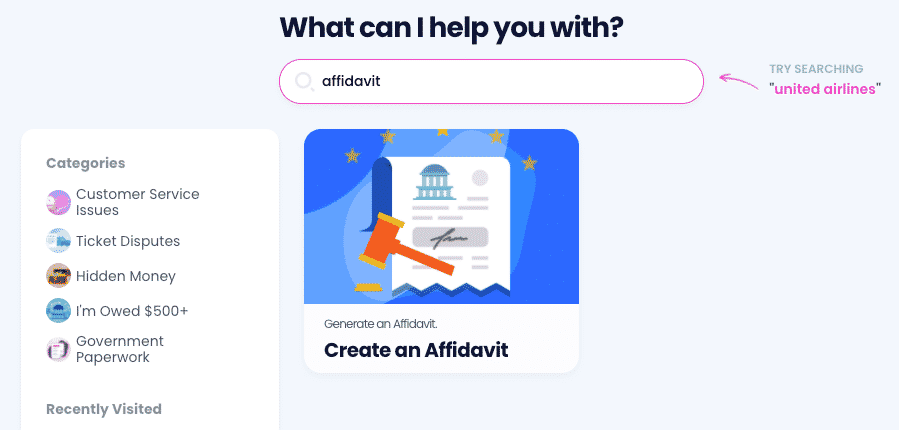 In-person notarization is quickly becoming a thing of the past. Online notarization saves you both time and money, and DoNotPay is the best option as you also get all our nifty features at your disposal.
Here's how DoNotPay makes notarization fast and easy:
Access our app from any

web browser

:

Type in

Notarize Any Document

Upload your document (e.g., an

affidavit

)

Enter your email address

Follow the link you receive via email to confirm your appointment
If the state you live in permits online notarization, DoNotPay will assist you! In case it does not, we can provide help with our guides on notarization in all U.S. states, including:
Fighting Administration Is Easier With DoNotPay
Bureaucracy is a disease of the modern world, and we finally have a cure. Thanks to artificial intelligence, DoNotPay knows how to handle numerous rules and regulations and make your life so much easier. 
Our bots ask you a few questions, gather the necessary info, and off they go! Filing warranty and insurance claims, requesting property tax reductions, getting access to public records, or claiming unclaimed funds under your name—you can deal with these bothersome tasks from the comfort of your home and within minutes!
If you need to get in touch with customer service representatives to ask for refunds or contact airline companies regarding compensation, our platform will make the process painless and care-free.
Don't hesitate to put our app into service if you need to contest parking tickets or avoid long lines at your local DMV!
How Else Can We Help?
Not only does DoNotPay handle bureaucracy, but it also saves you money in the process. Whether you're looking for the best learning materials for government tests or planning to comb through and cancel streaming subscriptions you don't use, DoNotPay can give a helping hand.
Our platform grows every day and comes with user-friendly features that will help you manage unpaid bills, stop copyright violation, or solve problems with credit cards faster than ever!