The Easiest Way to Notarize Any Document In PA
Notarizing a document is often required to prove its validity, as is the case with wills, trusts, and affidavits. If you're looking for a PA notary, you've landed on the right article. We'll break down everything you need to know about notary service in Pennsylvania and show you the most efficient and cost-effective way of getting your documents notarized.
What Can a
Pennsylvania Notary
Do?
According to Pennsylvania notary public law, notaries can:
Witness signatures

Take

acknowledgments

Certify

copies

of depositions

Administer oaths and affirmations

Note protests of negotiable instruments

Take verifications on oaths or affirmations
Every notarial act a notary can perform requires a notary signature and seal as well as a notary statement, which makes a document legally valid.
Notarization From Top to Bottom
Regardless of the document that needs notarizing, a notary will:
Check your ID or other identification and ask several questions to verify your identity

Make sure nobody is forcing you to sign a document

Establish you are of sound mind

Witness the signing

Add their stamp and signature and write a notary statement
Can a
Penn Notary
Perform Online Notarization?
Yes, they can. Due to the COVID-19 pandemic, Pennsylvania authorized online notarization temporarily and then passed it into law in October 2020. Remote online notarization doesn't require notaries and clients to be in the same room as is the case with other types of notary services.
To be able to notarize a document remotely, a PA notary must:
Be in Pennsylvania (the signer can be in PA, another state, or a foreign country)

Notify the Department of State that they will perform a remote notarization

Use the approved communication technology (Skype, Zoom, and FaceTime are not allowed)

Be able to see and hear a client during the notarial act

Identify the signer by:

Personal connection

Credible witness's testimony

Usage of identity-proofing technologies

Record the notarization and keep the record for a minimum of ten years

Write that they performed a remote online notarization in their notarial certificate
What Other Types of Notaries Are There?
Aside from the regular in-person notary and remote online notary, there are other types. Check out an overview of different notaries in the table below:
| | |
| --- | --- |
| Notaries | Brief Explanation |
| Electronic notaries | Electronic or e-notaries notarize documents electronically. The signer and the notary need to be in the same room and sign a document digitally. The notary adds a digital notary signature and uses a digital seal |
| Mobile notaries | They visit their clients and notarize documents in person at a designated location. Mobile notaries are usually more expensive due to the travel costs |
| Notary signing agents | Notary signing agents notarize loan documents and can also print and deliver them |
How Much Can a
Notary in PA
Charge?
The Department of State sets the notary costs in Pennsylvania, and the notary fees cannot exceed the limit imposed by the state. Notaries are allowed to charge additional fees for travel, postage, copying, and phone calls. These are considered administrative fees, and the state does not limit them. A notary has to inform their clients of all the fees they need to pay.
Here's a list of PA notary fees:
Administering oaths or affirmations—$5

Taking verification on oath or affirmation—$5

Noting a protest of a negotiable instrument (charged per page)—$3

Witnessing a signature (charged per signature)—$5

Certifying a copy or deposition (charged per certified copy)—$5

Taking acknowledgments—$5

Taking acknowledgments for each additional name—$2
Where Can I Find a
Notary Public
in
PA?
You can find a notary in Pennsylvania by browsing a phonebook, googling, or using one of the following websites:
To look up notaries on these and similar websites can be time-consuming as you need to:
Set up the filters based on your location

Find an available notary

Contact them to schedule an appointment

Visit them if they don't offer mobile, electronic, or remote notarization

Bring your ID and the documents you want to notarize to the appointment
You can skip all of these steps if you choose ! Our AI-powered app will do all the work so that you only decide on the time of your online notary appointment!
DoNotPay Gets You a
Notary
in
PA
Within Minutes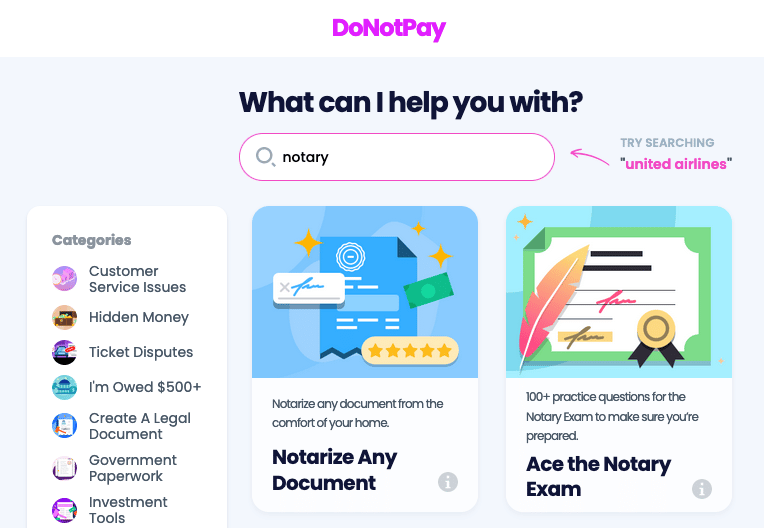 Notarizing doesn't have to be an expensive and drawn-out process. With DoNotPay, you'll only pay a low monthly fee and get any document notarized remotely.
To get started, open our app in a and complete the following steps:
Navigate to the

Notarize Any Document

product

Upload the document you want to notarize

Provide your email address

Click on the link we email you
You should follow the prompts to schedule an appointment with a PA notary. Remember to have your ID ready before the video call, and don't sign your document until the notary instructs you to.
Fighting Administration Is Easier With DoNotPay
Bureaucracy is a disease of the modern world, and we finally have a cure. Thanks to artificial intelligence, DoNotPay knows how to handle numerous rules and regulations and make your life so much easier.
Our bots ask you a few questions, gather the necessary info, and off they go! Filing warranty and insurance claims, requesting property tax reductions, getting access to public records, or claiming unclaimed funds under your name—you can deal with these bothersome tasks from the comfort of your home and within minutes!
If you need to get in touch with customer service representatives to ask for refunds or contact airline companies regarding compensation, our platform will make the process painless and care-free.
Don't hesitate to put our app into service if you need to contest parking tickets or avoid long lines at your local DMV!
How Else Can We Help?
Not only does DoNotPay handle bureaucracy, but it also saves you money in the process. Whether you're looking for the best learning materials for government tests or planning to comb through and cancel streaming subscriptions you don't use, DoNotPay can give a helping hand.
Our platform grows every day and comes with user-friendly features that will help you manage unpaid bills, stop copyright violation, or solve problems with credit cards faster than ever!