How To Find an Oklahoma Notary as Soon as Possible in the Sooner State
If you're required to get a document notarized, such as an affidavit or power of attorney, you should get familiar with what types of notaries there are and how much they charge. The most convenient method of notarizing documents is remotely, but does Oklahoma allow remote online notarization? Get your Oklahoma notary answers and in a flash!
What an
Oklahoma Notary Public
Does
When notarizing documents, Oklahoma notaries can do the following:
Attest copies

Execute protests

Witness or attest signatures

Certify an oath or affirmation

Administer oaths and affirmations

Take acknowledgments and proofs
Oklahoma notaries can perform notarial acts anywhere across Oklahoma. They should keep a detailed record of performed notarizations. This is especially important if they need to testify or prove they notarized your document.
The notary record should contain the following:
Date when notarization took place

Type of the notarial act

Document type

Name and address of each signer

Signer's identification type (e.g., a passport or a government-issued photo ID)

Section for notes and charged fees
How Much Does Notary Service in Oklahoma Cost?
In Oklahoma, notaries cannot charge more than the set notary fee. Here are the prices you can expect:
| | |
| --- | --- |
| Notarial Act | Notary Fee |
| Jurats | Up to $5 per signature |
| Acknowledgments | Up to $5 per signature |
| Verbal oaths and affirmations | Up to $5 per signature |
| Remote online notarization | $25 |
| Official absentee ballot affidavit | No charge |
If you want a mobile notary, you will probably need to pay more because they can also charge for their travel expenses.
What Types of Notaries Are There?
You can find various notaries in Oklahoma, such as:
Regular notaries—offering in-person

notary service

Electronic notaries

—performing in-person notarial acts with electronic documents

Mobile notaries

—visiting their clients to perform a notarization

Online notaries—notarizing documents remotely using an online platform and video calls
There are also notary signing agents, but they typically only notarize loan documents.
Can a
Notary Public
in
Oklahoma
Perform Remote Online Notarization?
Yes, they can, with certain requirements. Not every notary can perform an online notary service, but they have to apply to become one. Once the Secretary of State grants the authorization, they can start notarizing online.
Besides a computer, webcam, and an internet connection, an online notary needs to have a digital certificate with their electronic signature, a digital seal, and a journal. Oklahoma online notaries must be in OK, whereas the client can be anywhere in the world.
What Does Online Notarization Look Like?
During remote online notarization (RON), the signer needs to be present. The notary and the signer should see and hear each other in real-time via a video call. One of the most important parts of online notarization is identity verification. The notary can identify the signer by:
Personal knowledge

ID

Oath of affirmation from a credible witness

Multi-factor authentication—credential analysis and identity proofing methods available on the RON platform
Once everything is in order, the notary can notarize a document and add their digital signature and seal.
How Can I Find a Notary on My Own?
You can google or use various websites, such as 123notary, Notary.net, and Notary Public Stamps, to locate a notary in your area. You can also ask around or check whether the following places offer notary services:
Find and Book an Online Notary With Ease Using DoNotPay
No need to look for a notary by yourself if you use DoNotPay! Our app offers to find a notary and guide you through booking an online appointment with them. All it takes is a few clicks, and you'll get the easiest way of notarizing a document.
As soon as you , follow these steps:
Search for our

Notarize Any Document

product

Upload the document you need to notarize

Type in your email address

Follow the link you receive via email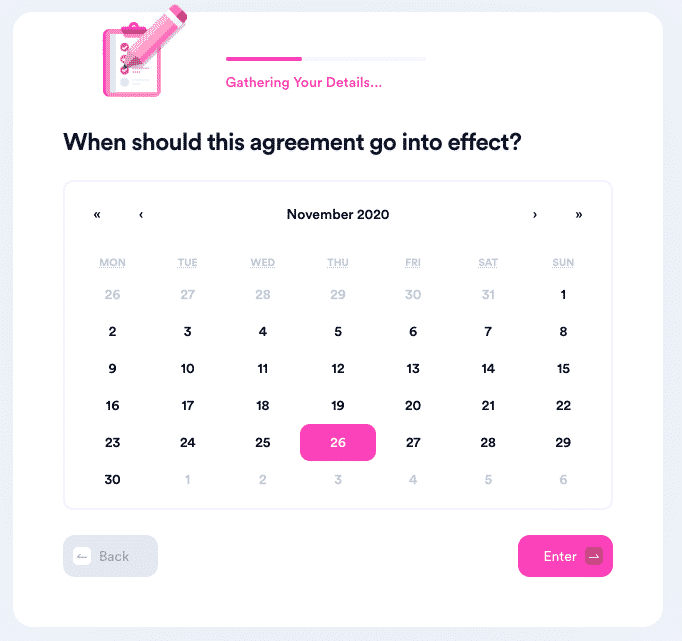 By following this link, you'll be matched with a notary, and you'll choose when you're available for an appointment and confirm it.
Kill Three Birds With One Stone—The Perks of Notarizing With DoNotPay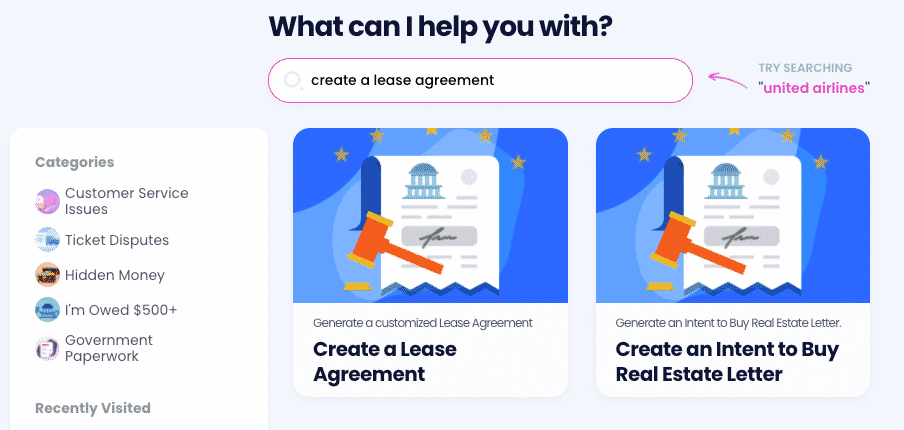 Having an AI-powered app find you a notary and getting a document notarized from the comfort of your home seems like it doesn't get much better than that. With DoNotPay, it does!
Besides notarizing, using our app allows you to:
Draw up legal documents (we do all the work, of course)

Fax your paperwork

E-sign a document
Feel free to use any of our products! When it comes to the Standardized Legal Documents tool, it can generate numerous contracts and agreements, such as:
Residential

Lease Agreement

Parenting Plan (Child Custody Agreement)

Prenuptial Agreement

Non-Disclosure Agreement

Non-Compete Agreement

Bill of Sale

LLC Operating Agreement

Independent Contractor Agreement
Use Our Robot Lawyer To Eliminate Pesky Tasks
Administrative tasks are often time-consuming, which is why many people give up on them before even trying to tackle them. Requesting refunds, canceling services, signing up for clinical trials, reporting stalkers and robocalls, and trying to find unclaimed money are all processes that would usually take a long time to resolve.
With the help of DoNotPay, though, all of these admin hurdles become a piece of cake. In just a few minutes, our app can assist you in appealing parking tickets, getting in touch with your imprisoned loved one, getting an extended warranty, reporting copyright infringement, and so much more!
Don't Break the Bank—Sign Up for DoNotPay!
Our app can save you lots of money by helping you get a refund from any airline, sign up for a free trial without your credit card info, earn off persistent and illegal spam emails, and get an application fee waiver for a college you apply to.
With DoNotPay, you can even schedule a DMV appointment or jump the phone queue when getting in touch with a customer service representative without breaking a sweat!