Louisiana Notary—Notarizing Documents the Easy Way
Notarizing your documents by visiting a Louisiana notary in person presents an inconvenience for many. You have to schedule an appointment, show up, and remember to bring the documents you want to get notarized, as well as your ID.
The standard notarization process in Louisiana is tedious and outdated. We're here to present you with a perfect solution to the issue—an online notary service.
to unlock features that will make drafting and notarizing documents online a piece of cake!
How Much Does a
Notary Public in Louisiana
Charge for the Service?
The fees that notaries charge vary from state to state. Some states have a set fee from $5–$20, while others don't have a predetermined fee. Budgeting for notary services in Louisiana is a bit more complicated.
Louisiana is one of the states that doesn't have an already set notary service fee, along with Iowa, Kansas, and Kentucky. That means that the notaries in Louisiana can charge you any amount they want for their service, which is super inconvenient.
The Current Louisiana Notarization Process
The current notarization process in Louisiana is complicated and requires you to complete numerous steps before getting a notary signature. It takes too much time and effort, and if you make even the slightest error, you will have to start the process from the beginning. This is what notarizing your documents by visiting a notary in person encompasses:
Locating a notary office

Scheduling an appointment

Gathering the required documents

Showing up to the appointment

Presenting your ID or other document proving your identity

Paying the notary's fee

Signing the document before a notary
Once you complete these steps, a notary will sign and stamp the document.
The Online Notary Service Helps You Avoid Any Inconveniences
The best way to avoid any inconveniences when it comes to the notarization process is to skip the traditional procedure and opt for an online notary service. With online notarization, you will get the benefits that the conventional process of getting your documents notarized doesn't provide.
Online services will allow you to submit your documents via email and sign them digitally. A notary will witness the procedure and provide his or her signature at the end. By using an online notary service, you will be able to have your documents notarized from the comfort of your home, office, or any other location of your choice. DoNotPay is the most practical and easy-to-use online notary service!
DoNotPay Provides You With the Fastest Way To Get Your Documents Notarized!
DoNotPay presents you with a practical feature that will help you get your documents notarized super simple!
All you need to do to access our online notarizing feature is to and follow the simple, three-step guide we provide you with:
Find and tap the

Notarize Any Document

feature

Submit the documents you want to get notarized

Enter your email address
When you finish completing the steps, we will email you a link. Follow that link to schedule an appointment with a remote notary. Don't stress—it's all done virtually! You won't have to leave your house.
Some of the common documents people get notarized using our app are:
Trusts

Business contracts

Employment contracts

Real estate deeds

Consent forms

Loan documents
How To Have DoNotPay Draft Legal Docs in Your Stead
Helping you get your documents notarized isn't everything DoNotPay can do for you! Our app will also draw up legal documents with the info you provide in a few minutes! and use our Legal Documents feature to write agreements in a snap. Here is how it works:
Give us the name of the document you want us to draft

Answer a few short questions about the document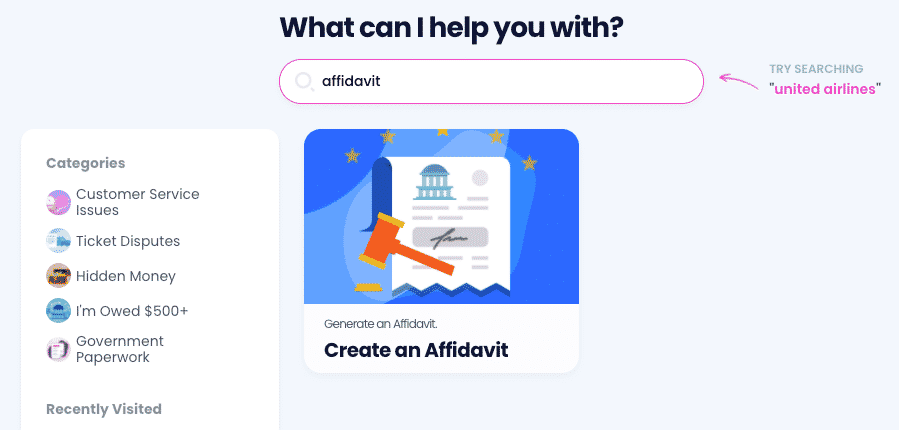 We will generate your contract that you can get notarized with our Notarize Any Document feature. These are the contracts that we can draw up for you:
Business Contracts
Other Contracts

Independent Contractor Agreements

Non-Compete Agreements

Bills of Sale

General Business Contracts

LLC Operating Rules Documents

Non-Disclosure Agreements

Prenuptial Agreements

Estoppel Certificates

Intents To Purchase Real Estate

Quitclaim Deeds

Residential Lease Agreements

General Affidavits

Promissory Notes

Parenting Plans (Child Custody)
Useful Info About Notary Service
Wondering where to find a notary? Not sure what a 24-hour notary service is? Curious about how much notaries charge for their service? We'll answer all of those questions and more!
In case you have any additional questions that you couldn't find the answer to, we'll supply you with more information concerning the notary service. If you , you can rest assured that all of your notary-related struggles will be resolved quickly and efficiently!
Can't Afford a Lawyer? DoNotPay Will Jump In!
Did you know that you don't have to waste money on expensive legal help just to get rid of some minor bureaucratic issues? DoNotPay is here to save you hundreds of dollars with ready-to-use solutions that require mere minutes.
Our AI-powered bots gather the most important information via short questionnaires, draft required legal documents, and provide you with online fax services. If you need specific public records to support your case, we'll point you in the right direction.
With our virtual lawyer's help, you will be able to:
Spend Your Time on More Enjoyable Activities
With DoNotPay's help, you're bound to have more free time. If you're considering a new streaming platform subscription, make use of its free trial without worrying about unwanted charges. Need to get rid of other subscriptions? Use DoNotPay to cancel them without contacting customer support centers.
Don't worry about phone number identification at the signup. With our Burner Phone feature, spam text messages won't be bothering you ever again!