The Scoop on the
Notary for Divorce Papers
Getting a divorce is not fun, and neither is dealing with all the paperwork that comes with it. DoNotPay can tell you whether you need a notary for divorce papers and how you can get documents notarized easily, without leaving your house!
What Divorce Papers Should You Get Notarized?
When you are going through a divorce, you will need to fill out numerous documents during the process, and some of them should get notarized. Take a look at the table below to see what papers you ought to take to the notary:
Documents

Short Explanation

Divorce petition papers

Before the divorce papers are served to the other party, the person filing for divorce needs to get them notarized

Financial

affidavits

You'll need financial affidavits notarized for the matters of alimony and child support. They should list your debts, incomes, and assets

Marital settlement agreements

If you and your spouse agree to end the marriage amicably, you'll normally create a settlement agreement. This document needs to be notarized to prove that both parties have signed the document of their own free will
Where Can You Get Your Divorce Papers Notarized?
Once you get to the point of getting documents notarized, you need to find the best option of handling the process easily. There are a few notary types you can choose from in any state:
Standard in-person notaries
What You Should Know About Standard In-Person Notarization
Most people think of standard in-person notarization first because it is the traditional way of getting a notary's signature. This does not make it the best notarization type—quite the opposite. Standard notarization is outdated and inconvenient.
You need to find a suitable time during a busy work week to get to the notary's office. Sometimes, you'll need to waste a day off on this task and spend money on gas or public transport—not to mention the possibility of getting stuck in traffic for hours!
What You Should Know About Mobile Notarization
You could say that mobile notarization is a better solution compared to standard notarization. The notary is the one who comes to the agreed-upon address—whether it's your house, office, or a hospital. The problem is that these notary services come with a price—and a big one too.
You will need to pay for the mobile notary's travel expenses, which can cost up to $100. Is this way of avoiding the inconveniences of traditional notarization worth it? No—there is a simpler and more practical solution for those who aren't able to get to the notary—online notarization.
What You Should Know About Online Notarization
Online notarization is one of the best commodities modern technology has brought us (until we finally get those flying cars). It is a simple and effective way of tackling this annoying bureaucratic task from the comfort of your home. There is no need to go through the trouble of finding a notary's office and getting there on time.
Online notaries have become even more valued and important due to the global COVID-19 pandemic. There are currently 28 states that allow permanent online notarization, and the list keeps getting longer and longer.
If there is a way to protect your health by avoiding human interaction, you should go for it. You will also be more comfortable when handling the task from your couch.
You only need to find a trustworthy online notary who can ease at least one part of your divorce procedure. DoNotPay is here to help you with that task!
Use DoNotPay To Get Divorce Papers Notarized Fast
If you don't want to go through the online notary search process on your own, you should turn to DoNotPay for help. Our app will find a notary who can help you get your divorce papers notarized fast and without stress. Here's what you'll need to do:
Sign up for DoNotPay

in any web browser

Choose the

Notarize Any Document

product

Upload the document that you'd like to get notarized

Enter your email address in the provided text box
You only need to wait for the email from DoNotPay to confirm your appointment with the online notary!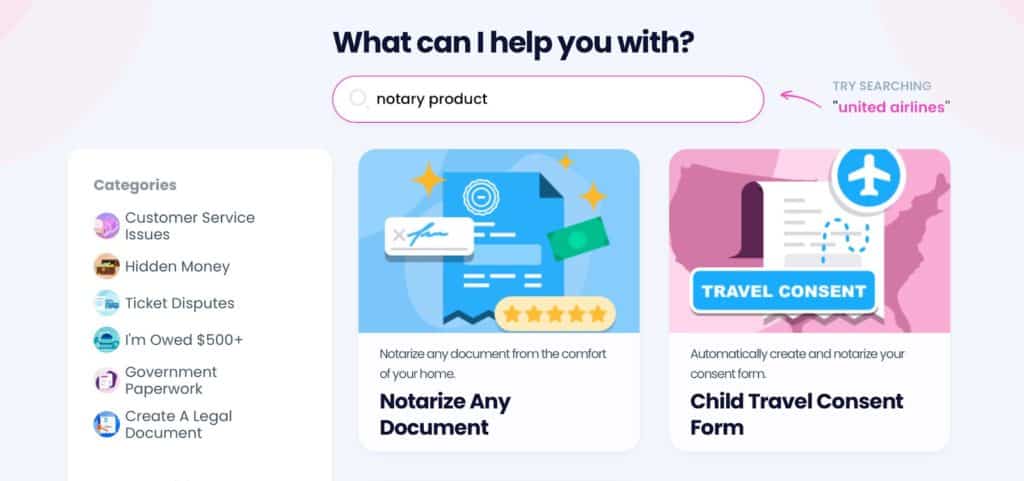 You can also count on DoNotPay if you need to create a legal document of any sort before you get it notarized.
Creating Legal Documents Is Easy With DoNotPay's Help
When drawing up documents, you need proper legal knowledge. You want to make the agreement or a contract airtight, and DoNotPay can help you do precisely that!
Here are the documents our app can generate for you at the moment:
Quitclaim Deed

Intent To Purchase Real Estate

Estoppel Certificate

General Business Contract

General Affidavit

Promissory Note
Say Goodbye to Administrative Issues—Rely on DoNotPay
Are annoying procedures—such as canceling memberships, disputing parking tickets, filing warranty and insurance claims, requesting refunds for purchased products or services—giving you headaches? Do you dread calling an airline's customer support to request a refund and compensation for a canceled flight? You're not alone! The good news is—DoNotPay can help you solve these issues stress-free!
You can use our app to prepare for your driving test or other government exams and schedule an appointment with the DMV in minutes. 
Are you wondering whether you're paying too much for your property taxes? Make sure to try out our Property Tax feature and learn about the best way to reduce your property tax bill. 
Annoyed by Spammers? DoNotPay Can Help!
With DoNotPay, you can get rid of spam emails and text messages and report robocalls in one fell swoop. Our Burner Phone feature will generate a fake phone number that you can provide upon registration for any service! 
Besides helping you enjoy free trials without the risk of being charged, DoNotPay's virtual credit card has another advantage. It will provide a random email address you should use when signing up for a free trial. That way, you'll avoid pesky marketing emails and email notifications.