Notary Acknowledgment From A to Z
Upon notarizing wills, affidavits, real estate deeds, and other legal documents, a notary public usually has to perform a notary acknowledgment. If you need to get a contract notarized, you probably have some concerns and questions. DoNotPay is here to answer them all.
We will tell you how to notarize a document the best way possible and help you create an agreement in under five minutes.
What Is an Acknowledgment Certificate?
An acknowledgment certificate is a written notary statement that records the required details of the performed acknowledgment. A notary usually writes the statement below the signers' signatures. The certificate includes the following:
The signing parties' names

A description of the site of notarization

A statement that an acknowledgment was performed

An indication that the signers:

Appeared in front of the notary

Understood the contents of the contract

Signed the document willingly

The

notary's signature

and stamp
Notary Acknowledgment Explained
The purpose of the acknowledgment act is for the signers to admit to a notary that they have signed the document of their own free will. The acknowledgment process goes like this:
The signing parties appear in front of the notary

The notary verifies the identity of the signers

The parties can sign the document in front of the notary or in advance

The signers acknowledge that they're familiar with the contents of the contract and that they are signing it of their own free will
During the acknowledgment, a notary has to:
Verify the identity of the signers

Confirm that their names are the same as the ones listed in the document in question

Ask if the parties know what they're signing

Write an acknowledgment certificate
While jurats—verifications after you affirm or swear to the truthfulness of the documents—need to be signed in front of a notary, acknowledgments can be signed beforehand.
How To Get a Document Notarized
You can have your contracts notarized in a few ways:
In person

By using one of the

online notary

services

With DoNotPay
Most people still use the traditional notarization method that consists of the following steps:
Finding a notary

nearby

Setting up an appointment 

Collecting the necessary documents

Visiting the notary's office
This process is outdated and time-consuming as it can take days, sometimes even weeks, depending on the notary's schedule. If you make an error with your documents or don't pay a notary service fee, the notary won't notarize your contracts. This means that you'll need to schedule another appointment.
More and more people today turn to online notary services to save time. These platforms can be practical because they allow you to get your documents notarized virtually. While convenient, online notary services can be costly.
DoNotPay provides the convenience of other online notary services while charging a reasonable price.
DoNotPay Helps You Have Your Contracts Notarized Virtually
Since the existing notarization options aren't the best, DoNotPay has come up with a solution. You won't have to spend ages scheduling an appointment and going to the notary's office. We will help you get any document notarized in a few clicks and from the comfort of your home. Here's which steps you should follow to have your contracts notarized hassle-free:
Open

DoNotPay

Choose our

Notarize Any Document

feature

Upload the document you want to have notarized
We will email you a link you should open. Once you do, you'll be able to set up an appointment with a notary. The notary will witness your signature virtually and verify it right away. Besides being super convenient, our feature is also wallet-friendly. While other online notary services cost a small fortune, our app charges a small monthly fee, and you'll have access to all our features.
DoNotPay will help you have your contracts notarized in any state in the U.S., including:
If you can't decide which method to choose, the following table might help you out:
| | | | | |
| --- | --- | --- | --- | --- |
| Ways To Have Your Contracts Notarized  | Effective | Convenient | Time-Efficient | Affordable |
| DoNotPay | Yes | Yes | Yes | Yes |
| In Person | Yes | No | No | Yes |
| Online Notary Service | Yes | Yes | Depends on the platform | No |
Create Any Legal Document Hassle-Free Thanks to DoNotPay
DoNotPay has developed a myriad of useful features to help you deal with pesky bureaucratic issues, one of them being the Legal Document service. We can assist you in creating any type of legal documents in a few clicks. Why waste money on a lawyer if you can use our affordable feature to write professional contracts? 
To draw up agreements quickly and hassle-free, do the following:
Log in to

DoNotPay

Type in the name of the document you want to write in the

Search

bar

Respond to our chatbot's questions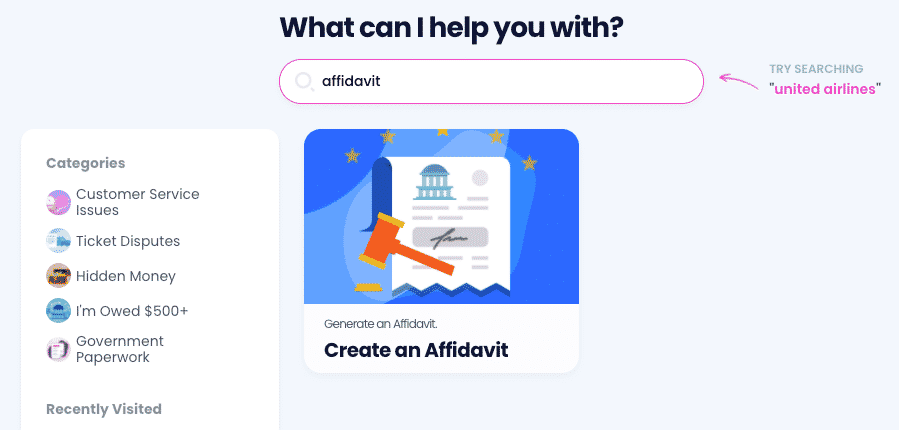 We have integrated the Notarize Any Document feature with the Legal Documents one to help you finish the entire process in no time. Some of the documents we can help you draw up are:
Child Care Authorization Form

Promissory Note

General Business Contract

Quitclaim Deed

General Affidavit

Intent To Purchase Real Estate

Estoppel Certificate
What Else Can Our Award-Winning App Do for You?
If you think that's impressive, wait until you've heard about other features we boast!
Our powerful app can draft paperwork for you, locate unclaimed funds under your name, cancel subscriptions, sue robocallers, and protect you from stalkers and harassers—all in one nifty browser app!
Our legal services have been recognized by the esteemed ABA Brown award, serving as a testament to our abilities to assist you with your small claims issues, free trial auto-renewals, college fee waivers, public records, copyright protection, and much more!
More Benefits of DoNotPay
DoNotPay is a useful tool for handling many otherwise annoying life's trifles, including: