Booking a Virginia Notary Has Never Been Easier
Looking for notaries on your own is a thing of the past, as is leafing through the phonebook. We will not only find a notary for you but also break down the process of notarizing documents and answer any questions regarding Virginia notary services. Follow our guide and get your documents notarized remotely in no time!
What Does a
VA Notary
Do?
Notarizing documents is essentially witnessing the signing of a person who is entering into a contract or agreeing to the terms of a legal document. A Virginia notary can:
Administer oaths

Certify

affidavits

or depositions

Perform a verification of fact

Acknowledge signatures

Certify document copies except for those in governmental custody, such as birth and death certificates
For notarization to take place, both the signer and the notary need to be present. In-person notarization is not the only way to accommodate this. In 2012, Virginia was the first state to implement remote online notarization. An approved notary may notarize documents online. Documents and the notary signature and seal are in digital form.
Aside from online notaries, notaries public can also be:
Mobile notaries perform in-person notarization, but they travel to their clients as opposed to regular in-person notaries. Electronic notaries shouldn't be confused with online notaries. Electronic notarization is done in person, but the document is in digital form.
You may have also heard of another type—notary signing agents. While they are notaries, after qualifying to become notary signing agents, they can deal with loans and print, deliver, and notarize loan documents.
Virginia Notary Lookup
If you want to search for notaries on your own, you may turn to 123Notary, Notary Public Stamps, or the American Society of Notaries. The process varies depending on the website, but you typically need to:
Adjust the filters based on your location

Locate a notary

Contact them to make an appointment

Visit them unless they perform mobile, electronic, or remote online notarization

Bring your ID or other appropriate documents and the document you want to notarize
can do the work on your behalf! If you use our app, all you'll need to do is upload your document and get ready for your remote notarization.
How Much Can a
Notary Public
in
Virginia
Charge for Notarization?
Virginia sets a maximum fee notaries can charge for a notarial act. Here's the price range you can expect:
| | |
| --- | --- |
| Notarial Act | Notary Cost |
| Jurat | Up to $5 |
| Acknowledgment | Up to $5 |
| Verbal oath or affirmation | Up to $5 |
| Remote online notarization | Up to $25 |
In addition to the notary fees, notaries can also charge travel or administrative fees, but they need to inform their clients of it beforehand.
What To Expect From Notarization in Virginia
To deter potential fraud or coercion, the signers need to be present during notarization. Once everyone is present, the notary will:
Check the document that needs to be notarized:

Establish the type of notarization they should perform

Review the notary certificate and check whether it meets the requirements of the state

Check for blank spaces as they can be altered easily after notarization

Ensure the name in the document matches the one on the signer's ID

Identify the signer:

By personal knowledge

By checking the signer's ID, passport, or driver's license

Make sure the signer is signing the document out of free will

Determine the signer is of sound mind

Keep a record of the notarization (in case it's a remote notarization, it will be recorded)

Complete the notarial certificate

Add a seal and signature
Can a VA Notary Refuse To Notarize a Document?
Yes, they can. Notaries perform various checks before they notarize a document. The situations that may cause a notary to reject your document are the following:
You are not physically present when it's required

The notary cannot identify you

You don't speak the same language as the notary, and you don't have a translator

The notary finds you disoriented, intoxicated, or mentally incapacitated to sign your document

The notary detects fraudulent or suspicious actions

Your document misses pages or has blank spaces

The notary has a financial or beneficial interest in the transaction stated in the document

You can't or won't pay the notary fees
Get Documents Notarized Remotely With the Help of DoNotPay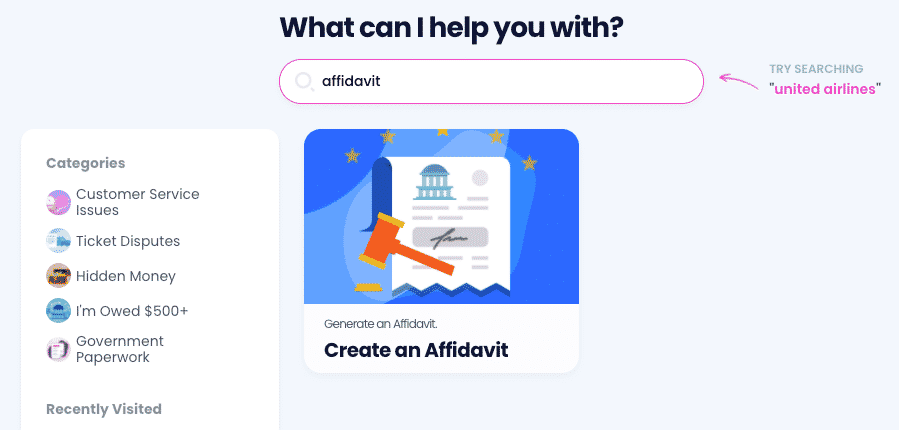 DoNotPay is a perfect choice if you wish to get your document notarized remotely. This way, you don't have to leave your home or worry about bringing the necessary documents with you. An added benefit is that notarization will be much cheaper, and it comes with nifty perks. Signing up for DoNotPay allows you to use all features we offer at one low price. Have our AI-powered app generate legal documents, fax them, and find you a notary—everything in a few clicks.
To start the online notarization with DoNotPay's assistance, complete these steps:
Visit our app in any

Type in

Notarize Any Document

Upload your document

Give us your email address

Follow the link we send you
You will be able to choose the date and time when you're available to notarize your document.
Admin Issues Giving You a Headache? Resolve Them With DoNotPay!
Scheduling a DMV appointment, applying for clinical trials, requesting refunds from companies, and getting in touch with your loved ones in prison are all difficult and time-consuming tasks. You have to take many steps before you can get any of these over with, and that's why our robot lawyer app is here to help.
No matter if you need assistance with appealing parking tickets, signing up for free trials, canceling various subscription services, or maybe preparing for government tests, DoNotPay will provide you with easy solutions.
Having Financial Struggles? Rely on the World's First Robot Lawyer
Many Americans struggle to make their ends meet at the end of each month. With that in mind, we've created plenty of features that will save you both time and money in the most efficient way.
Using our AI-driven app, you can get help with bills, get refunds from airlines, find unclaimed money in any state, or earn off annoying robocalls or stalkers and harassers. If you want to fight for your right, DoNotPay will also assist you in suing any person or company in small claims court.
No matter the admin task at hand, our robot lawyer will provide swift and effective assistance.