A Quick Guide to Booking a Notary Public in Detroit
Getting your documents notarized by visiting a notary in person usually proves tedious and time-consuming. Luckily, we offer you a simplified way of booking a notary public in Detroit and provide all notary-related info you need!
, and rest assured you'll find a notary in the blink of an eye!
What Does a
Notary Public in Detroit
Do?
A notary in Detroit is an independent official appointed by the government to witness the signing of documents, among other tasks. Check out the list below for specific legal tasks notaries perform:
Verifying the signer's identity

Establishing whether the signer is of sound mind during the signing process

Ensuring the signer isn't under the influence of any substances

Checking if the signer is aware of document contents

Taking

acknowledgments

Administering oaths and jurats

Certifying

copies

of documents

Adding their stamp and

signature

to ensure all legal protocols have been honored
Notaries in Michigan can notarize the following documents for you:
Business documents

—Construction and loan agreements, vendor contracts, memorandums of understanding, employment contracts, commercial leases, and articles of incorporation

Financial documents

—Mortgage closing documents, property deeds, and loan documents

Legal documents

—

Powers of attorney

, court documents,

wills

, trusts,

advance directives

,

affidavits

, custody and guardianship agreements, and executorships
The Standard Notarization Process in Detroit
The standard in-person notarization process in Detroit requires you to complete the following steps:
Inquire about notary and cancellation fees

Schedule an appointment

Prepare your documents

Show up in the notary's office

Provide proof of identity

Pay the applicable

fees

Sign the documents

Wait for the notary to finish notarization
This way of notarizing documents is outdated and can lead to issues. If you forget to bring your ID or any of the documents you want to get notarized, the notary will ask you to come back another time and restart the process.
How To Find a
Notary Public in Detroit
on Your Own
You can find a notary in Detroit, Michigan, by going to public places that offer notary services or by visiting various online registries. You can see the specific locations and websites in the table below:
Get the Mobile
Notary Public in Detroit
If you don't want to travel to a notary's office to get your documents notarized, you can schedule a meeting with a mobile notary instead. They will travel to any location you choose and notarize your documents on the spot.
They charge additional travel and mileage fees that aren't regulated by Michigan law. That means mobile notaries in Detroit can charge you any amount they want for travel fees.
Online
Notary Public in Detroit
Numerous states passed remote notary laws, especially during the COVID-19 pandemic. Michigan is among the states that allow remote online notarization.
By booking an online notary, you can skip traveling to a notary's office and paying mobile notary's travel fees. It's a simple and efficient solution, and the best part is that scheduling a meeting with a remote notary takes less than five minutes!
Book a Remote
Notary Public in Detroit
With DoNotPay Easily!
If you are tired of spending hours looking for a notary public or you want to schedule your meeting after hours, you'll find our app super useful! DoNotPay offers you an option to book your meeting with a remote notary at any time you want! Our service is available around the clock.
All you need to do to make your appointment is complete the following instructions:
Pick the

Notarize Any Document

feature

Upload your document and provide your email address
We'll send you a link with a remote notary's appointment timetable, and you can choose the date that's convenient for you.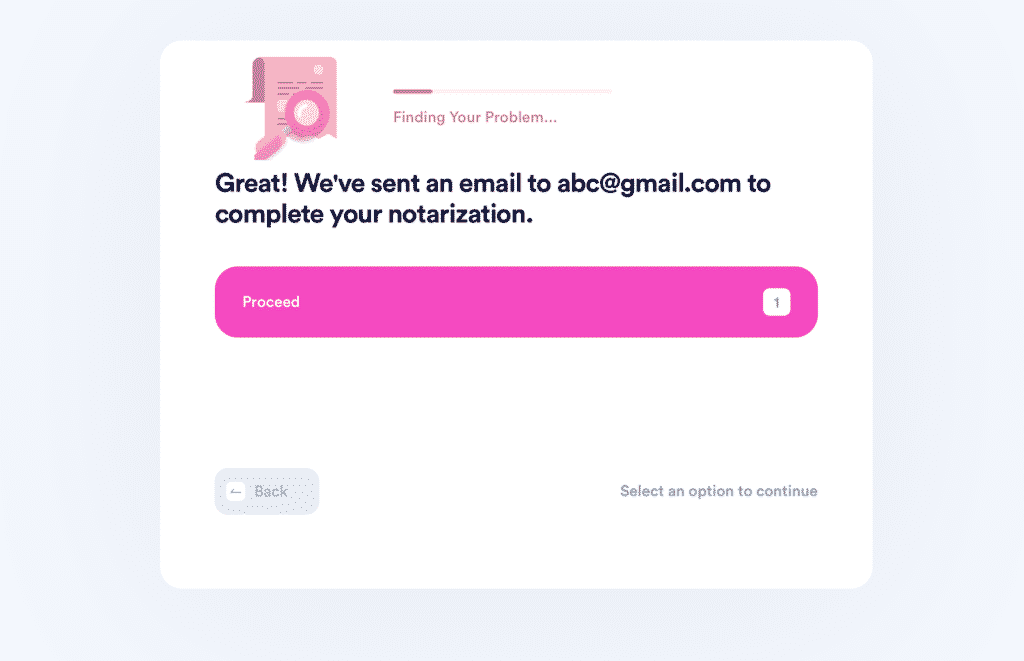 DoNotPay can help even in the states that haven't passed the remote notarization law! We connect you with an out-of-state notary, and you can finish the process with them in no time!
Need Additional Assistance? We Got You!
If you need further assistance and explanation regarding any notary-related concerns, we are happy to help! Here's a list of various questions DoNotPay answers for you:
Say No to Spam and Unnecessary Paperwork
If your inbox, mailbox, or to-do list is overflowing, our app is exactly what you need! Check out ways to declutter your life:
You can have your cake and eat it too—DoNotPay makes it possible to cut down on unnecessary red tape and save you money—all in one full swing. We can help you overturn your parking tickets, apply for a college fee waiver, uncover missing money, submit a FOIA request, and much more.
Discover Numerous Fast and Easy Solutions
DoNotPay is all about helping you through a complicated task by coming up with simple solutions: