How To Have Your Documents Notarized Without Going to a Nevada Notary
Appearing before a Nevada notary in person to get your documents notarized can be inconvenient, especially during the COVID-19 pandemic. That's why the State of Nevada now allows remote notarization. If you'd like to find out how to notarize documents online, DoNotPay is here to provide a wallet-friendly solution.
What Does a Nevada Notary Do?
Notaries in Nevada are authorized to conduct the following notarial acts:
Notarial Acts

Description

Witnessing the signing of the documents

The notary has to be an impartial witness during the signing of

wills

,

title transfers

,

powers of attorney

, and other

documents that have to be notarized

 

Administering oaths and affirmations

The signer has to raise his or her right hand and repeat the words of the oath or affirmation after the notary

Taking

acknowledgments

All parties acknowledge that they have signed the document willingly. When it comes to the acknowledgment, the document can be signed either in advance or in front of the notary

Notarizing copies

of documents

Notaries can make and notarize copies of certain documents. By law, publicly recorded documents—such as marriage, death, and

birth certificates

—can't be

notarized

 

Executing jurats or taking verifications upon oaths and affirmations

In jurats, notaries state that the signers have sworn or affirmed that they:

Were aware of the contents of the document

Signed the document willingly

All parties need to sign the document in front of the notary
Each notarized document needs to contain a notarial certificate, signature, and stamp to carry legal weight. If a notary determines that a document is forged, he or she mustn't notarize it.
State of Nevada Notary Service Fees
State laws dictate maximum notary fees in Nevada. Notaries can charge up to:
$5.00 for the first signature of every signer when taking an acknowledgment

$2.50 for every additional signer

$2.50 for oaths and affirmations without a signature

$2.50 for a notarized copy

$5.00 for every signature on the

affidavit

when executing jurats
Mobile notaries have the right to charge additional hourly fees:
Up to $10.00 per hour if the signer schedules notarization between 6 a.m. and 7 p.m.

Up to $25.00 per hour if the signer schedules notarization between 7 p.m. and 6 a.m.
A notary and a client need to agree upon notary service costs before scheduling an appointment. 
Issues With the Traditional Notarization Process in Nevada
Most Nevada residents consider the traditional method of notarization exhausting and time-consuming. Here are the numerous steps you need to follow to get your contracts notarized in person:
Find a notary

in:

Set up a meeting

Bring your documents to the notary's office or email them if the notary performs

electronic notarizations

Appear in front of the notary and provide your ID

Affirm that you know what you're signing and that you're doing it of your own free will

Pay the fees

Sign the document

Wait for the notarial statement, signature, and stamp
Why Should You Choose Remote Notarization?
Since the traditional procedure is tedious, many people rely on online notary services. These platforms allow you to handle notarization from the comfort of your home, which is always convenient, not only during the pandemic. 
Most online notary platforms work like this:
You register and follow the required steps

The platform connects you with a remote notary via a video call

The notary witnesses your signature and provides a notarial certificate with his or her electronic signature and stamp

You download the notarized document
Remote notarization is time-efficient, and it can be done 24 hours a day from any device. 
The only downside of most online notary platforms is the price. The fee for these apps usually starts at $25 per document. If you need to get your contracts notarized frequently, you should find a more affordable solution.
DoNotPay's Notary Product From A to Z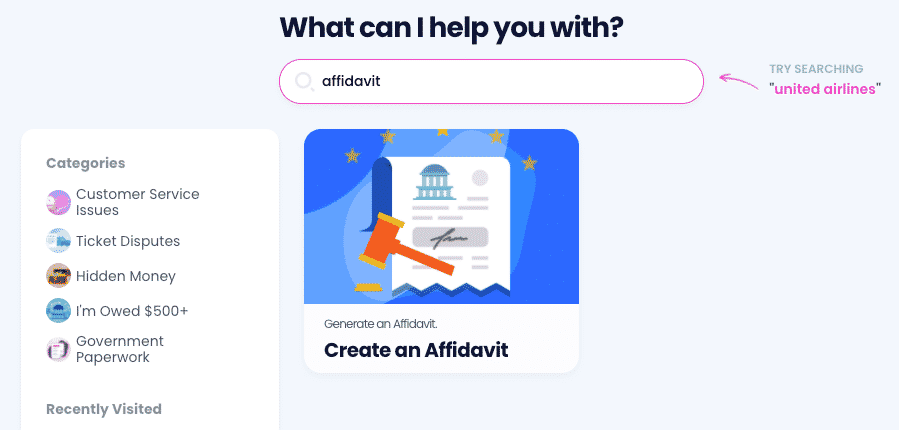 Are you looking for an efficient yet budget-friendly online notary app? DoNotPay's Notarize Any Document product can help you have all of your documents notarized in less than five minutes without paying big bucks.
These are the steps you should follow to get your documents notarized in Nevada, Texas, Washington, Louisiana, Indiana, or any other state:
Sign up for

DoNotPay

Select the

Notarize Any Document

feature

Upload the contract you would like to get notarized

Type in your email address
When you open the link DoNotPay emails you, you can schedule a virtual meeting with a notary. You will have your documents notarized over a video call in a matter of minutes. DoNotPay charges the same monthly fee regardless of the number of documents you get notarized.
Writing Legal Documents Doesn't Have To Be Costly—Sign Up for DoNotPay
If you need help creating legal documents before you get them notarized, DoNotPay has another awesome product. Our Legal Documents solution will enable you to write any contract—including a prenuptial, operating, and lease agreement—in a few clicks. 
An added plus is that we have integrated the notarization feature with the Legal Documents one. You can draw up and get your contracts notarized through the same app, which will save you a significant amount of time.
DoNotPay Never Ceases To Amaze
Where there's one useful feature, there are nifty features galore!
Use our Virtual Credit Card to sign up for free trials and stop robocalls and spam text messages from reaching your phone. If you feel a free trial unrightfully turned into an expensive paid membership, we can help you request a refund or chargeback for the inconvenience.
We can further assist you in exercising your consumer rights by making a warranty claim in your place and verifying your online accounts with temporary phone numbers.
We can also break down the Freedom of Information Act for you and introduce you to online fax options and property tax reductions.
Clear Your Schedule With the Help of DoNotPay
DoNotPay is renowned for making our users' lives infinitely easier. Not only can we root out unwanted subscriptions for you—you don't need to do it manually one by one any longer—but we can unsubscribe you from unwanted email and snail mail lists.
Fire up our app and let it navigate the phone tree instead of you or use it to make a DMV appointment at your earliest convenience. Forget about googling clinical trials near you—DoNotPay can sort them out according to your needs and their individual eligibility criteria. 
We can fill out the paperwork that you need to file at your local small claims court to initiate a dispute. You can work around the U.S. penal system and have DoNotPay locate an imprisoned loved one instead of you trying to reach individual prisons attempting to do it yourself.
You don't need to go to great lengths to get in touch with a counselor to sign your college fee waiver either—DoNotPay does it for you and then forwards the necessary documents on your behalf.