How To Get Your Documents Notarized by a Notary Public in Hawaii
Visiting a notary public in Hawaii in person can be problematic, especially amidst the COVID-19 pandemic.
If you would like to find out how to notarize documents in Hawaii or any other state, DoNotPay provides relevant information and solutions. We also offer the most convenient way to get your documents notarized quickly and safely.
Who Is a Notary Public in Hawaii?
A notary public is a Hawaiin resident who has passed a notary exam and got authorization to witness the signing of various legal documents, such as:
Real estate deeds

Trusts

Contracts
What Does a Hawaii Notary Do?
When performing notary services, a notary will:
Confirm the identity of the signing parties—make sure to have a valid government-issued photo ID document with you

Verify the signers are:

Of sound mind

Signing the document of their own free will

Determine that all signers are familiar with the contents of the document

Identify a potential fraud

Place a

signature

and official stamp on the document if everything is according to the rules
A notary can refuse to notarize a document if you:
Forget to bring an ID document

—you can bring your passport, ID, or driver's license

Sign the document in advance

—in some cases, you can do that but check when setting up the appointment

Fail to bring witnesses

—if required for the documents you're getting notarized

Neglect to take enough money to settle notary fees

—you should inquire about fees when making the appointment
How To Get a Document Notarized by a Notary Public in Hawaii
Getting your documents notarized can be a daunting and lengthy process. Here are the steps you will need to take:
Make an appointment

Visit a notary's office at the scheduled time

Present an ID document

Provide the required documents
If you fail to bring a valid ID or the necessary documents, or you make a mistake, you will need to set up another appointment and repeat the whole process.
As this traditional in-person notarization takes a lot of time and energy, you should consider other options.
Hawaii Notary Services
You can get your documents notarized in the following ways:
Notary Service
What Is It?

Regular notarization

You will need to visit a notary's office to get your document notarized

Mobile notarization

Mobile notaries can visit you at a convenient location, including:

Your home

Your workplace

A hospital

Jail

Airport

A mobile notary charges additional travel fees on top of the regular ones

Remote online notarization

Online or remote notaries perform notary services via a live video call.

to get your document notarized online
Hawaii does not allow remote online notarization (RON). However, during the COVID-19 pandemic, the Hawaii governor has allowed Hawaii notaries to perform remote ink-signed notarizations (RIN).
What Is a Remote Ink-Signed Notarization?
Due to the ongoing pandemic, a Hawaii notary can choose to perform the notary service while respecting social distancing guidelines.
To ensure the safety and health of all parties involved in the notarization process, a remote ink-signed notarization (RIN) has been introduced. To perform an online RIN, a notary public in Hawaii needs to:
Identify the signers through:

Personal knowledge, i.e., the notary is certain that the signers are who they claim to be (mostly only for notary's cousins, friends, or colleagues)

Checking a valid photo signed ID document

Confirm the signers are:

Aware of the document's contents

Willing to sign the document

Physically located in Hawaii

Witness the signing of the document

Communicate with the signers via a live video call

Record the audio-visual call

Receive the signed document electronically or via fax on the same day the document was signed

Notarize the sent copy

Send the notarized document to the signer
You should make sure to sign the paper document in pen and ink before faxing or transmitting it electronically to a Hawaii notary. As the RIN rules might change, you should keep track of them on the Department of the Attorney General website.
Use DoNotPay's Efficient Online Notarization Solution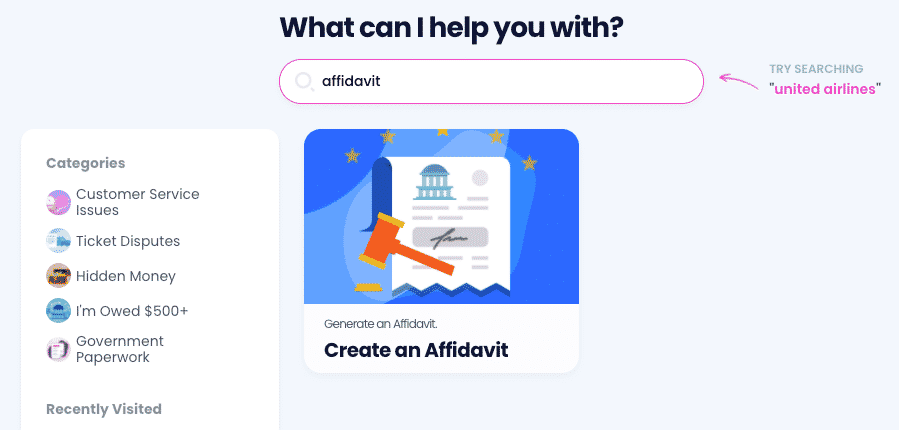 Lots of states allow and use an online notary service since it is the most convenient one. DoNotPay provides a safe and handy way to get any document notarized from the comfort of your home.
Using our app, you will not have to:
Look for a notary public

—we have an extensive notary database with all contact information

Get in touch with a notary

—DoNotPay deals with that and offers you appointment times to choose from

Drive to a notary's office

—you will get your documents notarized online
If you would like to get your documents notarized online in Kentucky, Texas, Florida, Louisiana, Nevada, Washington, Indiana, or any other state:
Access the

Notarize Any Documen

t feature

Upload the document you'd like to get notarized

Enter your email address
You should open your inbox and click on the link we sent you. The link will guide you to the notary's schedule, where you can set an appointment. What's next? Show up at the scheduled time for a live video call and get your document notarized in a matter of minutes!
In Hawaii, we can help you with lots of issues, including how to find lost money. We can also present information on property tax exemptions and assessments in Honolulu.
Clear Out Your Daily Tasks Fast With DoNotPay
Are your parking tickets piling up, but the process of appealing them is way too complicated? Do you struggle to pay your bills but are not sure how to get an extension? Is it time to extend your driver's license, but reaching the DMV is a nightmare?
DoNotPay will turn all of these dreadful tasks into easy-to-do items you can check off your agenda quickly!
Get rid of spam emails, texts, and calls quickly using our AI-powered app!
Learn how to secure compensation from airlines, get your college fees waived, claim your lost funds, or reduce your property tax—all with a few clicks!
Subscription Issues? DoNotPay Can Help!
If you are looking to test out a service, think twice before disclosing your payment info. Companies will often ask you for your credit card details even when signing up for a free trial—they charge you once the trial expires.
Use our virtual credit card, and don't worry about unwanted charges!
Our credit card gets automatically approved for any free trial, but it rejects any real charges since there is no money on it.
DoNotPay will locate and cancel all your unwanted subscriptions without you having to deal with customer service reps.
We can also help you request refunds from companies or take them to small claims court if they refuse to cooperate.