How To Get a Notarized Affidavit Hassle-Free
Documents such as wills, trusts, affidavits, and real estate deeds aren't valid until you have them notarized. If you'd like to find out how to get a notarized affidavit, DoNotPay is here to help you out. We will tell you how to draw up and notarize a document in a snap without visiting the notary's office.
What Is a Notarized Affidavit?
If you want to swear or affirm that a certain fact is true, you need to write a statement—called affidavit—and have it notarized. You can use an affidavit to:
Approve valuable info during court proceedings 

Prove your relationship with a departed individual

Purchase real estate

Verify your finances upon a request from a bank or a judge
Affidavits must get notarized to be valid in court. Notarization proves that the affiant:
Appeared and signed the document before a notary public

Was aware of the contents of the document

Signed the document of his or her own free will
How Many Types of Affidavits Are There?
There are numerous types of affidavits used for various purposes. The following table offers an overview of the most common affidavit types:
Affidavit Types

Description

Affidavit of Heirship

Verifies that the affiant had a familial relationship with the departed individual. The affidavit of heirship can make the entire process of property distribution much quicker

Affidavit of Title

Proves that the seller of real estate:

Owns the property in question

Isn't undergoing bankruptcy

The affidavit of title is used to protect the buyer and ensure he or she is the only recipient of the property

Affidavit of Service

Confirms that the recipient who's been served was given the necessary documents that summon them to appear in court

Affidavit of Residence

Verifies that the affiant lived at the stated address. Since public school placement or college tuition rates are determined by your housing zone, the affidavit of residence is obligatory in those cases

Financial Affidavit

Proves an individual's current finances, such as:

Gift Affidavit

Confirms that an individual is voluntarily transferring ownership of the property to someone else as a gift

Affidavit of Identity

Proves that an affiant is who he or she claims to be. Standard IDs can be falsified, and that's why banks and other financial institutions require an affidavit of identity
How To Get an Affidavit Notarized
You can get your affidavit notarized by:
Visiting:

Hiring a traveling notary public

Signing up for an

online notary

service 
The current affidavit notarization process is one of the least favorite options for many people. Whether you decide to head over to a notary's office, bank, AAA, or any other institution that offers notary services, the entire procedure is usually lengthy. Traditional notarization includes the following steps:
Setting up an appointment

Bringing the document to the notary's office

Providing your ID for identity verification

Paying the

notary fees

Swearing that your statement is true

Singing the contract in front of the notary

Waiting for the notary to write a certificate,

sign

the contract, and seal it
Hiring a mobile notary can help you save time since the notary will come to your preferred location. While practical, this method can be costly because you'll have to cover the notary's travel fees.
Using one of the online notary services is the quickest and most convenient way to get your affidavit notarized. 
The Most Efficient Way To Get a Notarized Affidavit Is With DoNotPay
Most platforms charge a lot of money for only one document, which can be an issue if you need notary services frequently. DoNotPay offers an equally practical yet budget-friendly solution for notarizing affidavits in Ohio, Georgia, California, New York, or any other state. Our feature will help you get any legal document notarized remotely from any device. 
If you want to have your affidavit notarized in a few clicks, open DoNotPay and do the following:
Pick the

Notarize Any Document

feature

Provide your email address

Open the email we send you and click on the link
You will be able to schedule a virtual appointment with a remote notary any day of the week. The notary public will witness your signature over a video call and verify the signature's authenticity with a notarial certificate. 
DoNotPay—An Affordable Way To Write Any Legal Document in a Few Minutes
Besides assisting you in getting your affidavits or any other documents notarized hassle-free, DoNotPay can also help you create them with our Legal Document feature. If you'd like to draw up contracts without paying a pretty penny, sign in to your DoNotPay account and follow these steps:
Type in the name of the document you want to create

Answer our questions

Download the document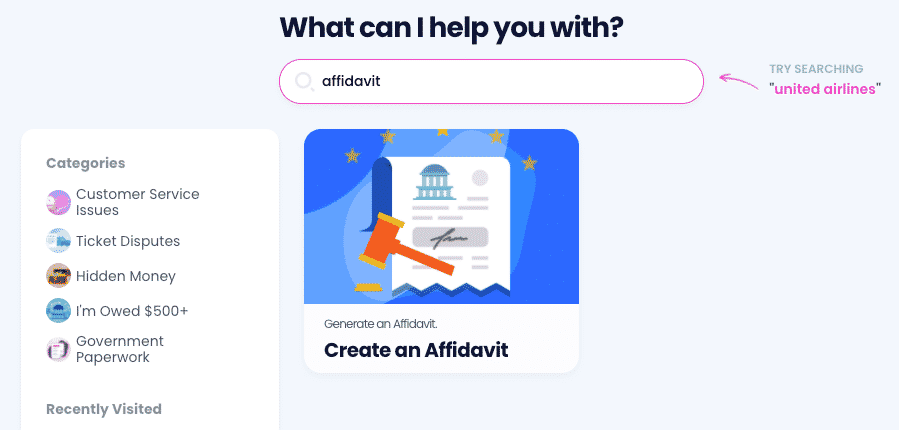 DoNotPay enables you to draw up a legal document and have it notarized through the same app. The following list shows some of the agreements you can create in under five minutes with our help:
Intent To Purchase Real Estate

Estoppel Certificate

Quitclaim Deed

General Affidavit

General Business Contract

Promissory Note

Child Care Authorization Form
Clear Your Schedule With the Help of DoNotPay
DoNotPay is renowned for making our users' lives infinitely easier. Not only can we root out unwanted subscriptions for you—you don't need to do it manually one by one any longer—but we can unsubscribe you from unwanted email and snail mail lists.
Fire up our app and let it navigate the phone tree instead of you or use it to make a DMV appointment at your earliest convenience. Forget about googling clinical trials near you—DoNotPay can sort them out according to your needs and their individual eligibility criteria. 
We can fill out the paperwork that you need to file at your local small claims court to initiate a dispute. You can work around the U.S. penal system and have DoNotPay locate an imprisoned loved one instead of you trying to reach individual prisons attempting to do it yourself.
You don't need to go to great lengths to get in touch with a counselor to sign your college fee waiver either—DoNotPay does it for you and then forwards the necessary documents on your behalf. 
DoNotPay Never Ceases To Amaze
Where there's one useful feature, there are nifty features galore!
Use our Virtual Credit Card to sign up for free trials and stop robocalls and spam text messages from reaching your phone. If you feel a free trial unrightfully turned into an expensive paid membership, we can help you request a refund or chargeback for the inconvenience.
We can further assist you in exercising your consumer rights by making a warranty claim in your place and verifying your online accounts with temporary phone numbers.
We can also break down the Freedom of Information Act for you and introduce you to online fax options and property tax reductions.