How To Avoid Going to a Notary Public in Pasadena, TX
If you value your time, you shouldn't spend it on going to a notary public in Pasadena, TX. In the past, in-person notarization may have been your only option, but not anymore. DoNotPay can help you get your documents notarized online in no time!
Types of Notarization Available in Pasadena, TX
You can choose between a few ways of getting documents notarized in Pasadena, Texas. Take a look at the table below to see your options and brief explanations:
Notarization Type

Explanation

Regular notarization

The signer goes to the notary to get their

signature

on the document

Mobile notarization

The notary goes to the signer to notarize their document

Online notarization

The notarization is performed virtually without the notary and the signer meeting in person
The first two options are flawed and outdated, which is why online notarization is becoming more and more popular.
The Issues With In-Person (Regular and Mobile) Notarization
In-person notarization is an inconvenient way of getting documents notarized. Here are some of the issues you'll face if you choose this notarization type:
Paying extremely high mobile notary fees

Spending money on public transport or gas

Asking to leave work early or take a day off to make it to the appointment on time

Interacting with people during a

global pandemic

and risking your health

Trying to adjust your busy schedule to the notary's working hours
You can avoid all of the above-mentioned troubles if you choose online notarization.
Why You Should Opt for Online Notarization
Who would not want to handle the same bureaucratic task from the comfort of their home if they had a chance? Online notary services are more practical and convenient for the standards of our busy, modern lifestyles.
If you choose to get a document notarized online, you will be able to:
Sit in your living room in your sweats while the notarization takes place

Pick any time and date that fits your schedule

Save the time you'd otherwise waste being stuck in traffic

Avoid paying for a mobile notary's high travel fees
What Do You Need To Prepare for Online Notarization?
You don't need much to get through an online meeting with a notary. Here are the only requirements:
A proof of identification—You'll need to show your ID to the notary

The document that you wish to get notarized—It should be in electronic format

A web camera and speakers—The notary should be able to see and hear you properly during the meeting

Good internet connection—It will guarantee a meeting without any interruptions

A trustworthy online notary—A good notary will handle the task quickly and without issues
You probably already have everything on the list, and DoNotPay will help you find the notary!
Use DoNotPay To Find a Reliable Online Notary
If you want to sail through the online notarization process, you should find a reliable remote notary who knows what they are doing. DoNotPay will find a perfect match for you in no time. You only need to follow four simple steps:
in your favorite web browser

Choose the

Notarize Any Document

product

Upload the document you'd like to get notarized

Type in your email address in the text box
Notaries we work with are at your service 24/7, every day of the year. This means you won't have to stress about handling a bureaucratic task during the weekends or holidays!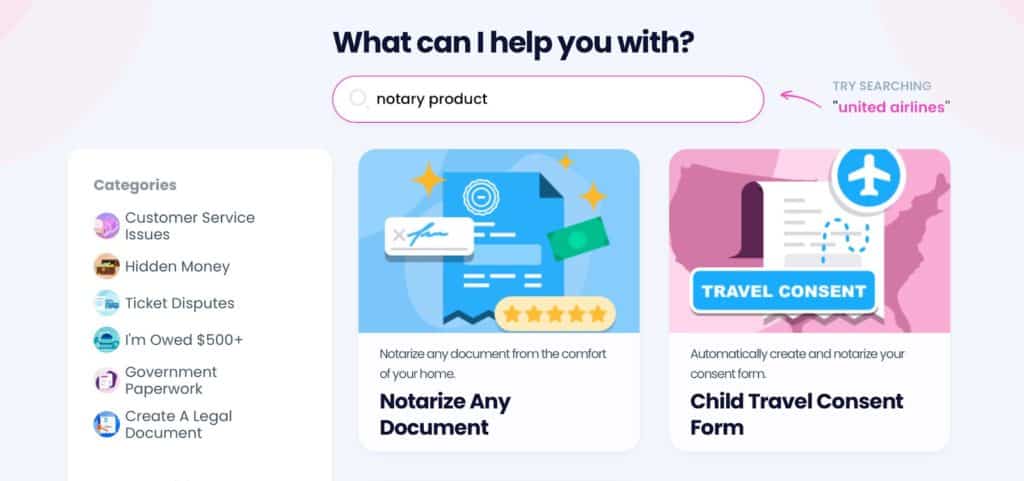 Wills, affidavits, consent forms, and real estate deeds are some of the documents you should definitely consider taking to a notary. Before you do, you'll also need to create your legal document. DoNotPay can help you with that part as well!
Make Legal Documents Without Trouble Using DoNotPay
Our Standardized Legal Documents product allows you to draw up a legal document without having to hire a lawyer. We have a plethora of options at your disposal, and you only need to pick the customizable template you need:
Bill of Sale

Independent Contractor Agreement

Parenting Plan (Child Custody Agreement)

Non-Disclosure Agreement

General Business Contract

General Affidavit

LLC Operating Agreement

Quitclaim Deed

Residential Lease Agreement

Intent To Purchase Real Estate

Estoppel Certificate

Promissory Note

Prenuptial Agreement

Non-Compete Agreement
You can also visit DoNotPay's Learning Center to find out more about other legal documents you may need, such as photography contracts, land lease agreements, puppy sale contracts, and many more.
Got More Questions About Notarization?
DoNotPay can help you get all the info you need about notarization. Find answers to these questions right away:
Explore DoNotPay's Products and Save Both Time and Money
Are you sick and tired of spending ages on the phone with customer support trying to get more info about how to return a faulty product and get a refund? Maybe you'd like to cancel memberships you don't use but can't find that unsubscribe button anywhere? DoNotPay can help you sort out all of these issues in a jiffy!
Contest parking tickets, claim your car warranty and insurance, schedule a meeting with the DMV, and handle your other problems through the same app on your tablet or smartphone.
Getting access to public records or drawing up various legal documents with DoNotPay is child's play.
That's Not All!
The first thing you'll notice when you open DoNotPay is that you can use our app for almost anything.
Do you wish to enter raffles or sweepstakes? Are you interested in applying for paid clinical trials and earning some cash? Would you like to send mail without going to the post office? You're in the right place!
We will help you feel safe while browsing the Internet by assisting you in blocking and reporting spam emails, suspicious text messages, and pesky robocalls.