Easy Ways To Get Your Documents Notarized Without Visiting a
Washington State Notary
Visiting a Washington state notary isn't the only way to have your documents notarized! There are simpler and faster methods you can go for. Sign up for DoNotPay and discover the best way to get your documents notarized online!
We'll show you how you can get your documents notarized in Washington and provide you with all the info about the online notary service.
Should You Visit a
Washington Notary?
If you ever need to get your document notarized, you will probably first think of going to a notary. This may be a common practice, but you should still get familiar with how the notarization process works. 
You can get your documents notarized with a traditional notary in Washington by visiting their office. 
Here is how to prepare for the visit:
Find a suitable local notary, check their working hours, and book an appointment

Prepare the documents you want to get notarized

Find a valid ID or another document proving your identity

Show up at your appointment in time (if you're late, you will likely have to reschedule)
During the notarization process, the notary will verify your identity, assess that you are familiar with the contents of the document, and check whether you're signing the doc of your own free will.
Once all those boxes are checked, you can sign the paper in the notary's presence. The notary will use an official stamp to notarize the document and provide his or her signature. 
Note that being late to your appointment is not the only event that can delay this process. If you forget to bring any of the required documents or your ID, you will have to repeat the notarization from the beginning.
The Common Documents That a
Notary Public in Washington
Notarizes
If you are wondering what types of documents you can get notarized by a notary in Washington, we provide you with a list of the most common ones:
Quitclaim deed

Plea form

Release and waiver

Power of attorney

Grant deed

Compliance agreement

Application for duplicate or paperless title

Certificate of identity

Certificate of authorship

Assignment

Affidavit of forgery

Deed of trust
Why Online Notarization Is the Best Option
The standard notarization processes are entirely outdated and involve several steps ending with an in-person visit to a notary office. Does visiting any office in person seem like a smart option in the current COVID-19 situation? Not if you have another option!
Online notarization helps you avoid all the administrative nonsense. You can have your documents all set while social distancing and in a matter of minutes. 
The way online notarization works is simple:
Prepare your documents

Make an appointment for a virtual meeting with a notary
The notary will witness the signing virtually and certify your document digitally.
The best part about online notary service is that it can be done from any location and at any time. 
The downside is the price. Plenty of remote online notary services can be quite expensive, but not our app. To avoid wasting money on questionable services, we offer you the most practical and safe app for online notarization—DoNotPay.
Avoid Visiting a
WA State Notary
and Use DoNotPay Instead!
To avoid the issues regarding the notarization of your documents, use DoNotPay from the comfort of your home! We made sure that the notarization process takes as little time as possible! You can schedule your virtual appointment with a notary in only a few minutes and get on with your day stress-free. This is how it works:
Access the

Notarize Any Document

feature

Submit the documents you want to notarize

Provide your email address
Once you finish the above-mentioned steps, we'll send you an email with a link that you'll use to make an appointment with a notary.
Draft and Notarize Documents With One App in a Snap!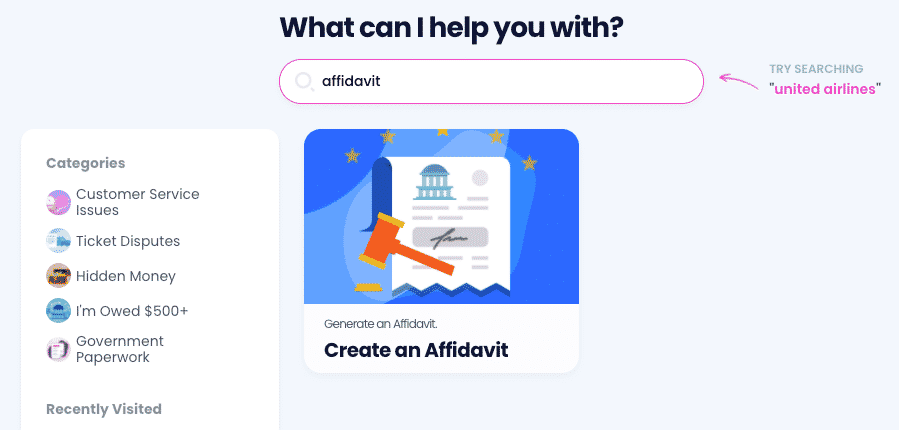 DoNotPay provides you with another neat feature that allows you to both draw up documents and get them notarized effortlessly! See the list of all the legal documents and contracts we can generate for you:
Business Contracts
Other Contracts

Intents To Purchase Real Estate

Estoppel Certificates

Quitclaim Deeds

General Affidavits

Promissory Notes
Need More Info About Notary Services?
If you are looking for more notary-related info, we'll tell you all you need to know! Wondering how much the notary service costs? Not sure where to find a 24-hour notary service? Curious about how mobile notaries work? DoNotPay answers these and other frequently asked questions, like:
DoNotPay Helps You Claim Your Money
Our virtual assistant app makes sure you get back funds that are rightfully yours.
Whether you need to claim insurance, warranties, or your property held by the state, we will help you do it in minutes.
DoNotPay can also help you initiate a chargeback on any transaction you disagree with. We can help you secure compensation from airlines, robocall and text scammers, or in case you've been a victim of a crime.
In case you are dealing with an unfair company regarding your subscription cancellation or any other matter, we can help you get your money back by suing them in small claims court.
Bypass the Administration With DoNotPay
There's no more need for extensive research, abundant paperwork, or endless phone calls with customer service reps.
DoNotPay brings the administrative nonsense to a minimum.
Book DMV appointments fast and easy, appeal your parking citations, sign up for free trials without disclosing your credit card info or phone number, or reach your loved ones in jail—all in less than five minutes.
We also generate any legal document, provide full access to public records, offer DMCA protection, and reduce your property taxes with a few clicks.