Finding an
Indiana Notary
Has Never Been Easier
When you draft a document—an affidavit or power of attorney— and find out it needs to be notarized, it may seem like a fuss, but it doesn't have to be. The days of flipping through a phonebook, calling to schedule, and taking the time to visit a notary are long gone. You have different options now. This article will walk you through notarizing a document in Indiana and suggest the best way of booking an Indiana notary—DoNotPay!
Notarization in the Hoosier State Explained
A notary is a person who is authorized to witness signatures and provide different notarial acts, such as:
Taking an

acknowledgment

Administering an affirmation or oath

Taking a verification on an oath or affirmation

Attesting to or certifying a

copy
Typically, notarization consists of the following steps:
Steps

Explanation

Verifying the signer's identity

The signer must bring their ID to the notary appointment and be prepared to answer a few questions to prove their identity

Determining the willingness to sign the document

The notary must conclude that the signer understands the content of the document and is signing it out of their own free will

Ensuring the signer is of sound mind

The notary could refuse to notarize a document if the signer is intoxicated or mentally unstable

Witnessing the signing

The signer signs their document in the presence of the notary

Signing the document

The notary adds their

signature

and a seal
How To Do an
Indiana Notary Search
on Your Own
Certain offices and businesses employ notaries who can provide notary services. Sometimes, you already have to be a client, but that's not always the case. You can try contacting or visiting the following places and inquiring about notary services:
AAA

locations

Public libraries

Real estate agents

Insurance agents

Money transfer stores
You can also try googling or using notary search websites, such as 123notary or Notary Public Stamps. The required search steps are typically the following:
Type in your location

Adjust the filters

Pick a notary

Contact them to make an appointment

Bring your ID or other identification documents and the document you want to notarize
With DoNotPay, the process is much easier! We'll do all the work and match you with a notary while you get to relax and get a document notarized from the comfort of your home! If you want to get something notarized right away, sign up for DoNotPay!
Different Types of Notaries in Indiana
Aside from the traditional notaries who offer an in-person notary service where they notarize paper documents, there are other types as well, including:
There are also notary signing agents who notarize loan documents. They also assist their clients in the final steps of the loan process.
Can an
Indiana Notary Public
Perform Online Notarization?
Since 2019, notaries in Indiana have been allowed to become online notaries.
A remote online notarization includes a notarial act that is performed online between a notary who is in Indiana and a signer who can be anywhere. The notary needs to use a real-time, two-way, visual and auditory communication platform.
During online notarization, the notary must identify the signer by using a three-step identification process:
Inspection of the signer's ID—the signer presents their ID, and the notary inspects it and compares the photo to the signer

Credential analysis—the remote technology system takes a picture of the ID to determine whether it's fake

Knowledge-based authentication assessment—the notary asks the signer a series of questions to verify their identity
The rest of the notarization process is the same as any other—the signer shows that they're signing a document willingly and with a sound mind. The notary witnesses the signing and adds their digital signature and seal.
Use DoNotPay To Get a Document Notarized by a
Notary Public in Indiana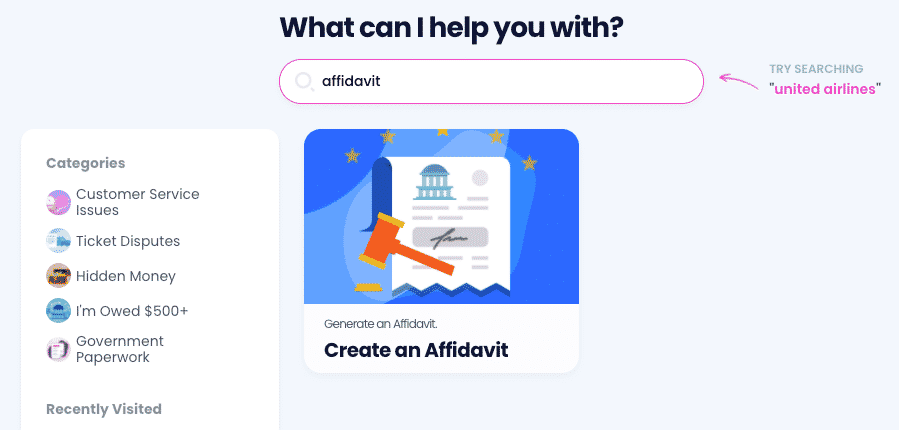 If you'd like to notarize your document remotely, our app is the way to go! Here's how to schedule an appointment with an online notary using DoNotPay:
Open our app and

sign up

Enter

Notarize Any Document

after logging in

Upload the document you need to notarize

Type in your email address
We will send you an email with a link that will guide you through making your appointment at your earliest convenience.
Once you sign up for DoNotPay to notarize a document, you'll be able to reap the benefits of all our other tools—for example, drawing up legal documents and faxing them with our assistance.
How Much Do Indiana Notaries Charge for Their Services?
In Indiana, notaries can charge up to $10 per signature for all notarial acts except for online notarization. Aside from notary fees, notaries can charge for their travel expenses, which may not exceed the federal travel fees established by the United States General Services Administration.
Remote online notaries may charge up to $25 for each notarial act. They can also charge fees for providing copies of electronic journal entries and recordings of online notarization.
Admin Issues Giving You a Headache? Resolve Them With DoNotPay!
Scheduling a DMV appointment, applying for clinical trials, requesting refunds from companies, and getting in touch with your loved ones in prison are all difficult and time-consuming tasks. You have to take many steps before you can get any of these over with, and that's why our robot lawyer app is here to help.
No matter if you need assistance with appealing parking tickets, signing up for free trials, canceling various subscription services, or maybe preparing for government tests, DoNotPay will provide you with easy solutions.
Having Financial Struggles? Rely on the World's First Robot Lawyer
Many Americans struggle to make their ends meet at the end of each month. With that in mind, we've created plenty of features that will save you both time and money in the most efficient way. 
Using our AI-driven app, you can get help with bills, get refunds from airlines, find unclaimed money in any state, or earn off annoying robocalls or stalkers and harassers. If you want to fight for your right, DoNotPay will also assist you in suing any person or company in small claims court.
No matter the admin task at hand, our robot lawyer will provide swift and effective assistance.