Hot Tips and Hacks Regarding Arizona Notary Services
Getting documents notarized in Arizona can be done in various ways. We'll walk you through all the options and show you the best way to book an appointment with an Arizona notary to notarize your documents.
What Notarial Acts Can an
Arizona Notary Public
Perform?
Notaries in Arizona can perform different notary services, including:
Besides adding a signature when notarizing a document, AZ notaries must also add an official seal. Notaries must keep a journal of all notarial acts they do. This journal is a public record, which means any member of the public can view and copy it if necessary.
How Much Does a
State of Arizona Notary
Charge?
Arizona imposes a limit on the maximum notary fee notaries can charge. A notary must:
Choose a fee for their services—either no charge or up to $10

Establish a fee and stick to it—notaries are not allowed to change their fees

Post their fee schedules and inform clients of them before performing a notarial act
Here's a breakdown of the fees:
| | |
| --- | --- |
| Notarial Act | How It's Charged |
| Jurat | Up to $10 per notary signature |
| Acknowledgment | Up to $10 per notary signature |
| Copy certification | Up to $10 per certified page |
| Oaths and affirmations | Up to $10 per notarial act |
How To Do an
Arizona Notary Search
on Your Own
The most common way of looking for notaries is via an online search. You can try:
Another option is to contact or visit certain public places that offer notary services, such as banks, UPS locations, or AAA stores. You can skip digging through websites and checking whether a place has a notary and instead! We'll find a notary on your behalf and even help you set up a remote appointment.
Each Type of
Notary
in
Arizona
Explained
In Arizona, you can find different types of notaries, including:
Regular in-person notaries

Mobile notaries

Electronic notaries

Remote online notaries

Notary signing agents
Notaries
The most common type of notary is a regular notary working in their office. They perform notary services in person and notarize a paper document. Typically, you need to schedule an appointment and visit them to get your document notarized.
Mobile Notaries
Mobile notaries are more flexible than regular ones. They travel to the signers and notarize documents at an agreed location. Mobile notaries can be expensive as they also charge you for the travel costs.
Electronic Notaries
While electronic notarization is done in person, the notarized document should be in electronic form.
Remote Online Notaries
Remote online notaries notarize documents online via a video call. They need to see and hear the client during the entire notarization process. Remote online notaries notarize documents in digital form and add a digital signature.
Notary Signing Agents
Notary signing agents are responsible for loan document notarization. They do much more than other types of notaries, such as printing and delivering, and they're much more involved in the document itself.
What To Expect From Remote Online Notarization
Since the COVID-19 pandemic, more and more states are allowing online notarization. Safety reasons aside, notarizing online is also more convenient and faster than other types.
Besides the fact that online notarization happens remotely and requires electronic documents, it's not that different from in-person notarization. Here's what you can expect:
Verifying your identity—the notary will ask you a few questions and check your ID or another form of identification

Checking your document to see what type of notarization is necessary

Making sure the document isn't missing any pages

Establishing you will sign the document willingly

Determining you are of sound mind

Witnessing your signing of the document

Adding a signature and a tamper-proof seal
The entire notarization is recorded, and the notary is required to keep the recording.
Get the
AZ Notary Service
With the Help of DoNotPay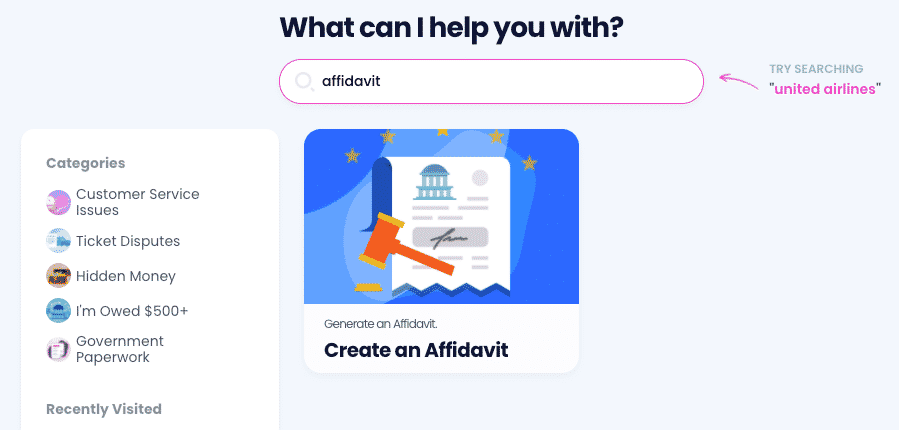 The best choice for a remote online notarization is DoNotPay! In several clicks, you'll be matched with a notary, and you'll decide on the time you wish to notarize your document.
When you , all it takes is several steps:
Navigate to the

Notarize Any Document

feature

Upload your document

Provide your email address

Follow the link we send you via email
If you have any questions regarding notary services, you can turn to our learning center. We can show you how to notarize a car title in Arizona and answer how long a notarized document is valid, whether you need to notarize a will, and more.
Use DoNotPay To Create, Fax, and Notarize Legal Documents
What makes our multifaceted app incredibly useful is that our products are integrated, which makes many of your tasks much easier. By using one app, you'll be able to:
Create

E-sign

Fax and

Notarize documents
DoNotPay can generate numerous legal documents for you, including:
Non-Compete Agreement

Bill of Sale

Non-Disclosure Agreement

LLC Operating Agreement

Independent Contractor Agreement

Residential Lease Agreement

Parenting Plan (Child Custody Agreement)

Prenuptial Agreement
Tired of Companies Not Taking You Seriously? Use DoNotPay To Put a Stop to It
If you're sick of companies that violate your consumer rights, DoNotPay is here to help. If you're struggling with reporting robocalls, requesting a refund, claiming any type of warranty, scheduling a DMV appointment, reporting spam text messages, or anything else, our robot lawyer will help you sue any firm or individual in small claims court.
With DoNotPay, you can also sign up for any free trial, cancel any subscription, avoid getting charged after your free trials end, and much more!
Want Your Money Back? DoNotPay Is Here To Help
Are you looking for your missing money? Do you want to get a refund for a delayed or canceled flight? Are you trying to flip the script on illegal robocalls and earn money off them? DoNotPay will assist you in dealing with any of these pesky issues!
We can also help you bypass phone number verification, sign up for clinical trials stress-free, ace any government test in a jiffy, and block spam emails for good.