Does a Contract Have To Be Notarized
? DoNotPay Has the Answer!
States have strict rules about contracts. These documents have to meet specific law requirements and incorporate particular sections. But does a contract have to be notarized to be legally valid? 
DoNotPay is here to show you which contracts have to be notarized and help you get a notary's signature fast and easy!
What Is a
Notarized Contract
?
A contract represents an oral or written agreement between two parties that states mutual legal obligations. Contracts have to meet specific conditions to be legally valid, and that sometimes includes having a notary's signature. 
A notarized document is a contract in which signatures are verified by a public notary. Notary's job is to witness the signing, verify the signers' identities, and mark the document with a stamp or seal.
Notaries have a significant role in validating contracts. They have to make sure that:
Signatures on the contract are legitimate

Signers are entering the contract of their own free will

Involved parties are fully aware of what they are signing
A notary can refuse to notarize a contract if any of the above-mentioned criteria are not met.
Do Contracts Have To Be Notarized
?
Contracts generally don't have to be notarized unless the law states otherwise. As long as the document meets the state-specific legal requirements and has the involved parties' signatures, it is considered legally valid. Examples of contracts that don't have to be notarized include motions, petitions, and general contracts for the sale of goods.
Some contracts require a notary's signature to be legally enforceable, including:
Trusts

Adoption papers

Debt agreements

Medical releases

Real estate contracts

Real property

deed

s

Real estate leases for over one year
These contracts often have a box at the bottom reserved specifically for the notary's signature.
A notary's certification can come in handy in case of a legal dispute between the contract signers.
How To Notarize a Contract
You can notarize a contract in person or online. The table below contains a step-by-step guide to all available methods:
In-Person
Online
Visiting a local notary service
Hiring a mobile notary
Registering for an online notary service

Make an appointment with the local

notary service

Visit the notary

Provide an identification document

Pay a fee

Sign the contract in the notary's presence

Collect the certified document from the notary

Find a mobile notary service

Schedule an appointment

Pay a standard fee plus the notary's travel expenses

Meet the notary in your home, office, or another convenient place to complete the notarization

Access your account from the online notary's website

Upload a document 

Scan your ID card to prove your identity

Wait for the app to connect you to a notary

E-sign the document

Wait for the notary to verify your identity and provide their stamp and signature
Notarizing a document in person can be tiresome and inconvenient. The process usually takes weeks and requires you to adjust your schedule to the local notary's workload and business hours. 
Mobile notaries have more flexible working hours and will come to you at your earliest convenience. Bear in mind that you will have to cover their travel expenses, which the traditional notarization method doesn't include.
Online notarization services can be a solution to your problems because they are practical and available 24/7. They help you find an online notary via any digital device and have your document notarized in a virtual setting. You need to choose an online notary service carefully because not all of them are reliable and affordable.
Notarizing a Contract With DoNotPay Is Simple and Affordable 
If you find the online notarization method appealing, you should go for DoNotPay! Our app allows you to schedule numerous appointments with a notary for a fixed, affordable monthly fee. 
Here are the steps for accessing our notarization feature:
Open DoNotPay

in a web browser 

Find the

Notarize Any Document

feature

Upload the contract

Enter your email address in the required field
You will receive a link that you can use to confirm your appointment with the notary. The appointment will take place on a video call, where a notary will witness you e-signing the document. The notary will take a few minutes to verify your identity and return your contract with an electronic signature and a stamp.
Create Any Legal Document With DoNotPay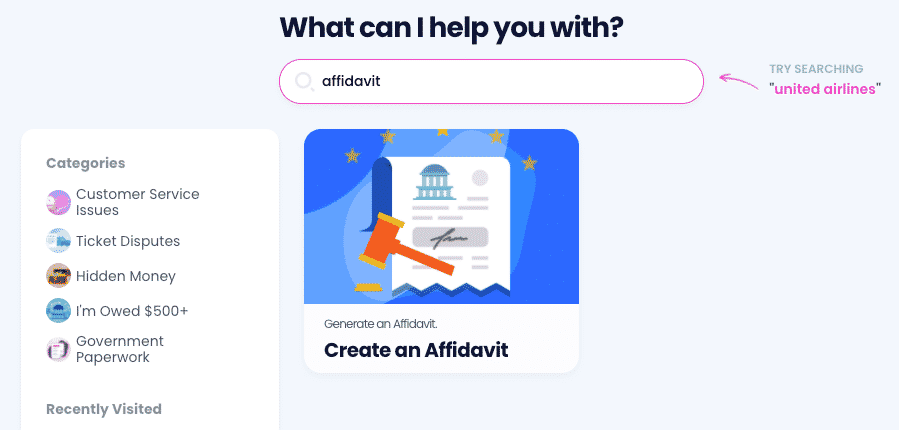 DoNotPay has a lot more in store! If you need to create a legal document but are not a fan of lawyers' fees, we can help! Our Standardized Legal Documents feature can create a personalized contract that meets all legal requirements. You can use our platform to notarize and fax that same document!
DoNotPay allows you to create an unlimited number of contracts and agreements per month, including:
General Business Contract

Quitclaim Deed

Intent To Purchase Real Estate

General Affidavit

Promissory Note

Child Care Authorization Form
DoNotPay Keeps Your Privacy Intact
DoNotPay can help you surf the web safely and securely. No need to provide your personal information to every company whose service you'd like to take for a test drive. Our Virtual Credit Card and Burner Phone products shield your data from prying eyes and dishonest merchants.
Feel like subscribing for a free trial? Make it truly free and avoid automatic membership renewals with our card. It can also help identify spammers and potential scammers who send bothersome robocalls and robo texts your way. As soon as they act on the virtual card number, DoNotPay will unmask them and demand compensation!
DoNotPay Can Help You Bring Any Business to Justice
Should a company refuse to grant you a refund or compensation, our app will help you take them to small claims court! 
We'll help you cancel the service in question to avoid any future charges, and we'll call their customer service so you can get info on your denied request. We'll draft the relevant court documents for your jurisdiction and give you instructions on filing them.
More Nifty Features That'll Make Your Day
You may not have breach of privacy issues or reasons to bring someone to court, but you surely have ample motivation to save or earn a few dollars here and there—especially if we catch you unawares!
DoNotPay can show you how to reclaim funds that you didn't know were under your name or make a denied warranty appeal to any company. We streamlined the processes of requesting refunds, college fee waivers, airline flight compensation, parking infraction dismissals, as well as applying to clinical trials that pay!