Should You Get Your Documents Notarized by a Bank Notary?
If you're wondering whether a bank notary can notarize your documents, this guide is for you. DoNotPay will explain how to notarize a document in a bank, credit union, law office, or any other place that offers notary services. You will also learn about remote notarization—the most convenient way to have your car title, affidavit, and any other document notarized.
Can Banks Notarize Documents?
Many people don't know that most financial institutions—including banks such as Wells Fargo and Bank of America—offer notary services. Banks deal with documents that require notarization daily, which is why they employ notaries public that can notarize any document.
If you'd like to get your contracts notarized in a bank, you should give them a call to check which branches provide notary services. You will probably have to set up a meeting in advance.
A notary in a bank has the same duties as an independent notary public. He or she is authorized by the state to:
Be an impartial witness to the signing of various documents

Administer oaths and affirmations

Take

acknowledgments

Notarize copies

of documents (in some states)

Perform other notarial acts in accordance with the state's laws
Notaries serve to prevent fraud. They do so by identifying the singing parties and ensuring that they are:
Aware of what they're signing

Signing the document voluntarily
Each notarized document needs to contain the notary's statement, signature, and stamp to be valid.
Do Banks Notarize Documents for Free?
Banks provide free notarization services to their clients. You might get free notarization even if you're not a client, but most banks will either charge a notarization fee or refuse to notarize your documents.
What Other Places Employ Notaries?
Banks aren't the only institutions that offer notary services. You can find a notary in:
UPS

stores

Public libraries

AAA

stores

Real estate firms

Colleges and universities

Accountant offices
While most of these institutions employ notaries, you should still call to check if you can use their notary services and schedule a meeting with the notary public. Some companies could limit the notary services to their customers only, so it's always a good idea to call before visiting them.
Notarization Process Explained
Once you call a bank, notary's office, or any other facility and schedule a meeting, you should:
Bring all the contracts to the notary public

Provide your ID

Sign the contract before the notary public

Wait for the notary to verify the authenticity of your signature by:

Writing a notary statement

Marking the document with a signature and seal
If you, like most people, find this process outdated and time-consuming, you could try out one of the alternative ways to get your documents notarized. You can either hire a traveling notary or sign up for one of the online notary platforms.
Mobile Notaries
Mobile or traveling notaries don't notarize documents in an office. They travel from one location to the other to perform notarial acts. By hiring a mobile notary, you can choose where you want to get your contracts notarized, whether it's your house, your office, or a cafe. Mobile notaries aren't always affordable as you'll have to pay for their travel expenses on top of paying for the notarization service.
Online Notary Services
Another convenient option is to use one of the online notary services and get your documents notarized remotely. Most platforms charge high fees. That's why you should choose the most affordable option—DoNotPay—especially if you get your documents notarized frequently.
Get Your Documents Notarized in the Blink of an Eye With DoNotPay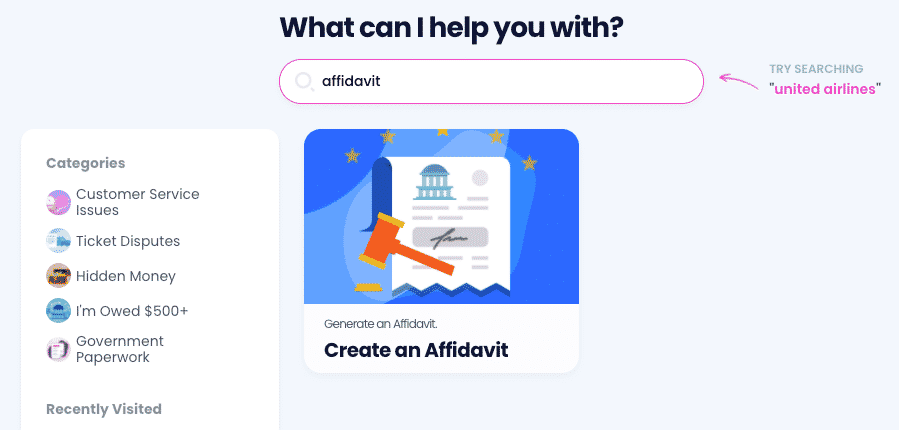 DoNotPay's easy-to-use notary feature will help you save money and get your documents notarized efficiently. By paying a low monthly fee, you'll be able to have any contract notarized without visiting the notary's office. Sign in to from your PC, tablet, or any other device and follow these steps:
Pick our

Notarize Any Document

feature

Upload your contract

Type in your email address

Open the email we send you
We will email you a link that will enable you to schedule a remote meeting with a notary public. He or she will witness your signature virtually and provide the required certificate. You'll get your contracts notarized from the comfort of your home, regardless of the state you live in, be it Georgia, Arizona, Colorado, Florida, or New Jersey.
Need Help Drawing Up Professional Contracts? DoNotPay Can Help!
DoNotPay has developed another useful feature that will help you avoid wasting hundreds or even thousands of dollars on a lawyer. Our AI-powered app will assist you in drawing up numerous legal documents in a few clicks. If you'd like to write various business contracts, real estate agreements, and other documents with our help, you should:
Open

Enter the name of the contract

Answer our questions

Download the document
The following list includes some of the contracts DoNotPay can help you write:
Real Estate Agreements
Business Contracts
Other Documents

Intent To Purchase Real Estate

Residential Lease Agreement

Quitclaim Deed

Estoppel Certificate

Independent Contractor Agreement

General Business Contract

LLC Operating Rules Document

Non-Disclosure Agreement

Non-Compete Agreement

Bill of Sale

Child Care Authorization Form

Prenuptial Agreement

Parenting Plan (Child Custody)

Promissory Note

General Affidavit
What Else Can Our Award-Winning App Do for You?
If you think that's impressive, wait until you've heard about other features we boast!
Our powerful app can draft paperwork for you, locate unclaimed funds under your name, cancel subscriptions, sue robocallers, and protect you from stalkers and harassers—all in one nifty browser app!
Our services have been recognized by the esteemed ABA Brown award, serving as a testament to our abilities to assist you with your small claims issues, free trial auto-renewals, college fee waivers, public records, copyright protection, and much more!
More Benefits of DoNotPay
DoNotPay is a useful tool for handling many otherwise annoying life's trifles, including: