You Can Stay at Your Sweet Home and Not Visit a
Notary Public in Birmingham, AL
If you are in need of document notarization, you are no longer left with going to a notary public in Birmingham, AL, as your only choice. Modern times and new technology have made it possible to handle this bureaucratic task from home. DoNotPay can assist you with getting in touch with an online notary fast.
What States Allow Online Notarization Permanently?
There are currently 28 states that allow online notarization permanently. Find out which ones in the table below:
Numerous other states have joined due to the global COVID-19 pandemic, and most of them will have remote online notarization laws stay in power. As of April 2020, Alabama is one of the states that allows RON during the pandemic only.
Why Should You Get Your Documents Notarized Online?
Online notarization is a much more convenient way of getting documents notarized in comparison to in-person notarization. Here are the benefits of online notarization:
Not spending money on the trip to the notary's office

Avoiding getting stuck in potential traffic jams on your way to the meeting

Not having to ask your boss to leave work early to make it to the meeting with a notary

Handling the entire process from the comfort of your home

Not having to pay a hefty amount for

mobile

notary services

Finding a reliable notary easily

Getting your documents notarized with increased levels of safety
Online Notarization and Safety Precautions in Alabama
Online notaries in Alabama have to ensure that the notarization process is done in accordance with the rules set by the government. They need to:
Let the responsible authorities know they are going to perform online notarization

Check the signer's identity by asking to see a document with their photo or via knowledge-based authentication

Make sure the signer is of sound mind

Use only the allowed live meeting platforms

See that the signer is signing the document without being forced to do so

Record the entire meeting

Keep the recording for five years
What Do You Need for Online Notarization To Take Place?
If you are reluctant about using online notary services because you think you need too many items, don't worry. You actually don't need much to talk to a notary virtually and probably already have everything at home. Here are the requirements:
A web camera so that the notary can see you during the meeting

A document you need notarized (in electronic format)

Some kind of identity proof (a document with your photo)

Stable internet connection to ensure the meeting is handled in one take

A trustworthy online notary
The only potentially problematic part is finding an online notary, but only if you do so on your own. You can always turn to DoNotPay for help and get the task done without breaking a sweat.
Use DoNotPay To Find an Online Notary in a Matter of Minutes
There is no need to look for an online notary on your own—DoNotPay can handle the task on your behalf in a heartbeat. You only need to follow a few easy steps :
Sign up for DoNotPay

in a web browser you prefer

Navigate to our

Notarize Any Document

product

Attach the document you want to get notarized

Enter the email address you use in the provided field
We collaborate with trustworthy notaries that are at your disposal 24/7, any day of the year. It doesn't matter if it's the weekend—DoNotPay will find you a match without trouble.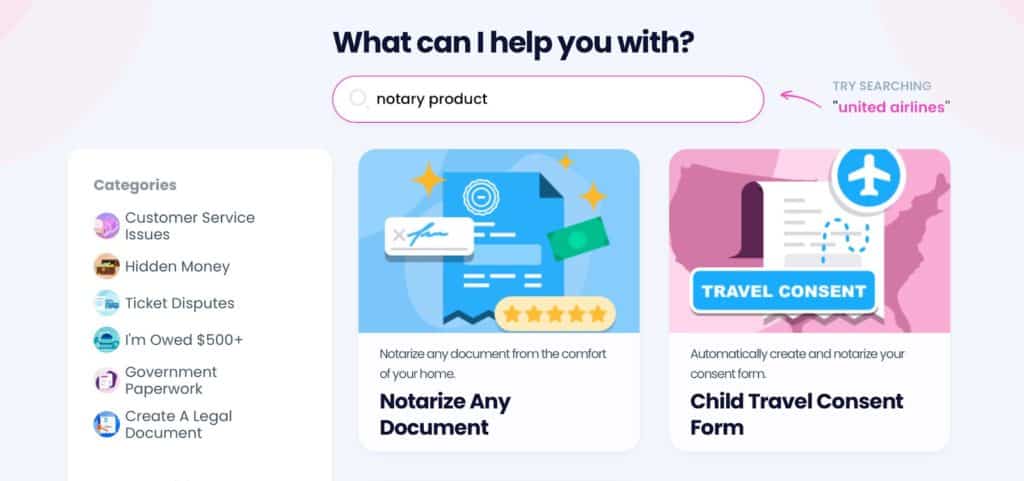 What Documents Should You Get Notarized?
You don't have to get all your documents notarized, but the procedure adds legal weight to your paperwork. Here are some of the documents that require a notary's signature:
Trusts

Real estate deeds

Loan documents

Business contracts

Employment contracts

Consent forms
You can also visit our Learning Center to find out more about other legal documents and when it is a good idea to get them notarized. Some of the most problematic ones include living wills, promissory notes, and advanced directives.
That's not all! DoNotPay has another neat feature that you'll find useful—generating legal documents in a few easy steps!
Draw Up a Legal Document With DoNotPay's Assistance
Once you open our app, you only need to find the Standardized Legal Documents product to make a contract or agreement. Here are some of the available options:
General Business Contract

Intent To Purchase Real Estate

Estoppel Certificate

Promissory Note

General Affidavit

Quitclaim Deed
You can also inform yourself about other legal documents, such as cleaning contracts, forward rate agreements, property settlement agreements, etc.
Use DoNotPay's Features to Your Advantage!
DoNotPay offers a myriad of helpful services you can use to resolve your everyday hurdles. 
Do you need help paying bills or finding and claiming missing money? Are you interested in applying for clinical trials in your area? We can help you solve these and many more issues in no time!
Here are some other problems you can handle effortlessly with our help:
Hiring a Lawyer Can Cost a Small Fortune—Rely on DoNotPay Instead
If you're on a tight budget and can't pay a lawyer to help you create legal documents, file a claim in small claims court, or handle stalking and harassment, DoNotPay has a solution for you. 
Our app will help you create various documents, including child travel consent forms and complaint letters for a problematic neighbor. 
Are you a victim of a crime and need help applying for reimbursement of your crime-related expenses? You can sign up for DoNotPay and allow us to handle your crime victims compensation on your behalf.
DoNotPay can also connect you with an online notary and enable you to get your documents notarized from the comfort of your home.