Forget About a Mobile Notary in Charlotte, NC—Use DoNotPay!
When looking for a practical way of getting documents notarized, you might be tempted to employ a mobile notary in Charlotte, NC. This would not be a good choice, and DoNotPay can tell you why. Our app can guide you through a more convenient notarization process and match you with an online notary in a snap!
How Does Mobile Notarization Work in Charlotte, NC?
People choose mobile notary services when they need a more convenient solution than going to a notary's office or when they have no other option. This usually entails not being able to leave their homes due to a health issue or being in an institution such as a hospital or prison. This is what mobile notarization looks like:
The signer finds a mobile notary—You can find available options on platforms like

Notary.net

or

American Association of Notaries

, for example

The signer gets in touch with the notary and sets up an appointment—You should choose the most convenient time and location

The person needing a notary gathers the documentation—Make sure you have everything before your meeting so that the notary does not come in vain

The notary comes to the agreed-upon location

The notary notarizes the documents and adds their stamp and

signature
The Downsides of Mobile Notarization in Charlotte
Mobile notarization may be a bit more convenient than standard notarization, but it is not the best option available. Mobile notaries will come to the agreed-upon destination and adjust to your schedule, but this means that you will need to pay extra for their travel expenses and possible after-hour fees. You can be certain that the bill is going to be high.
Another issue of mobile notarization is that it is in-person notarization, which means you'll need to interact with the notary during the COVID-19 global pandemic. Why expose yourself to the risk of catching a deadly virus when there is a better solution at hand—online notarization!
Online Notarization in Charlotte, North Carolina
In 2020, due to the global pandemic caused by COVID-19, many states decided to implement online notarization. One of those states was North Carolina, whose government enacted temporary Emergency Video Notarization law (EVN). This law permits regular and electronic notaries to notarize legal documents online until December 31, 2021.
Getting documents notarized online is simple and convenient, and this is what you need to do:
Find an online

notary service

Create an account

Attach your document

Sign the document during your online meeting with the notary

Wait for the notary to send you the signed and sealed document back
Is Online Notarization Safe?
Only because online notarization is a newer way of getting documents notarized doesn't mean it's any less safe. Due to all the safety precautions that take place before and during an online meeting, it could be said that it's even more trustworthy. There are numerous reasons why you should choose this notarization type. 
Online notaries in North Carolina must:
Inform the responsible authorities that they are going to perform online notarization before it takes place

Check the signer's identity by looking at their ID and asking several questions

Be certain that the signer is of sound mind

Use only the allowed virtual conference platforms (Zoom, Webex, or GoToMeeting)

Make sure that the signer is signing the document willingly

Record all the entire notarization process

Keep the recording safe for several years
The only issue you might have with online notarization is finding a trustworthy online notary on your own. Don't fret—DoNotPay can help you!
How To Find an Online Notary the Easy Way With DoNotPay
You can skip the entire ordeal of looking for a notary by yourself if you choose to turn to DoNotPay for assistance. Our app will make sure you get your document notarized as soon as possible. You only need to follow these simple instructions:
Sign up for DoNotPay

in your favorite web browser

Find the

Notarize Any Document

product

Upload the document you wish to get notarized

Type in your email address in the provided text box
Online notaries who work with DoNotPay are available 24/7, every single day of the year. With that kind of choice, you can be certain we will find a match for you even during weekends or holidays!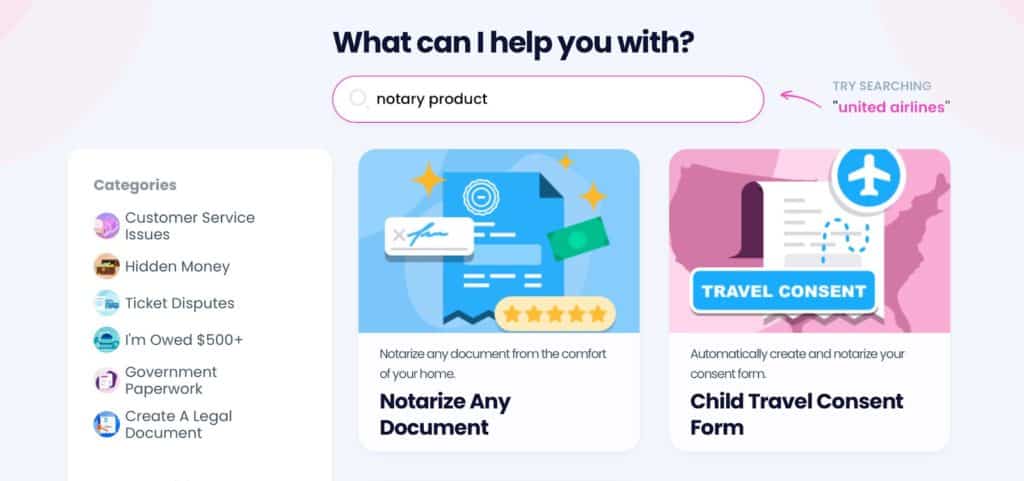 Before you look for a notary to add their signature on your affidavit, business contract, or real estate deed, you need to draw up that document. DoNotPay can help you with that task as well!
Make Legal Documents in a Jiffy With DoNotPay's Help
DoNotPay can help you draft numerous types of legal documents. Our offer is extensive and keeps on growing. Check out the table below to see all the contracts and agreements you can create with our help:
Business Agreements
Real Estate
Other

General Business Contract

Quitclaim Deed

Intent To Purchase Real Estate

Estoppel Certificate

General Affidavit

Promissory Note
Use DoNotPay's Features to Your Advantage!
DoNotPay offers a myriad of helpful services you can use to resolve your everyday hurdles. 
Do you need help paying bills or finding and claiming missing money? Are you interested in applying for clinical trials in your area? We can help you solve these and many more issues in no time!
Here are some other problems you can handle effortlessly with our help:
Hiring a Lawyer Can Cost a Small Fortune—Rely on DoNotPay Instead
If you're on a tight budget and can't pay a lawyer to help you create legal documents, file a claim in small claims court, or handle stalking and harassment, DoNotPay has a solution for you. 
Our app will help you create various documents, including child travel consent forms and complaint letters for a problematic neighbor. 
Are you a victim of a crime and need help applying for reimbursement of your crime-related expenses? You can sign up for DoNotPay and allow us to handle your crime victims compensation on your behalf.
DoNotPay can also connect you with an online notary and enable you to get your documents notarized from the comfort of your home.