Can You Just Write a Will and Get It Notarized
—Find Out!
Writing a will can be complicated. You need to follow certain state rules and make sure your will is legally valid. Does a will require witnesses or notarization or both? This article will clear everything up so that you don't have to wonder, "Can you just write a will and get it notarized?" We will also break down notarizing a document and show you how our app makes online notarization easy and convenient.
Does a Will Have To Be Notarized
?
Once you pass away, your family and friends you leave your estate to will run into problems if your will is invalid. If you have written your will properly following the state laws and had the necessary witnesses—typically two—you don't have to notarize it.
When the court starts processing your will, it could call upon your witnesses. If they moved or died, having a notarized will can help prove its validity. In case someone wants to contest your will, notarization can act as protection.
If you want your witnesses to sign a self-proving affidavit, you'll need a notary. A self-proving affidavit is an additional document besides the will. By signing it, witnesses swear in front of a notary that they witnessed the signing of a will and that they attest to all the statements listed above their signatures. A notary will notarize the affidavit with a notary signature and seal.
Can a Will Be Notarized Instead of Witnessed
?
All states except for Colorado and North Dakota forbid will-makers from notarizing a will instead of having witnesses.
Who Can Notarize a Will
?
Wills are sensitive and intricate legal documents. This is why most states discourage newly appointed notaries from notarizing wills. Some offices and institutions—such as banks—that offer notary services may refuse to notarize wills.
If you're looking for a notary on your own, you should tell them you want to notarize a will before booking an appointment to avoid being disappointed later in case they tell you they cannot do it.
Types of notaries that may be able to notarize wills are:
Where Can I Get a Will Notarized
?
You can look for notaries who are able to notarize your will in the following ways:
Method
Examples

Websites dedicated to notaries

Public places

Credit unions

Banks

(e.g.,

Wells Fargo

and

Bank of America

Police departments

Accountant offices

Money transfer stores

Tax preparation firms

AAA

stores

Public libraries

Real estate agents

Insurance agents

Law offices

Courthouses

City clerk or county clerk offices

With our app, you don't have to wonder whether you'll find a notary because we'll do it for you. DoNotPay will match you with a remote notary who can notarize wills and help you schedule your online notary appointment
Notarize a Will
With the Help of DoNotPay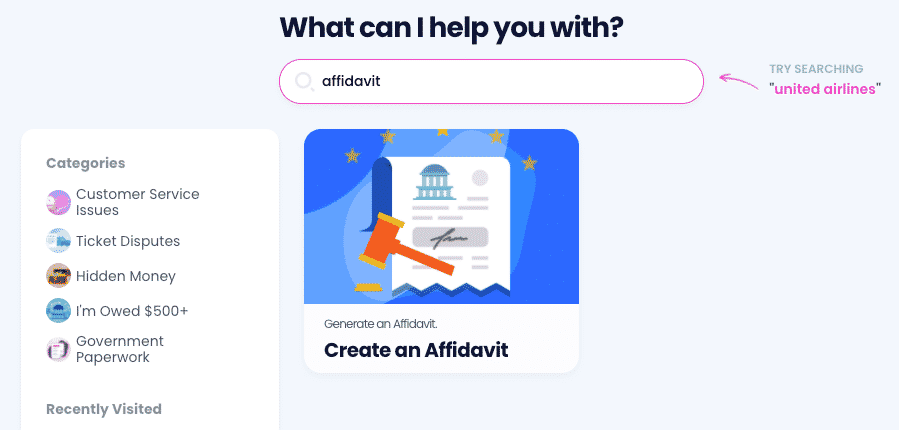 Our app is a secure and convenient way of notarizing documents, including wills. The advantages of using DoNotPay for notarization are numerous, such as:
Forgetting about manual notary search

Having documents notarized on any device

Notarizing from the comfort of your home

Not overpaying notaries

Enjoying other features in our app
The best part of relying on DoNotPay for notary services is that all it takes is several clicks.
Here's how it works:
Access DoNotPay from a

web browser

Enter

Notarize Any Document

Upload your document

Provide your email address
Once you complete these steps, you will receive a link via email. If you follow it, you'll be able to set up an appointment with a notary in no time.
Writing and
Notarizing Documents
Is Easy With DoNotPay
If you need help writing your will, we can provide tips and guidance. In case you also need to draw up other legal documents, we will assist you! With our app, you can learn about writing different documents and also use it to generate many of them:
Get Familiar With Writing:
Use DoNotPay To Draft:

Promissory Note

Quitclaim Deed

Intent To Purchase Real Estate

Residential

Lease Agreement

General Business Contract

Estoppel Certificate

General Affidavit
Find Answers to Other Notary-Related Questions
Just like we answered your questions about notarizing wills, you can count on our articles to provide detailed answers and explanations to other questions, such as:
Use Our Robot Lawyer To Eliminate Pesky Tasks
Administrative tasks are often time-consuming, which is why many people give up on them before even trying to tackle them. Requesting refunds, canceling services, signing up for clinical trials, reporting stalkers and robocalls, and trying to find unclaimed money are all processes that would usually take a long time to resolve.
With the help of DoNotPay, though, all of these admin hurdles become a piece of cake. In just a few minutes, our app can assist you in appealing parking tickets, getting in touch with your imprisoned loved one, getting an extended warranty, reporting copyright infringement, and so much more!
Don't Break the Bank—Sign Up for DoNotPay!
Our app can save you lots of money by helping you get a refund from any airline, sign up for a free trial without your credit card info, earn off persistent and illegal spam emails, and get an application fee waiver for a college you apply to.
With DoNotPay, you can even schedule a DMV appointment or jump the phone queue when getting in touch with a customer service representative without breaking a sweat!