Notary Public in Boulder—Notarize Documents Online Effortlessly
Are you looking for a way to get your documents notarized in Colorado quickly and efficiently? You'll be relieved to know that visiting a notary public in Boulder isn't necessary! You can get documents notarized online, and we'll show you how.
to book an appointment with a remote notary in Boulder in less than five minutes!
Understanding What a
Notary Public in Boulder
Does
A notary public in Boulder performs a variety of tasks to prevent fraud and forgery. Check out the list below to see which notarial acts a Boulder notary can perform:
Witnessing the signing of documents

Verifying the signer's identity

Certifying a

copy

of a document

Taking

acknowledgments

Administering oaths and jurats
Notaries will also ensure that the signer is:
Of sound mind during the signing process

Not under the influence of any substances

Aware of document contents

Not forced to sign the documents
Some of the documents that a notary public in Boulder, Colorado, can notarize are:
Trusts

Business contracts

Court documents

Loan agreements

Residential leases

MOU agreements
The Downsides of an In-Person Notarization in Boulder
Visiting a notary public seems like a waste of time when you have a quicker and more convenient option at your fingertips.
Besides spending hours locating and heading over to a nearby notary, you will also have to waste time on other notarization-related tasks.
The in-person notarization requires you to complete the following steps:
Steps
What To Do

Find a notary

Visit the following online registries to locate a nearby notary:

Go to these public places and ask for a notary service:

Accountant offices

Financial institutions

Banks

(

Citibank

,

Wells Fargo

, or

Bank of America

)

AAA

stores

Law offices

UPS

locations

Courthouses

Public libraries

Inquire about

notary fees

Find out how much money you should set aside for notarization. Learn about potential cancellation fees to be prepared in case you need to cancel your appointment

Book an appointment

Call the notary's office or visit them in person to schedule your meeting

Gather your documents

Gather the necessary documents. Forgetting to bring any of them can lead to rescheduling

Bring your ID

Make sure to have your ID, passport, or driver's license as proof of identity. You won't be able to get your documents notarized without it

Sign the documents

Pay the fees and sign the documents in the notary's presence
After you sign the documents, the notary will add his or her signature and an official stamp.
Alternative Notarization Methods in Boulder
If you're looking for a different way to get your documents notarized in Boulder, Colorado, these are the available options:
Mobile notarization

—A mobile notary meets you at any location you choose to notarize your documents. They also charge additional

fees

for that benefit, so mobile notarization isn't the most affordable option

Electronic notarization

—An electronic notary provides the same in-person service as a regular notary, except they notarize electronic documents and add digital stamps and signatures

Notary signing agents

—A notary signing agent is trained to handle the notarization of loan documents
Why Should You Hire an Online Notary in Boulder?
Remote online notarization is the easiest way to get documents notarized. All you need is a computer and a stable internet connection! Many states—including Colorado—decided to allow remote notarization during the COVID-19 outbreak, but most of them made this convenient notarization method permanently available. You can book a remote notary in a few minutes and get your documents notarized effortlessly!
Book a Meeting With an Online
Notary Public in Boulder
With DoNotPay in Three Steps!
DoNotPay helps you schedule a meeting with a remote notary at any time convenient for you! Notaries we connect you with are available 24/7.
Not only can you set up a meeting with a notary whenever you like, but you can do it no matter what state you're from! We made our notary service available all across the U.S.!
To schedule a virtual appointment with a notary, and follow our simple three-step guide:
Choose the

Notarize Any Document

feature

Attach your documents

Type in your email address
We'll send you a direct link to a remote notary's timetable, and you can book your meeting easily!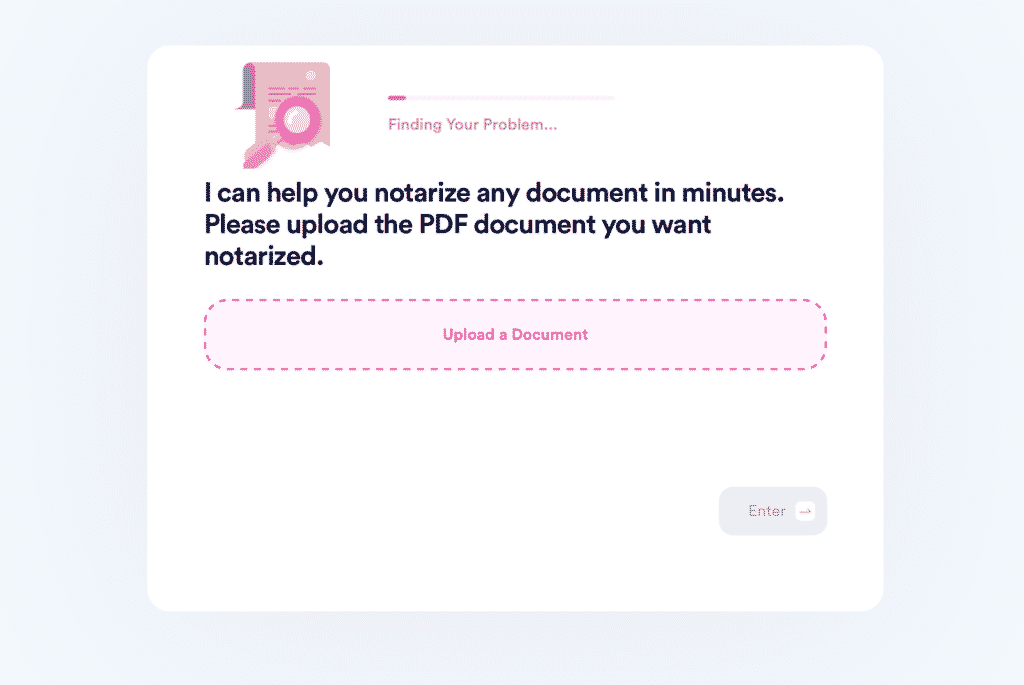 Helping you get documents notarized isn't everything DoNotPay can do for you! We can also draw up various agreements on your behalf, and you can get them notarized using the same app. We integrated the two features to make the process easier for you.
Check out the table below to see some of the agreements our app creates in your stead:
Business Agreements
Other Agreements

Independent Contractor Agreement

General Business Contract

LLC Operating Rules Document

Non-Compete Agreement

Bill of Sale

Non-Disclosure Agreement

Intent To Purchase Real Estate

Parenting Plan (Child Custody)

Residential Lease Agreement

Prenuptial Agreement

Quitclaim Deed

General Affidavit

Promissory Note

Estoppel Certificate
DoNotPay Gets the Job Done—Solve Any Issue Within Several Clicks
DoNotPay is an ever-growing app, which is constantly adding new ways to help you with your everyday tasks and those not so common.
Count on your virtual assistant when you need to:
Have Your Cake and Eat It Too—Earn, Save, and Get Your Money Back
Not only can we help you complete numerous tasks, but we can also make sure your money stays where it belongs—in your wallet. Let DoNotPay assist you in getting different types of refunds and compensation:
Our app can also help you find your unclaimed funds, get free trials and free raffle tickets, and obtain a college fee waiver.