Texas Notarized Statement Explained
Every notarized document needs to include a notary statement, signature, and stamp to be valid. If you want to know how to notarize a document and get a Texas notarized statement the easy way, DoNotPay is here to help. Learn how to create your contracts and get them notarized in a few easy steps!
What Is a Notary Acknowledgment in Texas?
The acknowledgment—also called a notary statement—is a form of a notarial act performed upon document notarization. It proves that you:
Appeared before the notary

Were properly identified

Were familiar with the contents of the contract

Signed the document willingly
The notary public needs to write an acknowledgment certificate under your signature. The statement should record the following:
Your name

The location where the notarization took place

The notary's declaration that he or she performed the acknowledgment

The notary signature and seal
How To Obtain a Notary Statement in Texas
The notary statement is a crucial part of every notarization process, and it includes the following steps:
You show up in front of the notary

The notary asks you for the ID to verify your identity

You acknowledge that you know what you're signing and that you're doing it voluntarily

You sign the document before the notary if you haven't signed it in advance
The acknowledgment is the only notarial act where the signing parties are allowed to sign the document before coming to the notary's office. The notary has the right to ask you to sign the document again if he or she wants to witness the signing.
Ways To Get Your Contracts Notarized in Texas
Do you need to have your will, affidavit, real estate deed, or any other document notarized in Texas? To do so, you can:
Head over to a notary's office,

bank

,

UPS

facility,

AAA

store, or any other place that employs notaries

Schedule an appointment with a

mobile notary

Rely on one of the

online notary

services

Sign up for DoNotPay
The common method of document notarization is rather lengthy. It requires you to find a notary, schedule an appointment, and bring all of your documents to the notary's office, which can be time-consuming.
Hiring a traveling notary to notarize your documents in Texas can be a good solution if you're okay with paying for the notary's travel expenses. The mobile notary will come to the location you choose to take an acknowledgment or perform any other notarial act.
Online notary services enable you to get your contracts notarized remotely from your PC, tablet, or any other device. While more affordable than mobile notaries, online notary services are still costly since these platforms usually charge around $25 per notarized document.
DoNotPay Is The Most Efficient Way To Get Your Documents Notarized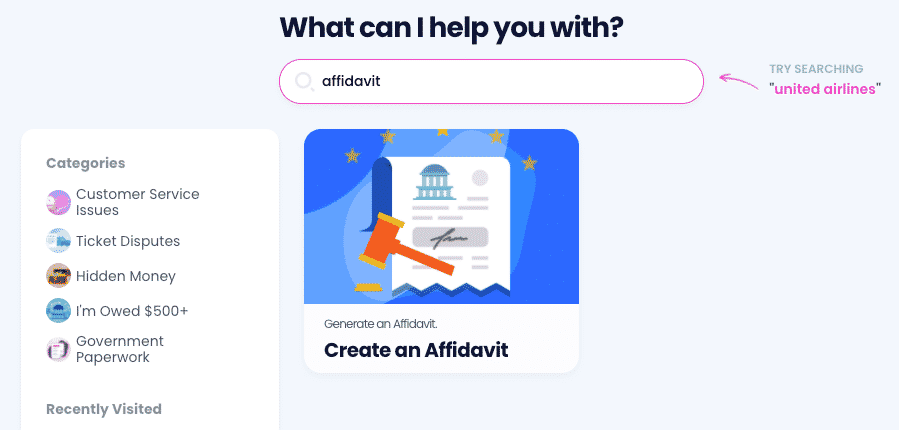 Should you need help getting your documents notarized without paying an arm and a leg, DoNotPay has the most convenient solution. Our notarization feature enables you to have your contracts notarized online in Texas, Florida, Arizona, or any other American state. Here's how you can use our feature to your advantage and get any document notarized in under five minutes:
Open

DoNotPay

Pick our

Notarize Any Document

feature

Upload your contract

Provide your email address

Open the email we send you and click on the link
Once you open the link, you'll be able to schedule an appointment with a Texas notary who operates remotely. You'll be connected with a notary via video call so that he or she can witness your signature and verify it. DoNotPay charges a subscription fee on a monthly basis for an unlimited number of notarizations.
Some of the states we can help you get your contracts notarized in are:
Learn How To Draw Up Legal Documents Effortlessly
Helping you get your documents notarized in a few clicks isn't the only perk of DoNotPay. We can also assist you in drawing up legal documents without wasting money on a lawyer. 
Our AI-powered feature creates professional documents in a matter of minutes based on your answers. Once you draw up your contract, you'll be able to get it notarized through the same app and save a lot of time.
With us, you can write numerous contracts stress-free, including:
General Business Contract

Intent To Purchase Real Estate

Child Care Authorization Form

Estoppel Certificate

Promissory Note

General Affidavit

Quitclaim Deed
How Much Is Document Notarization in Texas?
While some states—such as Idaho—allow the notaries to form the prices on their own, most dictate the maximum notary fees. The following table shows the maximum price for notary services in Texas:
Notarial Act
Price
Proof or Acknowledgment

$6.00 for the first signature

$1.00 for every additional signature

A Copy of a Record

$0.50 per page

Oath or Affirmation With Certificate and Seal

$6.00

Deposition

$6.00 per certificate, oath, and seal + $0.50 per 100 words

Protest for Nonacceptance or Nonpayment

$4.00 register and seal

$1.00 for every notice of protest

$4.00 certificate and seal 

$4.00 protesting in all other cases

Other Lawful Notarial Acts

$6.00
DoNotPay Can Do Your Paperwork for You! 
Feeling like you're in bureaucratic hell? Our app will draft the paperwork you need and get you out of any hurdle before you know it! 
We can compose most of the documents that you require for any administrative purpose in your jurisdiction, most notably:
More of What We Can Do for You 
Our multifaceted app can call and record the conversation with the customer service of the company that just won't let you go! If you are having trouble canceling an unwanted service via the traditional channels, use DoNotPay to get it over and done with!
We can help you stop the persistent robocalls and robo texts from the nagging company and request a refund for unused services in a matter of minutes.
We'll also lend a helping hand in stopping spam mail—whether it's electronic or paper. Our Spam Collector product unsubscribes you from unwanted emails and cleans up your physical mailbox too!