The UPS Notary Service—Yay or Nay?
To make a legal document valid, you often need to get it notarized. This means that a notary must verify the identities of the signing parties and determine they are of sound mind and willingly signing a document. A notary will witness the signing and add a stamp and signature.
One of the ways to notarize a document is to get notary service by a United Parcel Service (UPS) notary. We'll explain how notarizing works at the UPS and compare it to online notary services, such as DoNotPay.
Does
the
UPS Store Notarize
All
Documents
?
The UPS claims that all stores offer notary services. If you need to notarize wills or I-9 employment eligibility verification forms, you should contact your local store and check because most UPS notaries cannot notarize these two documents.
The UPS should be able to notarize other documents, including:
Making a
UPS Notary Appointment
To set up an appointment to notarize a document at the UPS, follow these instructions:
Visit the UPS

website

Hover over

Store Services

in the top right corner

Click on

Notary Services

Scroll down and tap on

Schedule Appointment

Enter your location

Adjust the filter if you want to search by:

Store number

Open on Saturday

Open on Sunday

Hit

Submit
You can also navigate the map to find the UPS store closest to you and view the contact info. Once you locate your preferred store, you'll be able to see the address, phone number, email address, store hours, and a link to the local page. You can choose how to contact the store and make your notary service appointment.
What To Keep in Mind Before Your
UPS Notary Service
Appointment
Once you prepare your legal document that needs to be notarized, remember not to sign it on your own before you meet with the notary. If there are more signing parties, all of you should go to your notary service appointment. State laws may vary when it comes to the required witnesses aside from the notary. You should check whether another witness needs to be present, and if so, whether another UPS employee can assist.
Besides the document you want to sign, you should bring your government-issued photo ID.
How Much Does
the
UPS Charge for Notary
Services?
The UPS website doesn't reveal its notary service cost. Notary fees vary considerably from state to state, even county to county, ranging from $0.25 to $25. Sometimes, the set price is per signature and, other times, per document. Some states may impose a cap on the maximum fee notaries can charge.
The
UPS Store Notary
Pros and Cons
Before deciding to notarize your document at a UPS, consider these pros and cons:
Pros
Cons

Choosing among more than 3,900 UPS locations

Making copies of your document

Shipping your notarized document

Going through various steps—finding a store, scheduling an appointment, and visiting the store

Not knowing how much the service costs

Not being able to notarize wills or I-9 employment eligibility verification forms at every location
Where
Else
To Get
a
Document Notarized
The UPS is not the only store that offers notary services. You can also check with your local bank as they may offer them for free. Other places where you may go to notarize a document are the following:
Public libraries

Real estate agents

Insurance agents

Courthouses

Office supply stores

AAA

stores

Hotels

Money transfer stores

Car dealers

Law offices

Police departments
Forget About the
Notary at
the
UPS Store
—Use DoNotPay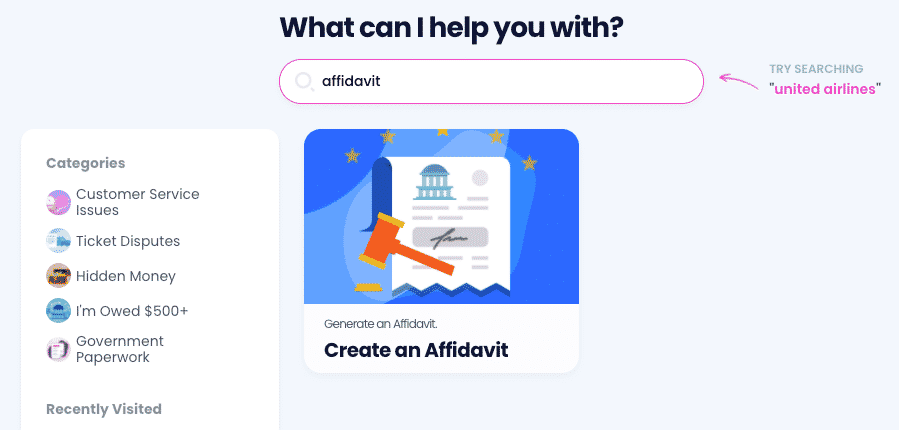 Going to a UPS store to notarize documents may require you to take time off and/or adapt to the other signing parties' schedules so that you can go together. As notary services are charged per document or signature and go up to $25, you would lose both time and money.
Online notary services are the way to go, and is the best one! You don't have to leave your home—you can set up a virtual appointment according to your schedule and get everything done with no effort. Our low monthly fee allows you to not only notarize documents but also access all our other features.
The best part is that our Legal Documents feature is integrated with the Notarize Any Document one. This lets you use our app to draw up numerous documents and notarize them with ease. You can also fax them in a few clicks.
How Can DoNotPay Help Me Notarize My Documents?
Follow these steps and get documents notarized without a hassle:
Visit DoNotPay in a

Search for our

Notarize Any Document

feature

Upload your document

Enter your email address
As soon as you provide us with the necessary details, you'll receive an email with a link. By following the link, you'll be able to set up an online notary appointment.
Use Our Robot Lawyer To Eliminate Pesky Tasks
Administrative tasks are often time-consuming, which is why many people give up on them before even trying to tackle them. Requesting refunds, canceling services, signing up for clinical trials, reporting stalkers and robocalls, and trying to find unclaimed money are all processes that would usually take a long time to resolve.
With the help of DoNotPay, though, all of these admin hurdles become a piece of cake. In just a few minutes, our app can assist you in appealing parking tickets, getting in touch with your imprisoned loved one, getting an extended warranty, reporting copyright infringement, and so much more!
Don't Break the Bank—Sign Up for DoNotPay!
Our app can save you lots of money by helping you get a refund from any airline, sign up for a free trial without your credit card info, earn off persistent and illegal spam emails, and get an application fee waiver for a college you apply to.
With DoNotPay, you can even schedule a DMV appointment or jump the phone queue when getting in touch with a customer service representative without breaking a sweat!