Texas Notary Fees—Get All the Information You Need
When you need a document or a copy of a document notarized, you'll visit a notary public office. You can also get a document notarized in a bank, UPS office, or AAA branch. Since notaries don't receive their paycheck from the state, they charge notary fees.
If you're wondering how high the Texas notary fees are, you're in the right place. We will give you all the information about notary fees and even the details on how to notarize a document. This article will show you how to use DoNotPay to schedule an appointment with an online notary in Texas.
Everything You Need To Know About
Notary Fees in Texas
A notary public can't charge you more than the amount set by the state. States want to prevent notaries from increasing their prices, so they set the maximum fee.
You can see the Texas notary fee caps in the table below:
| | |
| --- | --- |
| Notary Service | Notary Can Charge Up To |
| First acknowledgment or proof of the first signature | $6 |
| Additional signature | $1 |
| Administering oaths or affirmations | $6 |
| Taking a deposition of a witness (100 words) | $0.50 |
| Notarization of a photocopy | $6 |
Any notary in Texas who charges for their notary services more than the specified amount could lose their commission and face potential fines. Notaries also have to post their fees publicly, so their clients have a clear picture of what they'll need to pay.
How To Avoid a
Texas Notary Fee
Notary fees in Texas are quite affordable, but the price can mount up to a considerable sum for people who need notary services often. You can't avoid paying fees altogether, but some banks have public notaries as a part of their staff. Sometimes banks won't charge notary fees to their customers.
You can call your bank and find out if it offers notary services and if they offer them for free.
Can You Get Your Document Notarized Online?
The COVID-19 pandemic made a huge impact on numerous businesses, including notary services. This is one of the main reasons remote online notarization (RON) is now available in 28 states and counting. You can find an online notary and get your documents notarized via a live video call.
Check out the table below to find out which states allow RON:
How To Get Documents Notarized Online
Luckily for Texans, RON and all its conveniences are available in the Lone Star State. You can use online notary services for wills, diplomas, affidavits, acknowledgments, car titles, and more in your state.
The online notarization usually involves the following steps:
Find an online notary

Schedule an appointment

Meet with the notary virtually

Pay any incurring fees

Get the

notary's signature

Save your

electronically notarized

documents
How Much Do Online Notaries Charge in Texas?
Online notaries in Texas may charge up to $25 for every online notarization they perform in addition to the usual notary fees. For example, an online notary can charge you $25 and add $6 for notarizing a signature. In this case, the fee you'll pay in the end is $32.
DoNotPay Has a Feature That Can Save Your Time and Money
Our platform has a goal to make our client's lives easier by simplifying the notarization process. After you , you'll be able to get your documents notarized in under five minutes.
Follow the steps below to use our helpful feature:
Enter

Notarize Any Document

into DoNotPay's search box

Upload your document

Type in your email address

Click on

Proceed
We'll send a link to your email address that will enable you to make an online appointment with your notary. They will verify your identity and witness your signing of the document.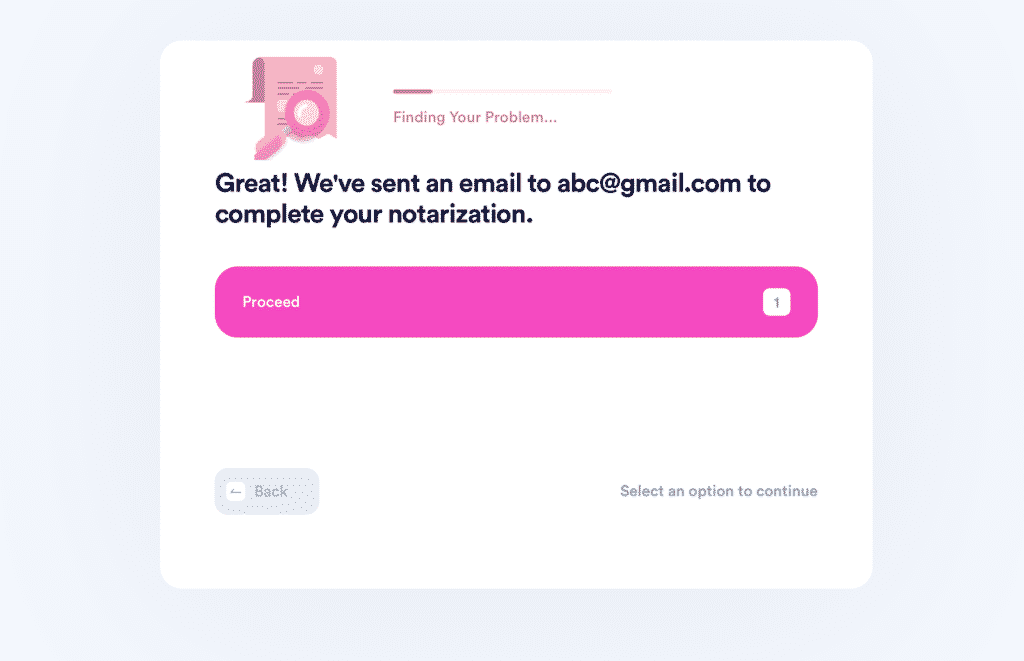 DoNotPay Creates Useful Legal Documents For You
DoNotPay can help you create many legal documents that you might need. Our Standardized Legal Documents feature is integrated with the Notarize Any Document product.
We currently offer 15 documents, and the list keeps growing! If you , you can always check new document templates.
DoNotPay creates the following:
Business Agreements
Real Estate Contracts
Other Documents

General Business Contract

Bill of Sale

Non-Disclosure Agreement

Non-Compete Agreement

LLC Operating Rules Agreement

Independent Contractor Agreement

Residential Lease Agreement

Estoppel Certificate

Intent To Purchase Real Estate

Quitclaim Deed

Child Care Authorization Form

General Affidavit

Child Custody Agreement (Parent Plan)

Promissory Note

Prenuptial Agreement
After we generate a legal document for you, you can get it notarized in no time via our helpful platform. Using DoNotPay is the best way to avoid any administrative hurdles that come with legal document creation and notarization.
Use Our App To Get Rid of Unwanted Admin Hurdles
Do you want to say goodbye to spam text messages or protect yourself from stalking and harassment? Are you looking for a way to end robocalls and earn off them? DoNotPay can help!
As soon as you sign up for our app, you'll be able to do anything from avoiding phone number verification with our handy burner numbers to acing government tests stress-free!
Take Advantage of DoNotPay's Time-Saving Features!
DoNotPay comes with a wide array of useful features that will help you overcome any administrative issue in no time. As the world's first robot lawyer, DoNotPay can tackle just about any bureaucratic task that people dread.
You can do anything from reporting stalking and harassment, signing up for free trials, and scheduling a DMV appointment to jumping the customer service phone queue, dealing with high bills, and protecting your creative work from copyright infringement with our app's assistance.
If you want to connect with an inmate, sign up for a clinical trial, report spam emails, or sue any company or person in small claims court, you can count on DoNotPay to provide you with the necessary guidance.