A Simple Guide to the 1800 CONTACTS Return Policy
Buying items and realizing they are not what you expected should not end there. You need to learn how to return the product or exchange it. The stores offer this option, but they tend to make it more complex than necessary so that customers give up on their intention.
DoNotPay will explain how the 1800 CONTACTS return policy works. If you sign up for our app, you will be able to start the return process easily!
What Is the 1-800 CONTACTS Return Policy?
1800 CONTACTS offers a 100% satisfaction guarantee on all orders. The company will let you return unused lenses as long as they are sealed in the original packaging. You can also return torn lenses, and you will receive new ones.
There is no set period within which you need to return your contacts. Since there is no expiration date, you can take as long as you need.
Can You Return an Open Box of Lenses?
1800 CONTACTS takes back all contacts that are unworn. It is possible to return:
Opened boxes
Single lenses
Lenses from a decade ago
Can You Exchange Your Contacts if You Get a New Prescription?
You have the right to exchange the contacts even if you changed the brand and prescription. You will only need to cover the difference in cost between the two brands. If your new brand is cheaper, 1800 CONTACTS will issue a fair refund.
Is It Necessary To Finish Your Return Before Exchanging Your Contacts?
Once you inform the company that you want to exchange your contacts, you will receive an up-front credit for the ones you'll be returning. You can use the same shipping box to return the old contacts. It is necessary to ship the old contacts within 30 days of receiving the new ones.
How To Initiate Your 1800 CONTACTS Return Request
To request a return of contacts, you will need to deal with the 1800 CONTACTS customer service. You can do so:
Over the phone
Via online chat
How To Request a Return From 1800 CONTACTS Over the Phone
You can initiate the return request from 1800 CONTACTS over the phone by following these steps:
Call 1-800-266-8228
Explain the reason for calling
Provide the customer service rep with the necessary info
Wait for further instruction for returning the item
How To Request a Return From 1800 CONTACTS via Online Chat
You have the option of getting in touch with 1800 CONTACTS customer service via online chat. Here is what you need to do:
Open the Returns and Exchanges page
Click on the Chat link
Enter your name
Select a reason for chatting
Type in your message
Click on Submit
Return Your 1800 CONTACTS Purchase Easily With DoNotPay
DoNotPay is here to ensure that the entire return process goes smoothly. We can help you avoid tedious and time-consuming talks with the company's customer service. These are the only steps you should take:
Find the Return My Purchase product
Answer a few questions about your purchase
Include photos as evidence (if you have any)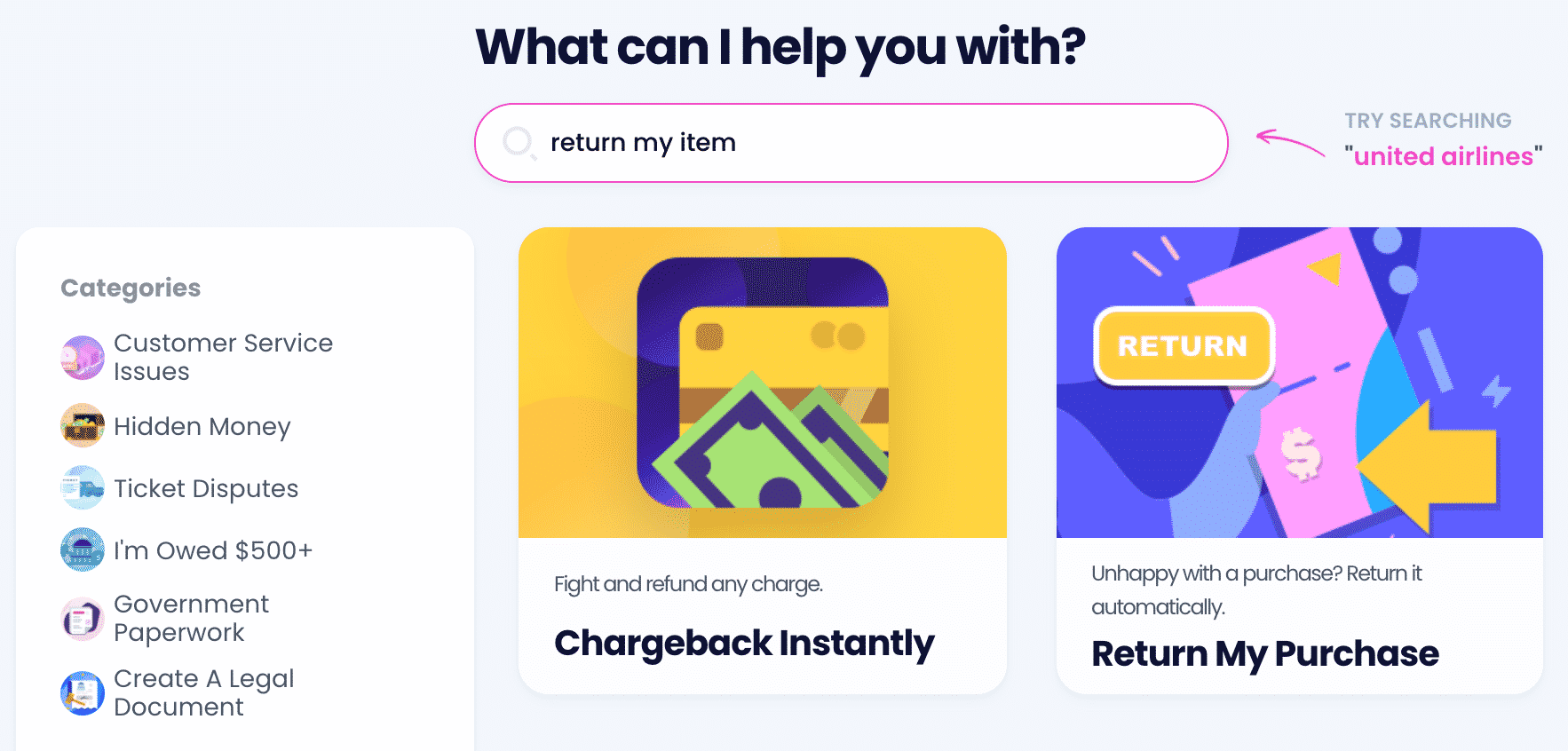 DoNotPay Can Help You Return a Faulty Product to Any Company
You can count on DoNotPay if you need help returning faulty items to other retailers. Take a look at the table below for some of the popular brands we can help with:
Is the Situation With the Merchant Getting Messy? Take Them to Small Claims Court!
If you feel like the merchant has wronged you, our AI-driven app recognized by the ABA Brown Award will help you sue them in small claims court! You don't need to worry about filling out lengthy court forms or collecting evidence for your case—we'll step in and do it for you!
You can use DoNotPay to generate any legal document you may need for the lawsuit, add legal weight to it through online notarization, and fax it to the court—all in a matter of mere minutes.
Facing any other legal issues? Check out how our app can assist you in:
We Can Help in Many Other Ways!
No matter what kind of assistance you need DoNotPay to provide, you can rely on it to solve any admin or legal issues you may have.
You can use our app to jump the phone queue when contacting any support team, skip the line at the DMV, get cash back on gift cards, create a valid passport photo, appeal any banned account, file an insurance or warranty claim, and get in touch with a loved one in prison in a snap.