Bath and Body Works Return Policy—All the Facts You Need
Bath & Body Works offers an assortment of self-care products and home fragrances. If you've received the wrong product from this company, we can help you.
We've created a handy guide to the Bath & Body Works return policy. If you find their rules for returns too complicated, and simplify the return process.
Our app can help you navigate the return policies of other companies, such as Ulta and Sephora.
All About the Bath and Body Works Return Policy
According to their return policy, Bath & Body Works accepts returns of all their articles. The return method varies depending on how you purchased your goods:
Products purchased in a store can be brought back to any official Bath & Body Works or White Barn stores
Items purchased online can be returned via mail or to the store. In case you intend to request an exchange, you can only do it in person
You have 90 days from the order date to return your items if you want a refund to the original payment form. If you initiate the return process after this period has expired, your refund will come in the form of an E-Gift Card delivered to your email inbox.
Returning a Bath and Body Works Product
Here's a quick overview of all the methods for opening up the return process for your Bath & Body Works items:
| | |
| --- | --- |
| Can You Initiate a Return Via | Yes/No |
| DoNotPay | Yes |
| Email | Yes |
| Phone | Yes |
| Letter | No |
| Website | No |
| In person | Yes |
| Online | Yes |
Bath and Body Works Return Policy—Email Returns
If you've received a damaged item, filing a return request is possible online. You have two options:
Accessing Live Chat—take note that this option is not always available
Filling out the Email form—it might take 4–6 hours to get an answer from the company's customer service
Starting Your Return Over the Telephone
The return process for damaged goods can also be started over the phone. The company's phone number is 877-832-9272.
In-Store Returns of Bath and Body Works Products
Bath & Body Works allows returns of the products in stores regardless of whether you have the original purchase receipt. Here's how the company regulates it:
With the receipt/invoice

You will get a refund to your original payment method
If the original payment form isn't available any longer (e.g., your credit card isn't valid), you will receive store credit
You can choose an exchange instead of a refund

Without the receipt/invoice

You will be offered a choice between an exchange or store credit in the amount of the lowest selling price of your item
If you are returning an online-purchased item, you can use your shipping confirmation email as proof of purchase
Returning Bath and Body Works Items Through Mail
Before you start packing your items, make sure you have the invoice that arrived with your order. Here are the following steps:
Fill out the return form at the bottom of your invoice
Keep the top part of the invoice for your records
Place the item and invoice inside the box
Secure the package
Address it to Bath & Body Works, Returns Department, 7603 Trade Port Drive, Louisville, KY 40258
Take it to the carrier and make sure you choose one that offers tracking
Pay for the shipping fees (they will not be refunded to you)
Keep tracking details until you see the parcel has safely arrived at the destination
How Much Time Does Bath and Body Works Return Policy Allow for Return Request Reviews?
Bath & Body Works states that it may take up to 21 business days to process your return request. This amounts to around a month. Many customers don't seem satisfied with their waiting times.
You can shorten this waiting period by using DoNotPay.
Return a Bath and Body Works Product in No Time! Use DoNotPay!
You don't have to spend money on your return to Bath & Body Works and wait for the company's response for over a month. DoNotPay can save you both time and money. Here's all you need to do:
Go to Item Return Request
Provide our chatbot with the necessary info
Choose Submit to send the request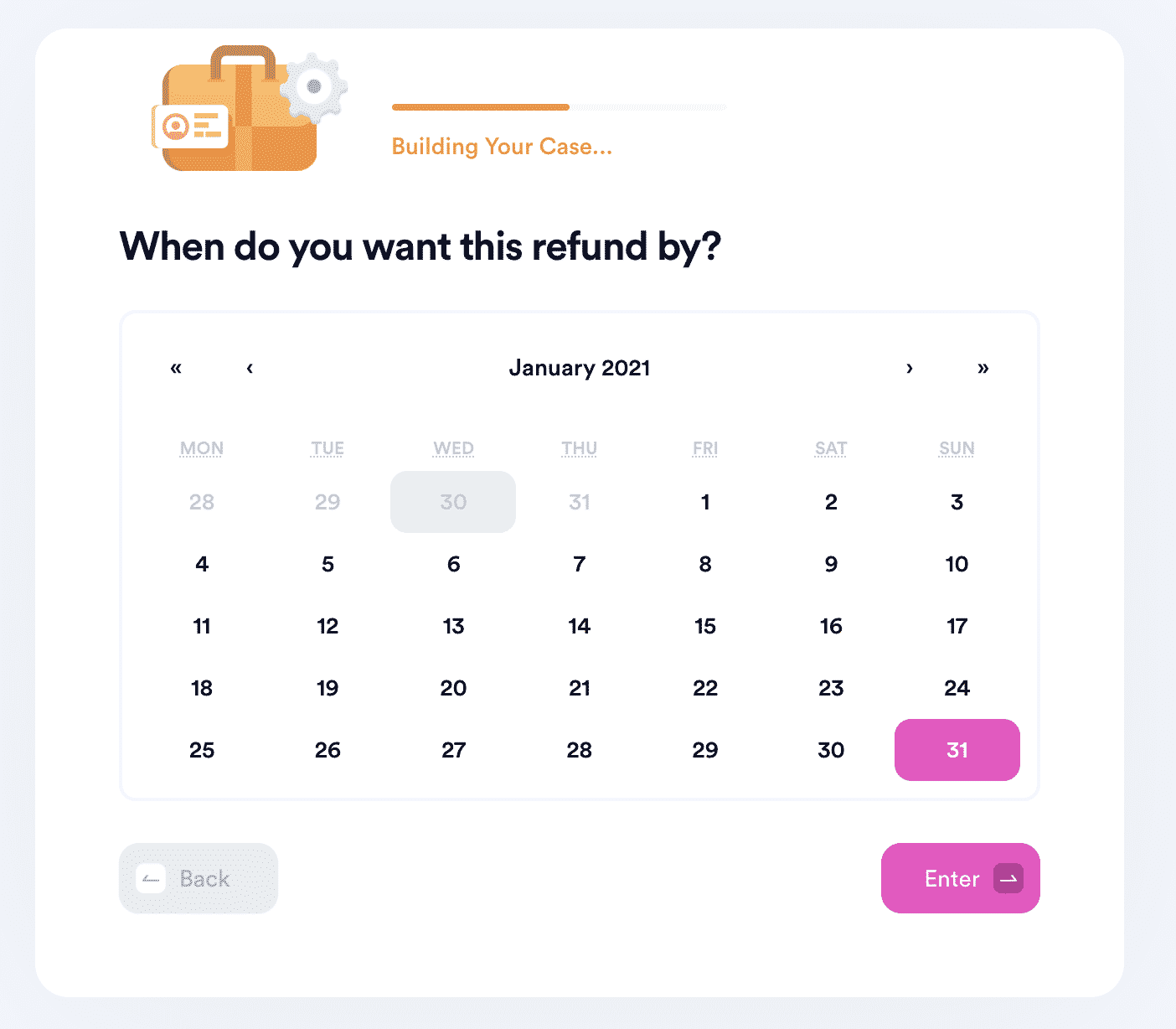 The data you fed into our system will be used to create a unique return request letter that we will forward to Bath & Body Works.
Our app will also give you an opportunity to pick the deadline by which the company needs to process your return request.
DoNotPay can even cut your expenses by creating a return label that allows you to ship your package back free of charge.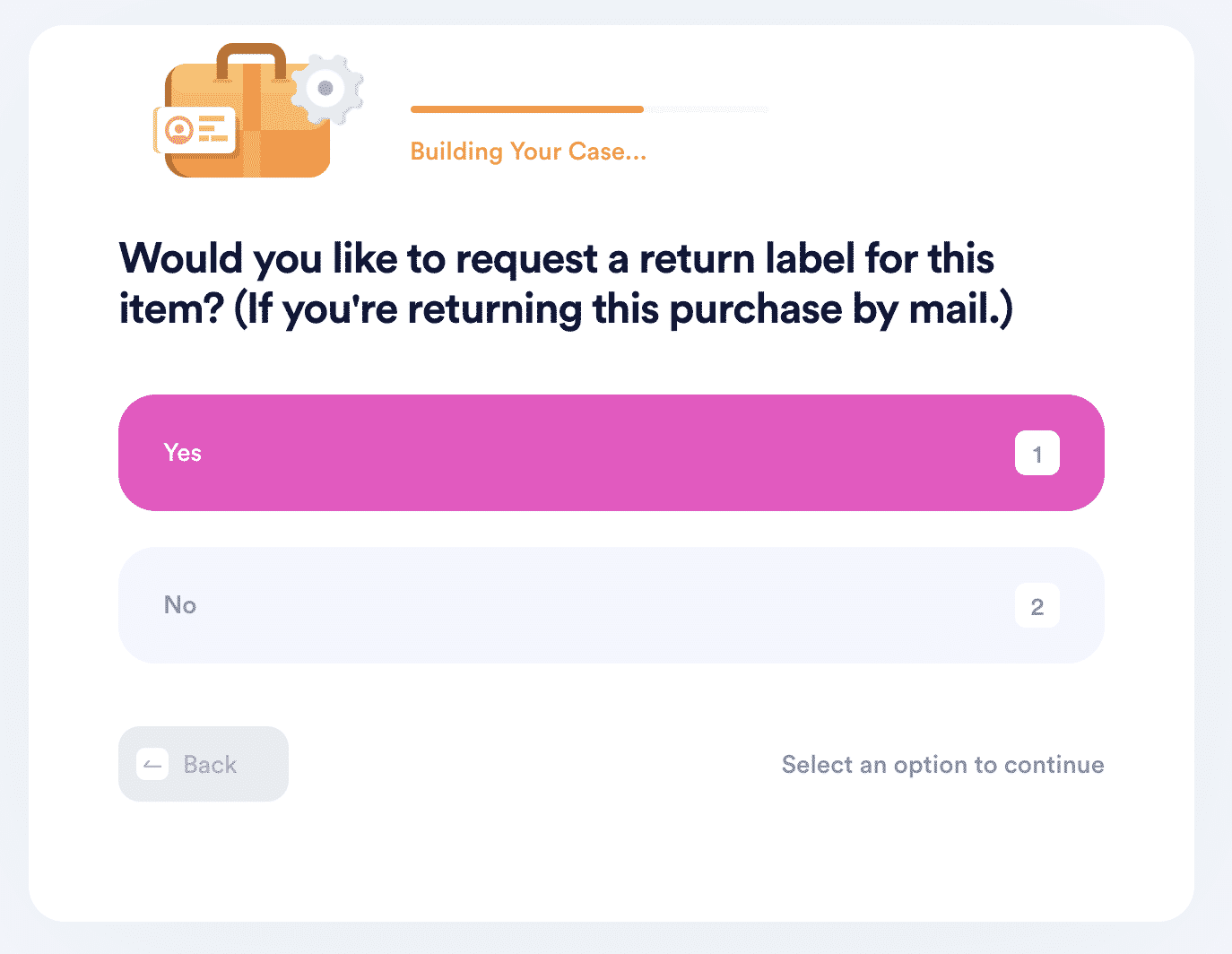 We offer help with understanding the return policies of many other companies besides Bath & Body Works. Some of them are:
Is the Company Refusing To Cooperate? We Can Help You Get Justice
Is whatever company you're dealing with not being a good sport? Don't worry—the world's first robot lawyer is here to help. Our app can prepare all the necessary paperwork and provide guidance if you want to sue the company in small claims court.
We can also help you draw up any legal document you need for the case, have it notarized by an online notary, and fax it to anyone in a matter of minutes.
If you want to get revenge on tiresome robocalls or report a stalker or harasser, you can rely on DoNotPay.
Anything Else We Can Do for You?
Our AI-powered app is versatile—you can complete many tiresome, daunting tasks that you wouldn't want to tackle by yourself. You can use DoNotPay to:
If you want to get access to all of our nifty products, sign up now!