Where To Get Passport Photos in CT—A Short and Sweet Guide
If you haven't renewed your passport in a while, you may not be familiar with the latest passport photo requirements. Even the slightest mistake can cause your application to be denied, which means you'll have to repeat the process all over again.
Knowing the most reliable locations to get your passport photo taken will help the application process go smoothly. If you're wondering where to get passport photos in CT, DoNotPay has the answers! We will also show you how to take a digital photo at home and submit it online without a hiccup!
Get Familiar With the Passport Photo Requirements in the U.S.
Having your passport photo taken is a serious procedure. The photo has to fulfill the standards set by the U.S. Department of state, which range from the appropriate size to the suitable attire for the applicants. If you decide to take your passport photo by yourself down the line, you will have to meet the same government requirements.
Take a look at the table below to see the dos and don'ts:
Your Passport Photo Must
You Should Avoid

Be 2 x 2 inches (51 x 51 mm) in size
Display your full face, with a head size of 1–1 3/8 (25–35 mm), measured from the top of your head to the bottom of your chin
Not be older than six months
Be free of:
Showcase you with a neutral facial expression or a natural smile
Be taken in front of a white background
Be in high resolution and printed on matte or glossy paper
Present you dressed in everyday clothes

Having exaggerated facial expressions
Letting your hair cover your face
Looking down or to the side
Wearing scarves, jewelry, or any accessory that covers a portion of your face
Wearing:

Camouflage clothing
Uniform
Costume

Having glasses, hats, or other headgear on without a religious or medical reason. If you can't remove them, you need to:

Make sure your face is visible
Submit a doctor's statement confirming your condition

Getting the photo digitally altered (e.g., using Instagram filters)
Where Can I Have My Passport Photo Taken in CT?
You won't have to look very far to find a place that offers passport photo service in Connecticut.
Make sure to check out the following locations:
Retail stores—Giant retailers, such as Target or Walmart, typically offer passport photo services, but your best bet is to call them ahead and confirm
Shipping centers—FedEx and UPS stores in your vicinity may offer passport photo services
Professional photography studios—You can opt for a professional studio if you don't mind paying a significantly higher amount than usual. Make sure to call ahead and ask if they take passport photos
Passport application acceptance facilities—Having your passport photo taken is possible at many locations used for passport application submissions, which enables you to finish the whole procedure in one place. Connecticut has a high number of passport application acceptance facilities, and they can typically be found in:

Post offices
Public libraries
Court clerk's offices
Any state, county, municipal, and township government offices

Passport expediting services—If you're in a hurry to get your passport photo renewed as soon as possible, you can hire a passport expediter to file an application for you. They typically offer to take your passport photo as well
Possible Disadvantages of Using a Passport Photo Service
Getting your passport photo taken at one of the passport photo service facilities may seem practical at first, but you have to be aware of the following disadvantages:
Prices are not always affordable—Although Walmart charges up to $7 for passport photos, some locations can demand as much as $15. If you choose a photography studio, you will have to pay even more
You'll have to respect the location's business hours—Setting up an appointment may take a while
You may not be satisfied with the result—The person taking your photo might not have enough experience. You can return the photo, but that will cost you more time
Would you like to know an easier way? Subscribe to DoNotPay and get a professional photo in record time without breaking a sweat!
Let DoNotPay Ensure the High Quality of Your Passport Photo
There's no need to waste time going to a passport photo location. Using DoNotPay will help you:
Fulfill the government requirements—We will automatically adjust the photo to meet the official standards
Avoid trips to the passport photo location—You can snap a photo from the comfort of your home and upload it easily
Go around limiting business hours—Our program can process the image at any time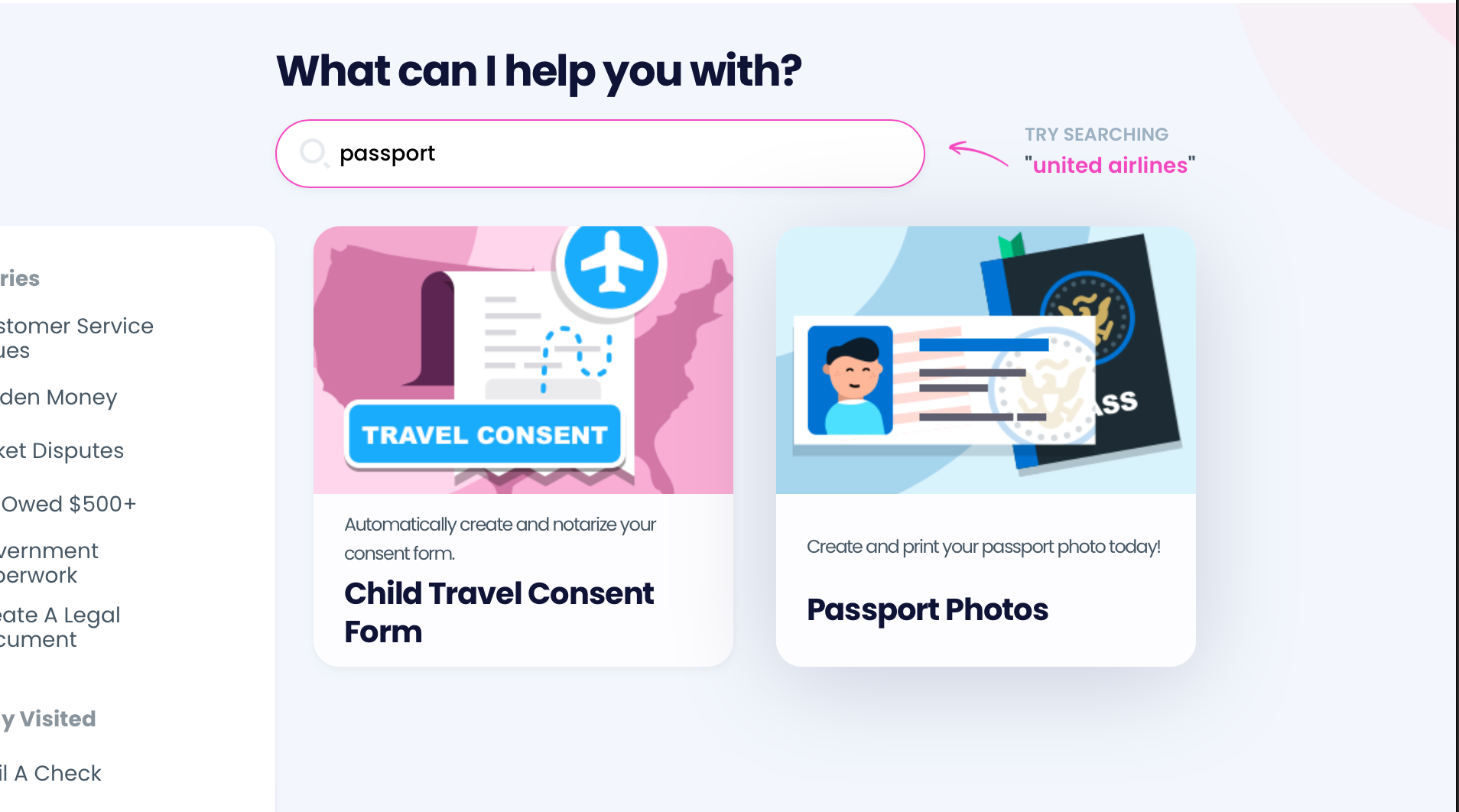 You can get your passport photos in so much as three days if you:
Open DoNotPay in a web browser
Select our Passport Photos tool
Take a headshot on your phone or upload a photo
Indicate:

How you want your two photos to be delivered (by mail or email)
Which shipping option you prefer (economy, expedited, or rush)
Our app ensures that any passport application facility will accept your passport photos without hesitation!
Find your place of residence in the table below to see where you can have your passport photo taken:
Outsmart Big Corporations by Using DoNotPay
Our platform is always on the side of regular people, and the number one item on our agenda is fighting for your rights.
If you need help requesting refunds for faulty products, late parcels, or canceled flights, you can turn to DoNotPay for help. Protect your privacy and stay one step ahead with our spam email collector, burner phone numbers, and virtual credit cards.
We will provide you with everything else you need in your fight—online fax, mailing service, and products for drafting legal documents and having them notarized online.
Improve Your Leisure Time Too!
You can win some serious battles with the help of DoNotPay—after all, our app can even get you ready for small claims court—but we offer numerous useful features that will improve the quality of your entertainment.
Signing up for free trials doesn't come with the risk of losing money anymore, and if you get bored with that new streaming service, you can easily cancel it using our app.
If entering raffles is your idea of fun, you'll be glad to know we can help you participate in all kinds of these games of chance. You can also review your knowledge using our government tests prep quizzes or retrieve any unclaimed money under your name and spend it on something fun!