The Ins and Outs of Texas Financial Aid
Getting a higher education is not easy, nor is it cheap. If you want to enroll in a school in the Lone Star State, you should find out how much the tuition is. Since most students can't pay the required amount on their own, they need to apply for Texas financial aid.
DoNotPay will provide you with a detailed guide to the financial aid options available in Texas. We will also be there to help you get more funds by filing an appeal if the school makes you an unsatisfactory offer or rejects you.
How To Apply for Financial Aid in Texas—What Forms Do You Need To Complete?
If you want to successfully apply for financial aid in Texas, you need to fill out the required forms. The Lone Star State requires you to complete the following applications depending on your situation:
The federal deadline for submitting a FAFSA is June 30, 2022, for the 2021–2022 academic year. The TASFA deadline for the 2021–22 award year was January 15, 2021.
Financial Aid in Texas—What Types of Aid Are Available?
You can apply for financial aid from various sources (federal, state, and institutional) in Texas. Your options include the following financial assistance types:
State and federal grants and scholarships
Loans
Work-study programs
Federal and State Grants and Scholarships Available in Texas
Grants and scholarships are both the gift type of financial aid (you don't need to repay it) and come from state and federal resources. They are usually need-based, but some scholarships require you to maintain a certain grade point average (GPA). In Texas, you can apply for:
Federal Pell Grant
Toward EXcellence, Access, and Success Grant Program (TEXAS Grant)
Tuition Equalization Grant Program (TEG)
Federal Teacher Quality Enhancement Scholarships from the U.S. Department of Education
Education and Training Vouchers for Youths Aging Out of Foster Care in Texas
Federal Supplemental Educational Opportunity Grant
Kenneth H. Ashworth Fellowship Program
Texas Public Educational Grant Program (TPEG)
National Health Service Corps (NHSC) Scholarship
Texas Armed Services Scholarship Program
Marine Corps Foundation Scholarship
Fifth Year Accounting Student Scholarship Program
Student Loans You Can Apply for in Texas
Student loans need to be repaid with interest. You can apply for the following loans in Texas:
Federal Direct:

Consolidation Loans
Plus Loans
Subsidized Loans
Unsubsidized Loans

Federal Perkins Loan Program
Texas College Access Loan Program (CAL)
Texas Armed Services Scholarship Program (TASSP)
Work-Study Programs Available in Texas
Students who want to work part-time while studying have the option of applying for work-study programs. You can choose between:
Federal Work-Study Program
Texas College Work-Study Program
Financial Aid Options in Texas Schools
You will see all the available options for financial aid in the schools you apply for. In addition to state and federal financial assistance, schools will offer institutional aid. Take a look at the table below to see some of DoNotPay's Texas financial aid guides:
What Happens After You Submit Your Financial Aid Applications?
Once you are done with the financial aid application process, you wait for the school's offer. There can be three possible outcomes:
You receive the aid and are satisfied with the amount
The school makes you an insufficient offer, and you need more money
Your application gets rejected
If you are not lucky enough to find yourself in the first scenario, you should not go with the school's decision. You should take some action—file a financial aid appeal! The good news is that you don't have to deal with this process on your own—!
Use DoNotPay To Make a Financial Aid Appeal Letter in Jiffy
Composing a financial aid appeal letter can be complex and time-consuming. You should avoid the unpleasantries of the process and let DoNotPay handle the task on your behalf. Proceed as follows:
Find our Appeal for More Financial Aid product
Provide us with details of financial aid offers from all the universities you applied for
Give us the info related to your family's income and financial status
DoNotPay will mail the appeal letter to all the right addresses on your behalf.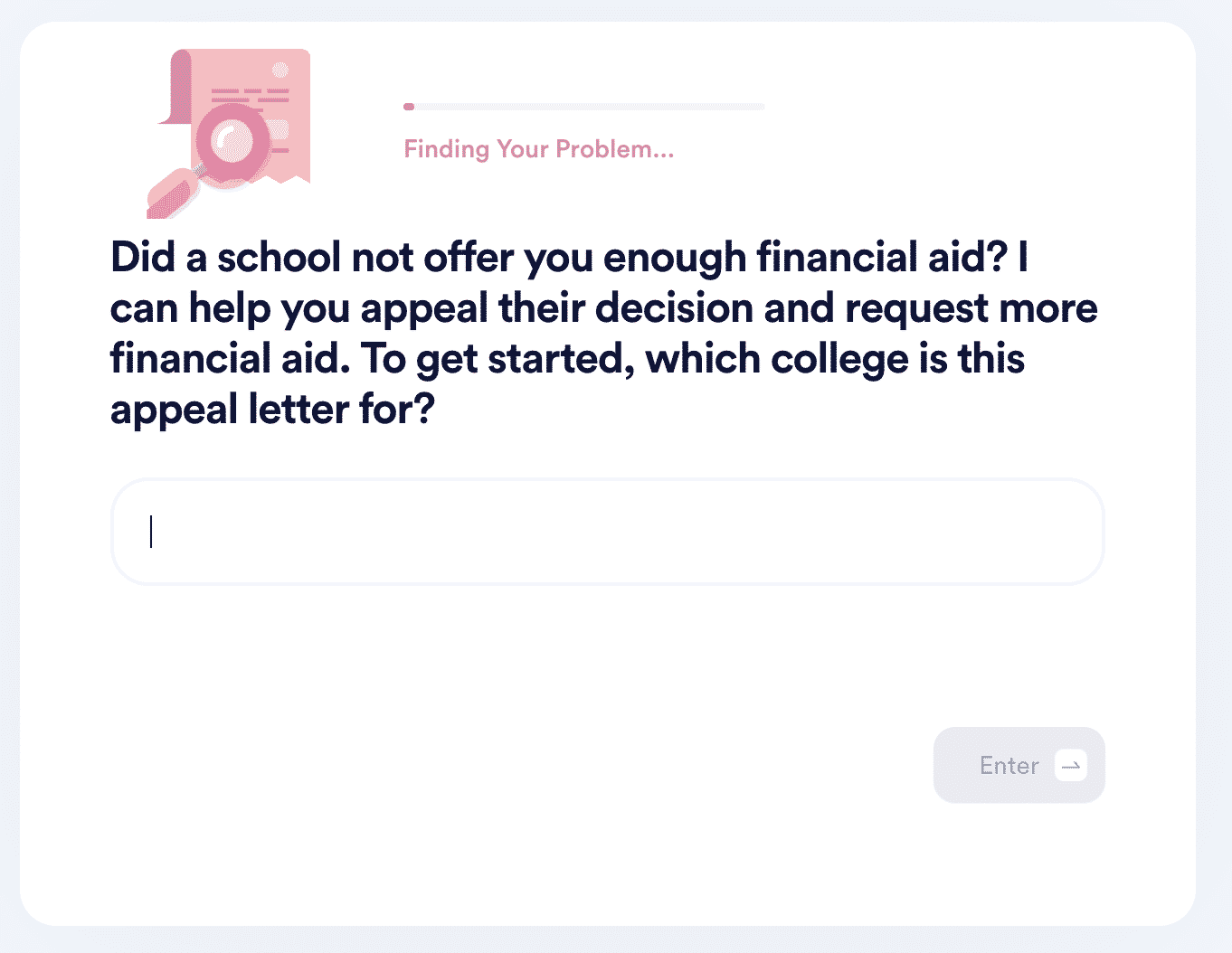 Find answers to the following questions with DoNotPay:
Considering out-of-state schools? No problem! Check out our guides to financial aid programs of the most popular schools across the country:
Choose From a Variety of DoNotPay's Amazing Tools
Did you manage to solve the issue with our app? If the answer is yes, you may also be interested in checking out other interesting features we offer. DoNotPay can help you:
| Get Rid of Spammers By | Deal With Uncooperative Merchants By | Get Help With Your Studies By |
| --- | --- | --- |
| | | |
Let DoNotPay Prepare Important Documents for You
Are you having a hard time drawing up a contract due to insufficient legal expertise? Say goodbye to failed drafts—DoNotPay can generate divorce settlement agreements, powers of attorney, child travel consent forms, and many other legal documents in under five minutes!
We will also help you create anonymous HR complaints and demand letters for your neighbors.