Get the Gist of Applying for University of Rochester Financial Aid
Realizing how expensive tuition is when applying for your dream school can significantly dampen the experience. The good news is that you can avoid paying the enormous amount by applying for financial aid programs offered by the school you want to enroll at.
Rely on DoNotPay's guide to help you gather all the essential info on applying for University of Rochester financial aid, and let us walk you through appealing a rejected aid application step by step!
Am I Eligible for University of Rochester Financial Aid?
The University of Rochester imposes certain requirements when it comes to applying for financial aid. The general financial aid criteria you have to meet to receive institutional, federal, and state aid require you to:
Be a United States citizen or an eligible non-citizen
Have a high school diploma
Be enrolled in an approved degree program
What Types of Rochester Financial Aid Can I Apply For?
Before applying for aid, you should know that there is more than one financial aid type. The University of Rochester provides various financial aid programs to both undergraduate and graduate students, including:
Scholarships
Grants
Loans
Work-study programs
Scholarships
The University of Rochester awards scholarships according to students' academic success and financial circumstances. Check out the list below to see what scholarships the University of Rochester offers:
Dean's Scholarship
Genesee Scholarship
Alan and Jane Handler Scholarship
International Baccalaureate (IB) Scholarship
Rush Rhees Scholarship
Rochester Rotary Oratorical Scholarship
National Merit Scholarship
Phi Theta Kappa Scholarship
Grants
Grants are a type of financial aid designed to help students cover the expenses of their studies without having to repay the money later on. They can be federal, institutional, or state-funded. You can apply for the following programs:
Federal Pell Grant
Federal Supplemental Educational Opportunity Grant (FSEOG)
New York State Tuition Aid Program (TAP)
Higher Education Opportunity Program (HEOP) Grants
Higher Education Opportunity Program (HEOP) Grants
Rochester National Grant
Loans
Student loans are the money students can borrow to pay for the costs of their education but have to repay eventually. The University of Rochester allows you to apply for the following loans:
Federal Direct Stafford Loan
Federal Perkins/Nursing Loan
Federal Direct PLUS Loan
University Broxholm Memorial Loan
University Loeser Loan
University McGuire Loan
University O'Connor Loan
University Tiernan Loan
Alternative Loans
Work-Study Programs
Work-study programs allow students to work part-time jobs while studying and, that way, earn money to cover the necessary expenses. The available job positions can be either:
How Can I Apply for Rochester Financial Aid?
To apply for University of Rochester financial aid, you have to send the Free Application for Federal Student Aid (FAFSA) and create a CSS account.
Schools use FAFSA to determine your eligibility for all federal aid programs. After the University of Rochester school board determines the amount of financial aid you're eligible for, you'll be able to either accept or decline the offer using your CSS account.
Besides FAFSA, you may be required to supply additional paperwork depending on the financial aid program you apply for.
You should visit the University of Rochester official website to find more details about each financial aid program.
How Do I Reach the Financial Aid Office at the University of Rochester?
If you run into any issues or have additional questions regarding your financial aid application, you can contact the University of Rochester financial aid office. They can provide you with the answers to the following questions:
Check out the table below for the available contact methods:
Contact the University of Rochester Financial Aid Office
Instructions
By phone

Dial (585) 275-3226
Inquire about your application details

Via mail

Write a letter explaining your request in detail
Mail it to the following address: PO Box 270261, Rochester, NY

In person

Visit the following address: Rochester University, 800 W Avon Rd, Rochester Hills, MI 48307
Ask the support agent to provide you with the information you need
Steps to Appealing a Rejected University of Rochester Financial Aid Application With DoNotPay
Did the University of Rochester decline your financial aid application? Is the amount the university offered insufficient to cover the expenses of your studies? Don't worry—we can help!
DoNotPay provides a neat feature that helps you appeal a low financial aid offer or rejected application in a few minutes! The best part is that it takes almost no effort on your part. We'll use the info you provide to compose your financial aid appeal letter in a snap! Follow these steps to get started:
Choose the Appeal for More Financial Aid feature
Provide the necessary info about the university you want to enroll at and your family's financial situation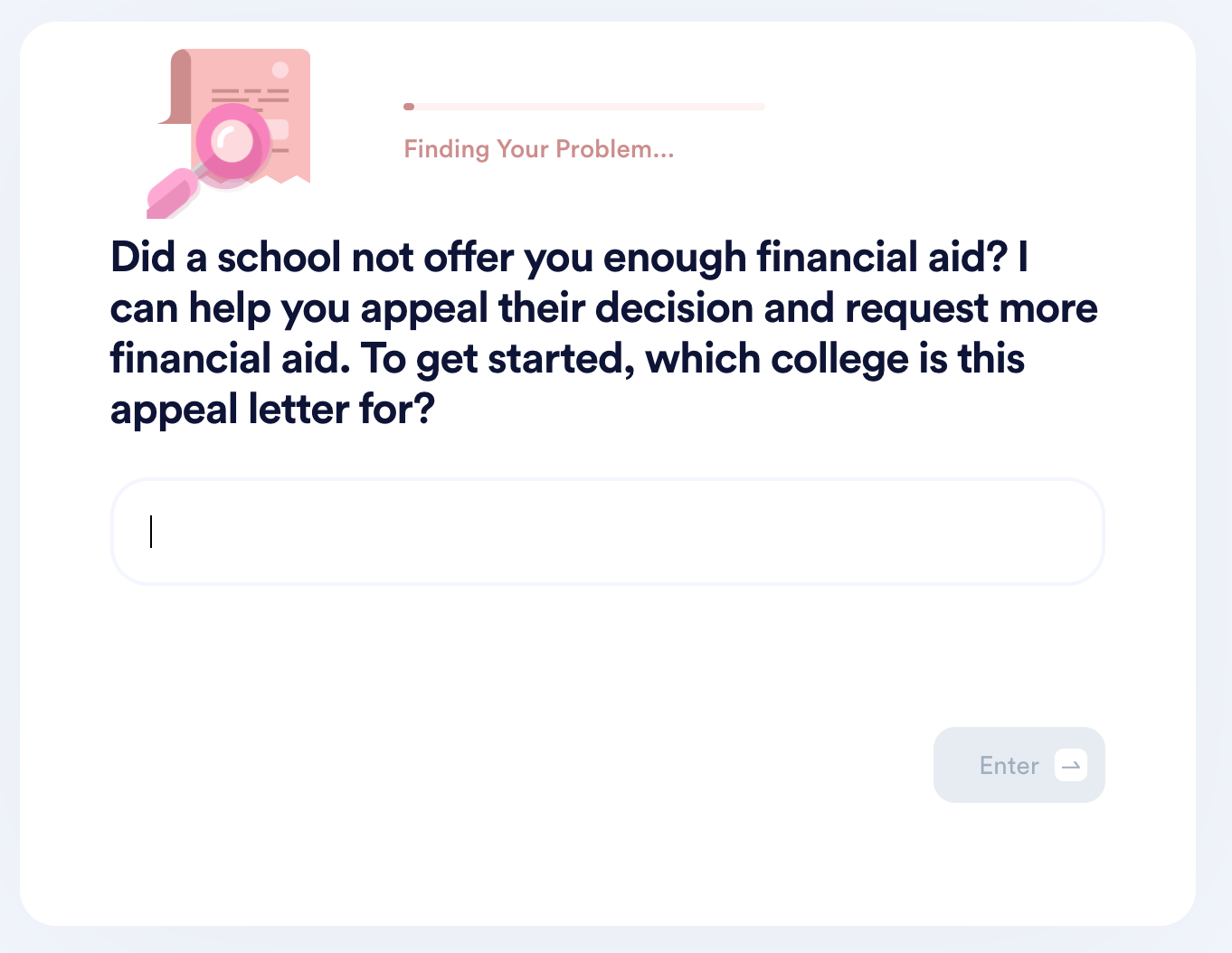 After you complete the above-listed steps, DoNotPay will create your appeal letter instantly. That's not all! To save you the trouble of sending the letter to the University of Rochester financial aid office by yourself, we'll send it for you!
If you find the offer proposed by the University of Rochester insufficient, you don't have to accept it! There may be another school that offers you a sufficient amount and proves to be a better choice! If you want to apply for more financial aid support money, check out the table below and see some of the schools DoNotPay can help you with:
Explore DoNotPay's Vast Database To Handle Administrative Issues Head-On
Dealing with administrative issues is never a fun experience, but you can save yourself from unnecessary hassle with our app! Once you sign up for DoNotPay, there is little you can't do. Aside from helping you deal with everyday tasks, such as reaching customer services, you can also use our app to:
Make Your Legal Troubles Disappear
Is a company giving you a hard time? Don't fret! DoNotPay can walk you through the process of suing it in small claims court and help you get the justice you deserve!
The best part is that assisting you take companies to court isn't all our app can do! We can also help you with: