All You Need To Know Before You Apply for the University of Houston Financial Aid Program
The University of Houston (UH) is home to multiple award-winning research centers and a diverse student population, counting over 45,000 attendees.
Do you want to be one of them, but the tuition cost is a dealbreaker for you? Avoid financial stress by learning how to apply for the University of Houston financial aid program, when to do it, and how to appeal the University's decision if it doesn't work for you!
University of Houston Financial Aid Explained
Students can receive awards from the University of Houston based on merit and financial need. Before you apply for financial aid, keep in mind that the total amount of student aid mustn't exceed the cost of attendance.
The UH financial aid package includes:
Grants
Scholarships
Student employment
Loans
Financial incentives
University of Houston Financial Aid—Grants
UH students can qualify for the following grants:
Grant Category
Grant
Amount and Duration
Federal grants
Federal Pell Grant Program
$6,345/year for a maximum of six years
Federal Supplemental Educational Opportunity Grant Program (FSEOG)
Ranging from $100 to $2,000/year
Teacher Education Assistance for College and Higher Education (TEACH) Grant
Up to $4,000/year
State grants
Texas Public Educational Grant (TPEG)
$500/semester
Towards Excellence, Access, and Success (TEXAS) Grant
Up to $5,195/semester
School-specific grants
UH Scholars' Grant
Ranging from $500 to $1,000 per year
Undergraduate Institutional Grant
Award amounts are based on available funds and demonstrated financial need
Scholarships Available at the University of Houston
UH offers the following scholarships:
Category
Scholarship
Award
University-funded
Cullen Leadership Scholarship
$1,000/year (for a maximum of four years)
National Merit Scholarship Finalist

The full cost of tuition and all other fees for:

Five years for architecture students
Four years for other students

Additional $1,000 award for undergraduate research
$2,000 study abroad stipend

Tier One Scholarship

Four years of tuition and mandatory fees
Two years of room and boarding fees
Study abroad stipend
Undergraduate research stipend

State-funded
Fifth Year Accounting Student Scholarship Program
Up to $5,000
Good Neighbor Scholarship Program
Tuition for one academic year
Highest Ranking High School Graduate Exemption
Tuition for two semesters
License Plate Insignia Scholarship
Depends on the number of license plates purchased that bear the insignia of Texas colleges and universities
Mexican Citizens with Financial Need-Border Nations Waiver
Resident tuition rate
Texas Armed Services Scholarship Program
Up to $7,000
Educational Aide Exemption (EAE) Program
Up to $7,000
Scholarships for transfer students
Transfer Excellence Scholarship
$1,000/year
Transfer Achievement Scholarship
$1,000 one-time award
Research scholarships
Provost's Undergraduate Research Scholarship (PURS)
$1,000/semester of research
Summer Undergraduate Research Fellowship (SURF)
$3,500
Students should also contact the UH Financial Aid Office about private and endowed scholarships.
University of Houston Financial Aid—Student Employment
The University of Houston participates in two student employment programs:
The Federal Work-Study Program
The State of Texas College Work-Study Program (for Texas residents only)
On average, UH students work between 12 and 20 hours per week.
Loans at the University of Houston
The following loaning programs are available at UH:
William D. Ford Direct Loan Program
B-On-Time (BOT) Loan
College Access Loan (CAL)
Federal Parent PLUS Loans
Federal Perkins Loans Program
Alternative loans
Besides your FAFSA, the University requires you to submit the following forms when you're applying for loans:
E-Sign Promissory Note—A signature required to receive federal loans and valid for ten years
Entrance Counseling—Students complete this form when they arrive at UH
Exit Counseling—UH students who graduate, leave school, or attend less than half-time must complete this form
University of Houston Financial Incentives
UH financial incentives include:
The Cougar Promise—First-year students whose family income is less than $65,000 will receive aid equal to their tuition costs and mandatory fees, while those whose family income falls between $65,001 and $125,000 will receive tuition support
Tuition Rebate—Undergraduate students can be eligible for a $1,000 rebate after they graduate. To be eligible, they must not surpass the minimum time required for their first baccalaureate degree by more than three hours
How To Apply for University of Houston Financial Aid
To apply for University of Houston financial aid, you need to complete a FAFSA form for federal aid and a TASFA application for state and institutional aid by the following deadlines:
Priority deadline for FAFSA and TASFA—January 15
Final deadline for FAFSA—June 30
If you need help with your application, you can contact the University of Houston Office of Scholarships and Financial Aid by:
Get More Aid From the University of Houston With DoNotPay!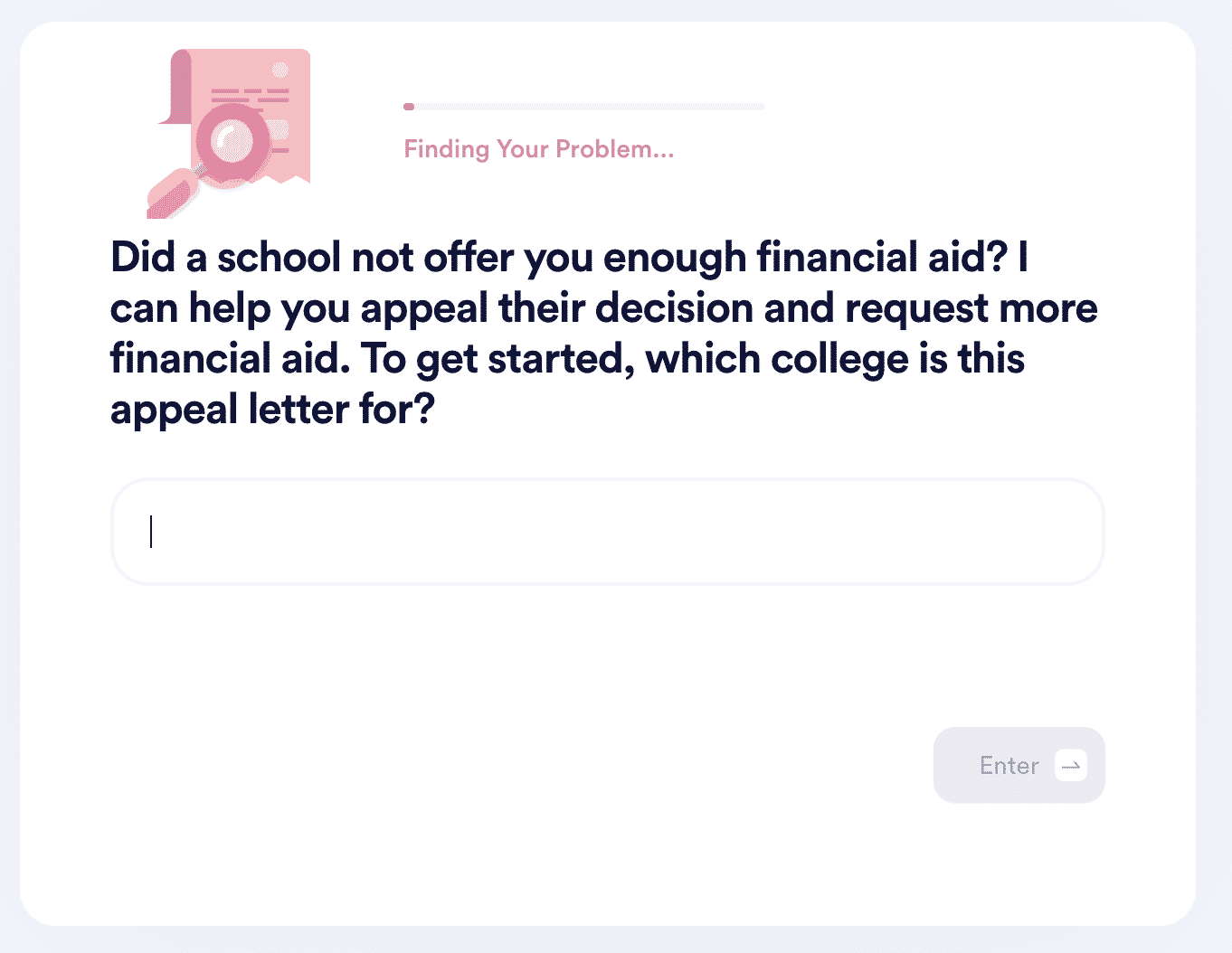 If the University of Houston offers you insufficient aid, you can appeal its decision, and we can help you do it in three simple steps:
Access DoNotPay from any web browser
Search for Appeal for More Financial Aid
Answer a few questions regarding why you need more aid from the University of Houston
After you answer all questions, we will generate an appeal letter you can send to the University of Houston to get more financial aid.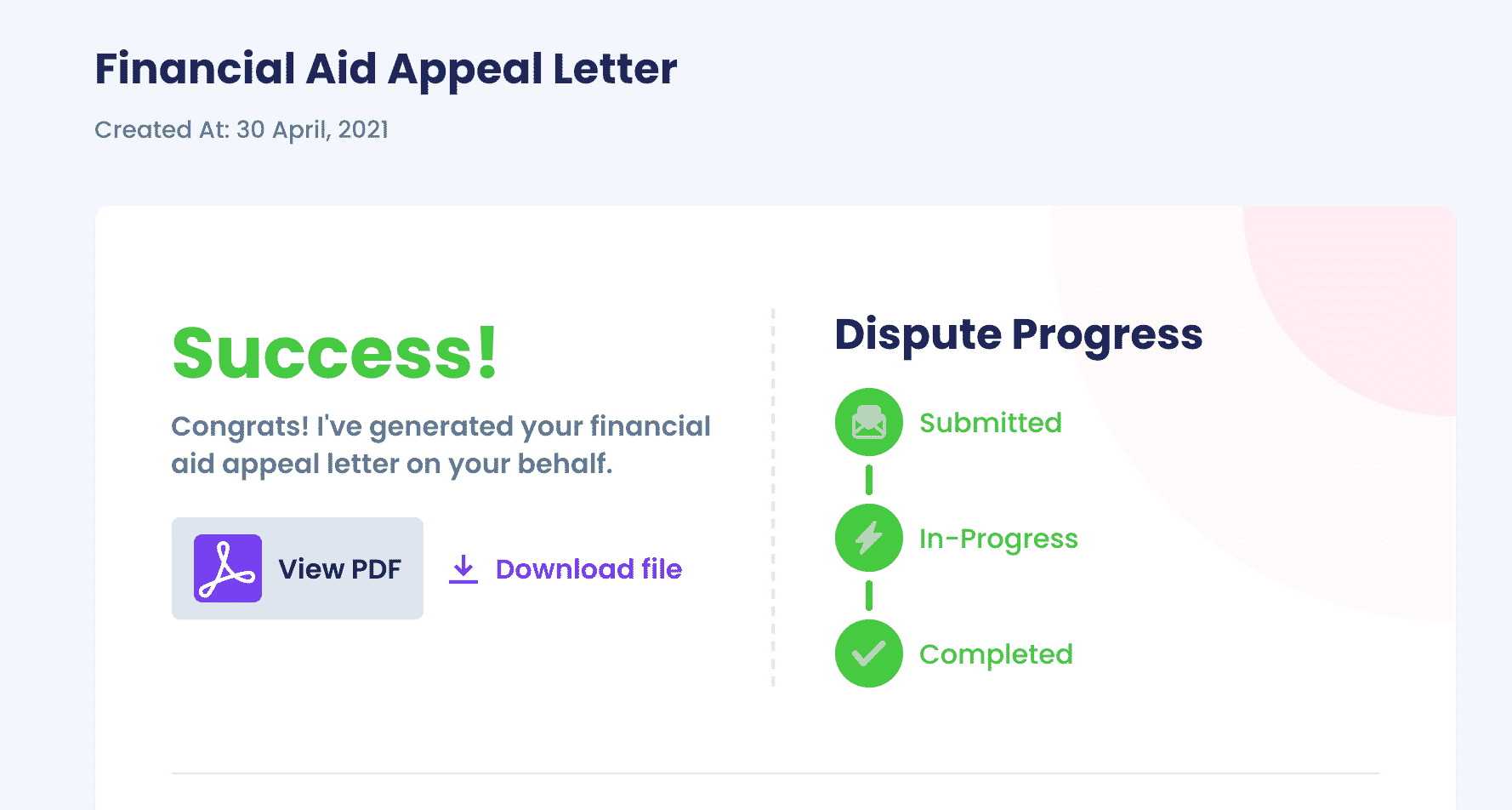 If you wonder how many credits you need to apply for financial aid or how financial aid works for graduate schools, check out our learning center for more guides!
Alternatives to the University of Houston
If you're not sure whether the University of Houston is the right choice for you, maybe one of the following schools is:
DoNotPay Turns Your Everyday Hurdles Into a Piece of Cake
Did you receive a faulty or damaged item? Why not return it with your virtual assistant? We can also help you get a late delivery refund and jump the queue if the customer service phone keeps ringing to no avail. The list of handy DoNotPay features that make your everyday life easier goes on.
By subscribing to our platform, you won't have to worry about your tedious neighbors or parking tickets. We can do it all!
Want To Save Money on Lawyers? Use DoNotPay
Most people spend big bucks on expensive lawyers to overcome their bureaucratic obstacles. Don't waste your money on unnecessary fees—use DoNotPay and take care of any legal matter in a few easy clicks! Check out some of the issues the world's first robot lawyer can help you with: