Get Acquainted With Harvard's Financial Aid Program
Harvard is the oldest and one of the most prestigious universities in the United States. Is this Ivy League school out of your reach because of its sky-high costs, including tuition and other attendance fees, that sum up to a scary amount of $85,060?
Learn how the Harvard financial aid program works and how to if its offer doesn't work for you!
The Basics of the Harvard Financial Aid Program
Harvard University decides about financial aid cases individually and strives to create programs that don't require loans. The most important factors the University considers while creating your financial aid package are:
Your family income and assets
Outside awards
Changes in your financial circumstances
If you have any questions regarding the application process, you can contact the Harvard Financial Aid Office by:
Calling 617-495-1581
Sending an email to faoinfo@fas.harvard.edu
Visiting the office located at 86 Brattle Street, Cambridge, Massachusetts
What Are the Available Types of Harvard Financial Aid?
Harvard offers the following types of financial aid:
Scholarships and grants
Loans
Work-study
Harvard Scholarships and Grants
Harvard scholarships are funded by:
Harvard endowment funds
Gifts from alumni
General tuition revenues
Federal and state grants
The University offers the following federal and state grants:
Supplemental Educational Opportunity Grant (SEOG)
Federal Pell Grant
Gilbert Grant (for Massachusetts residents)
Harvard also accepts outside awards, such as:
Secondary school awards
Civic organization awards
Awards from parental employers and other corporations
National Merit Scholarship Programs
The G.I. Bill
Reserve Officers' Training Corps (ROTC)
You can use the following resources to search for outside scholarships and awards:
College Board
Fastweb!
Scholarships.com
CollegeScholarships.org
UNIGO
GoodCall Scholarship Directory
Scholarship Search by SallieMae
Harvard Financial Aid—Loans
You can opt for federal or private loans to cover your student or family contribution.
Harvard offers the following ones:
Federal Direct Subsidized Stafford Loan
Federal Direct Unsubsidized Stafford Loan
The Harvard Loan
Keep in mind that you will have to do your own research for private student and parent loans.
The Harvard Work-Study Program
You can register for a work-study job by completing a referral card or search for jobs using the Harvard Student Employment Office (SEO) database.
You can work up to:
20 hours per week if you're an undergraduate student
40 hours per week if you're a graduate student
40 hours per week during breaks, such as spring break, reading period, etc.
Harvard students can work both on- and off-campus.
How To Apply for Harvard Financial Aid
Your financial aid application process depends on your student status:
Prospective students—They need to submit a CSS Profile and IDOC Packet when applying for Harvard financial aid. U.S. citizens and permanent residents will also need to include the FAFSA form with their application
Current students—The aid renewal application deadline is May 1. If you submit your renewal request on time, you will receive a reply from Harvard by July 1. If you applied for financial aid the previous year, the University will send you instructions for the renewal process
What Is the Deadline To Submit a Financial Aid Application to Harvard?
You can submit your FAFSA as early as September 17. The University's financial aid application deadlines are:
| | | |
| --- | --- | --- |
| Restrictive Early Action | Regular Decision | Transfer Applicants |
| November 1 | February 1 | March 1 |
What Can I Do if Harvard Rejects My Application or Doesn't Offer Enough Financial Aid?
If you received your Student Aid Report (SAR) and found out that Harvard rejected your application or didn't offer enough financial aid, you can appeal the University's decision by completing a reconsideration form and enclosing an appeal letter with it.
Forget about the tiresome process of writing your own appeal letter—use our nifty tool to generate a tailor-made one and get more aid from Harvard in no time!
DoNotPay Can Generate a Custom Financial Aid Appeal Letter That You Can Send to Harvard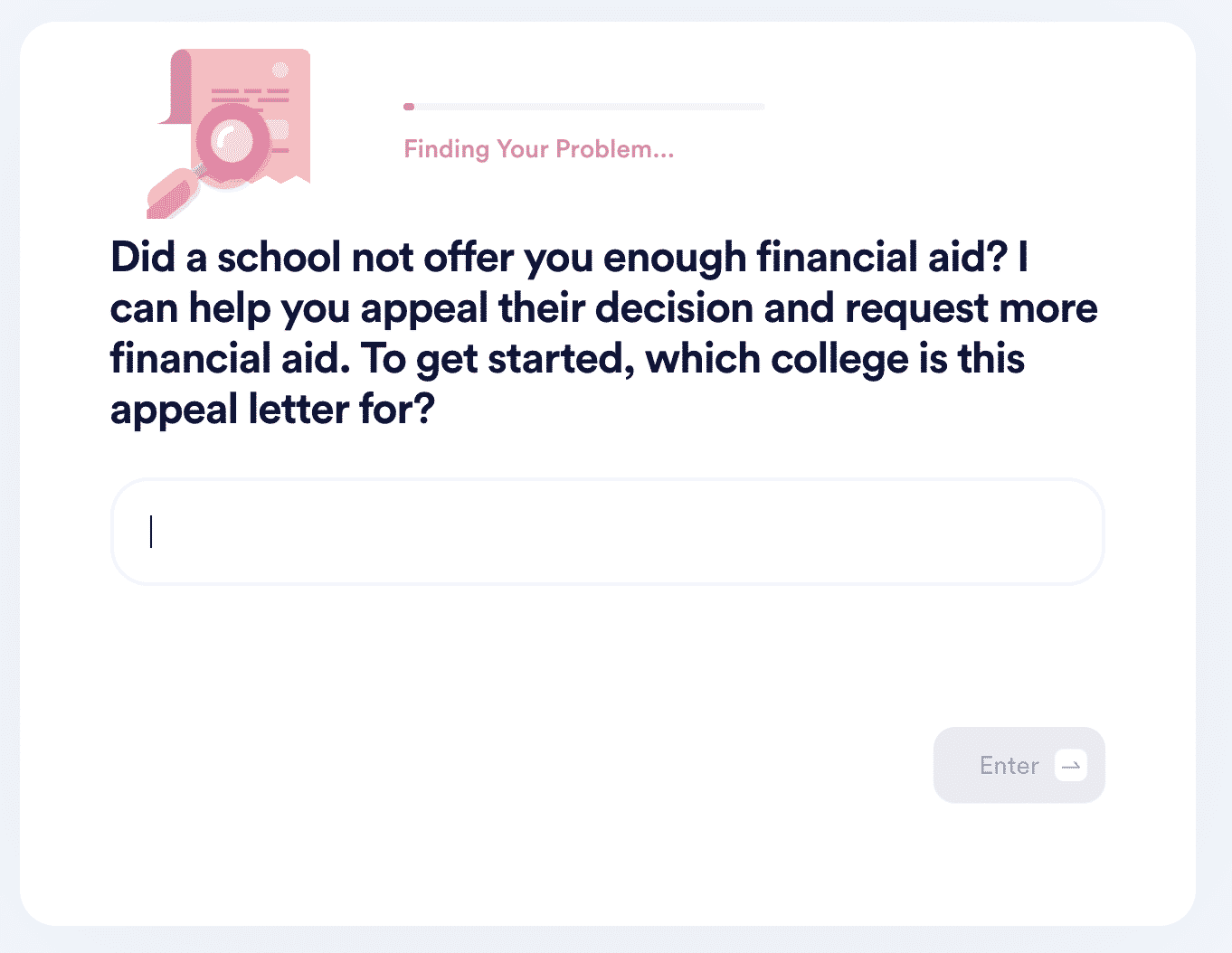 Generate your financial aid appeal letter for Harvard in three simple steps:
Enter Appeal for More Financial Aid in the search bar
Answer a few questions about your financial aid application and include offers from other schools you applied for, changes that occurred to your family's financial situation, etc.
After you complete all the steps, the feature will prompt you to use it to send the letter directly to Harvard. If you click on No, we will send it to your email.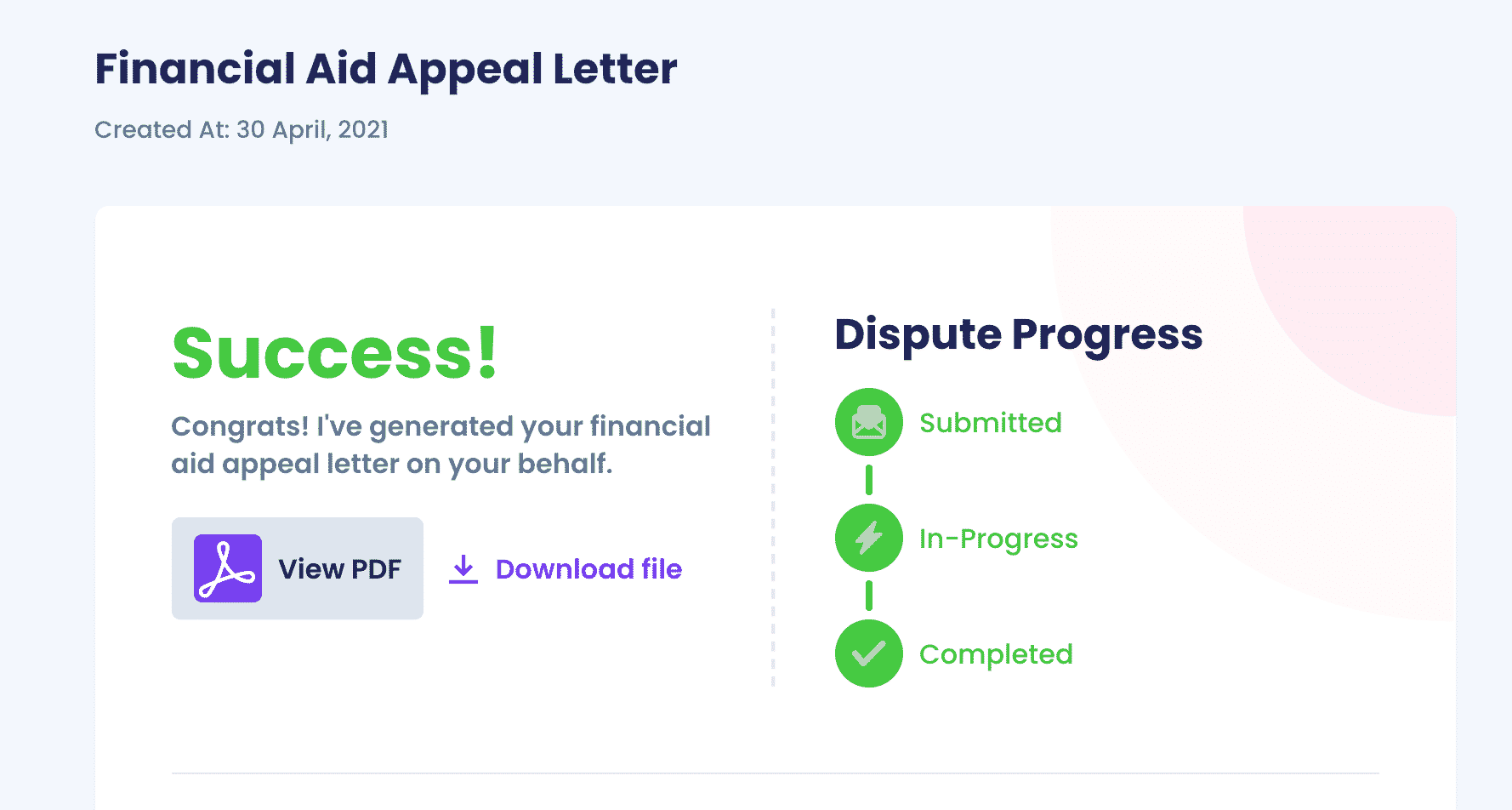 Leave Your Options Open—Use Our Guides To Explore Other Universities' Financial Aid Programs
Our learning center can help you make the right choice. The universities whose financial aid programs we wrote about include:
Become a Financial Aid Expert With Our Guides
Use our guides to find out:
What financial aid for college is
DoNotPay Turns Your Everyday Hurdles Into a Piece of Cake
Did you receive a faulty or damaged item? Why not return it with your virtual assistant? We can also help you get a late delivery refund and jump the queue if the customer service phone keeps ringing to no avail. The list of handy DoNotPay features that make your everyday life easier goes on.
By subscribing to our platform, you won't have to worry about your tedious neighbors or parking tickets. We can do it all!
Want To Save Money on Lawyers? Use DoNotPay
Most people spend big bucks on expensive lawyers to overcome their bureaucratic obstacles. Don't waste your money on unnecessary fees—use DoNotPay and take care of any legal matter in a few easy clicks! Check out some of the issues the world's first robot lawyer can help you with: